Nordic Track A2750 Pro Treadmill Review
Nordic Track A2750 Pro Treadmill Reviews
The Nordic Track A2750 Pro treadmill is one of the best new treadmills that came out this year.
And at its current sale price of just below $1,000, it provides one of the best values you will find in a starter treadmill.
Is It for You?

If you are looking for a starter treadmill that would provide the most bang for your bucks, then look no further.
The A2750 Pro comes with tons of features, quality parts, a solid deck, and a big running area.

What You'll Be Getting
The Nordic Track A2750 Pro comes with a 2.8 continuous duty horse power DurX™ drive system which is pretty powerful considering its price tag.
It has a max speed of 12 MPH and can be inclined for up to 12%.
And, with the 1-touch speed and 1-touch incline controls, you can easily change the intensity of your workout with a press of a button.
A touch screen display is also included in this machine. It shows you your speed, time, pace, distance, incline, calories burned, and pulse (if you use the dual grip heart rate monitor).
And since it is touch screen, you can easily navigate through your workout data with a swipe of a finger.
This machine comes with 22 pre-set workout programs to help keep your workouts fresh. These programs include 10 performance workouts, 6 distance workouts (1 mile, 5k, 5 mile, 10k, 10 mile and half marathon) and 6 weight loss workouts.
And if all those programs are not enough, there is also the popular iFIT® Live technology. You can access iFit.com and you'll workout as if you have a personal trainer beside you talking to you.
It automatically controls the speed, incline and duration of your workout depending on your personal goals. And it can also download additional workouts for more variety.
The 20" x 60" tread belt being offered is probably the biggest currently being offered below $1,000. It has enough room for you to walk, jog or run comfortably without feeling confined.
Plus, it comes with ComfortShox™ cushion deck which absorbs the impact of your strides to provide comfort and reduce the risk of injuries.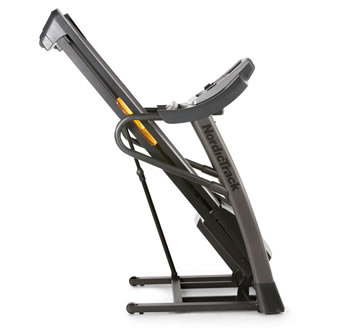 Other features include an Intermix Acoustics™&Trade 3.0 sound system (iPod and MP3 compatible) which features 3 inch high-excursion drivers so you can listen to your favorite music while working out, and the SpaceSaver® feature which folds the treadmill vertically so you can easily store it after use.
And finally, the Nordic Track A2750 Pro treadmill comes with a lifetime frames and motor warranty and a 1 year parts and service warranty. These warranties are decent but they are far from the best in this price range.
Weakness
The biggest weakness of this machine is its service. Nordic Track has been known in the past to provide poor after sales service. Other than that, I don't see any reason why you should not buy this treadmill at $999.
Recommendation:
I highly recommend the Nordic Track A2750 Pro treadmill for the value it provides. It is currently on sale for $999, and at that price no other $1,000 treadmill can match what it offers. However, if the sale ends and it reverts back to its $1,599 price tag, you would be better off buying the Nordic Track Commercial 1750 as it would give you so much more for a price that is cheaper. (you can also visit our best buy treadmills page for more quality treadmills)
Summary:

Cost: $999
Motor: 2.8 CHP Drive Motor
Running Deck: 60"L x 20"W
Speed: 0 to 12 mph
Incline: up to 12%
Foldable: Yes
Heart Rate: Yes
Maximum User Weight: 350 lbs
Warranty: lifetime for motor and frame, 1 year parts and labor
Features:
• Touch Screen Display
• CardioGrip™ Heart Rate Monitor
• 22 pre-programmed workouts
• iFIT® Live
• 1-touch speed and 1-touch incline controls
• SpaceSaver®
• ComfortShox™ Cushioning
• Intermix Acoustics™&Trade 3.0
---
Where to Buy?

If you plan to buy a Nordic Track A2750 Pro treadmill, I suggest you buy from Nordictrack. They have this on sale right now. You can get it for just $999.

If you plan on buying this machine I suggest you buy here

Click here to visit Sears' Nordic Track Treadmill Sales page.
Prices for all models starting at USD $599.99
-----------------------------------------------------------
Also consider the NordicTrack Treadmill Accessory Kit
Do You Think This Treadmill is Worth Buying?
After reading this article, do you think buyers should purchase this treadmill? Share your opinion with other visitors of this site by writing your own review. It's free, fun and easy to do. Everyone is invited to join in.

Reminder: This site would no longer publish reviews that doesn't provide any real value to other consumers.
Read Visitor's Contributions
Below, you can comment or read opinions of other consumers...

Poor After Sales Support Not rated yet
Purchased direct from ICON Health on Dec 14. Arrived on Dec 28. Incline didn't work after setup. 2 calls to customer service and some troubleshooting didn't …
---
If you plan on buying this machine I suggest you buy here

Click here to visit Sears' Nordic Track Treadmill Sales page.
Prices for all models starting at USD $599.99
-----------------------------------------------------------
Also consider the NordicTrack Treadmill Accessory Kit
---
Return from Nordic Track A2750 Pro Treadmill to Nordic Track Treadmills
---