Nordic Track Commercial 1750 Treadmill Review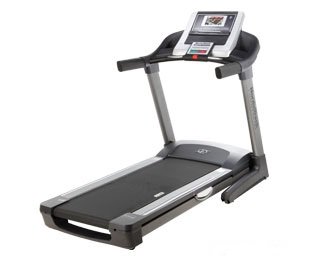 State of the Art Home Fitness
& Gym Equipment - NordicTrack.co.uk
The Nordic Track Commercial 1750 treadmill is definitely one of the better treadmills this year below $1,500.
It is similar to the Commercial 1500(arguably the most solid Nordic Track treadmill this year) but with a bigger motor and more workout programs.
Is This the Best Treadmill for You?

If you are looking for a mid-priced treadmill that would give you value for your money, then this machine should definitely be on your list. It comes with all the basics that you will need to get an excellent workout. It comes with a powerful motor, sizeable running area and lots of features.
What You'll Be Getting
The Nordic Track Commercial 1750 boasts of a 3.5 continuous duty horse power Dura drive motor. This motor is pretty powerful especially considering that they are selling this unit for less than $1,500. It can reach speeds of up to 12 mph and inclines for up to 15%. And with the 1-touch speed and 1-touch incline controls, changing the intensity of your workout becomes so much easier and faster.
This machine features the popular iFIT® Live technology. You'll have access to iFit.com and you'll workout as if you have a personal trainer beside you talking to you. It automatically controls the speed, incline and duration of your workout depending on your personal goals. And if that's not enough, you also have 20 calorie workouts and 10 all-terrain workouts to choose from for added variety.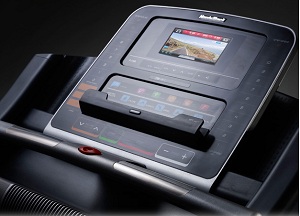 There is also a large and easy to read 7" full-color touch-screen display included in this machine. It shows you your speed, time, pace, distance, incline, calories burned, and pulse (if you use the dual grip heart rate monitor). And since it is touch screen, you can easily navigate through your workout data with a swipe of a finger.
The 20" x 60" tread belt offers enough room for running comfortably. Plus, it comes with DuraStride™ cushioning which was proven to help reduce impact on your joints from 15% to 33% compared to running outside. And the good thing about it is that it is adjustable so you can alter the cushioning to your liking.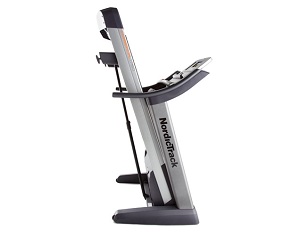 Other features include an Intermix Acoustics™ 3.0 with high-end speaker which is iPod and MP3 compaitble so you can listen to your favorite music while working out, and the SpaceSaver® feature which folds the treadmill vertically so you can easily store it after use.
And finally, the Nordic Track Commercial 1750 treadmill boasts of a lifetime frames and motor warranty, 2 years parts warranty and a 1 year service warranty. These warranties are decent but they are not the best in its price range.
Weakness
The biggest weakness of the Nordic Track Commercial 1750 is its service. It is being produced by Icon which is the largest producer of fitness equipment in the world. Icon has a reputation of poor customer service which is but expected since it is so large with more than $1 billion is sales. Not only that, most of its brands sell entry level treadmills which have short lifespan so you can just imagine how hard it would be for them to please everyone.
Recommendation
If you're in the market for a mid-priced treadmill, I would recommend you consider the Nordic Track Commercial 1750 treadmill. But if you don't feel like this is the machine for you, you may want to visit our best treadmill page to look for other quality treadmills in this price range.
Summary:
Cost: $1,499
Motor: 3.5HP continuous motor
Speed: up to 12 mph
Maximum User Weight: 350 lbs
Incline: up to 15%
Warranty: Lifetime frame and motor, 2 years parts and, 1 year labor
Belt Size: 60" x 20"
Foldable: Yes
Heart Rate: Yes
Features:
• 20 calorie workout and 10 all-terrain workout programs
• Intermix Acoustics™ 3.0 (iPod and MP3 compatible)
• SpaceSaver®
• 7" Full-Color Touch-Screen Display
• DuraStride™ Adjustable Cushioning
• Hand Pulse Grip
• iFIT® Live Technology
• 1-Touch Speed and 1-Touch Incline Controls
---
Where to Buy?

If you plan on buying a Nordic Track Commercial 1750 treadmill, I suggest you buy from nordictrack.com. They offer the best price around the net. You can get it for just $1,499.


Click here to visit Nordic Track and learn more
---
---
(Once again, if you plan on buying this machine I suggest you buy from here....)


Click here to visit Nordic Track and learn more
---
Return from Nordic Track Commercial 1750 Treadmill to Nordic Track Treadmills
---