5 Best Treadmill Lubricant Reviews
Part of maintaining your treadmill and ensuring its long lifespan is buying a good quality treadmill lubricant. Have you already owned one? If not, then you're missing out massive benefits.
Today, let me share with you 5 of the best treadmill lubricants we highly recommend – each is guaranteed to impress both your personal preference and your wallet. So, keep reading! 
Better treadmills are free of maintenance (but not all the time) while cheaper ones require occasional lubrication to keep it operating smoothly. Even though the tread belt seems like running well, it is still important to apply lubrication to prevent potential issues in the long run. 
What makes treadmill lubricant a must is due to many important benefits. First, it minimizes friction between the motor and the tread belt. Hence, track life is greatly extended. Also, lubrication helps prepare the machine for storage. 
Reviews of the Best Treadmill Lubricant

Now, let's look at five of the best lubricants and find out which one is right for you and your machine. 

1. Impresa Products Treadmill Lubricant/Treadmill Lube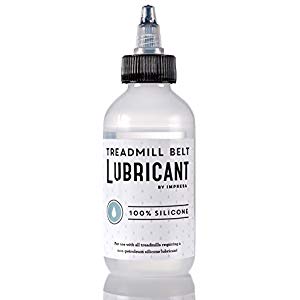 The Impresa Products Treadmill Lubricant is USA-made and easy to apply. Ideal for reducing treadmill friction, minimizing treadmill belt noise, and maintaining the machine. 
The bottle is easily squeezable. Hence, you have control over the amount of lubricant you're going to use. Plus, the nozzle is compatible with applicator hoses. Since the lubricant is totally made of silicone, long-term use when applied is highly assured.  
Moreover, Impresa Products Treadmill Lubricant is odorless, filled with a 4-ounce transparent, plastic bottle with a dropper-type cap, and comes with a money-back guarantee. The application process is made easier as well since the manufacturer put some instructions for use and a few tips at the bottle's back. 
Pros
100% silicone lubricant 
No harsh chemicals or odors included 
Easy to apply 
Ideal for an extensive range of treadmills 
Works with most brands 
Cons
May dry quicker than other lubricants 
Oil could leak from the bottle 
2. Essential Values Treadmill Belt Lubricant 

Essential Values
4.5
5
3640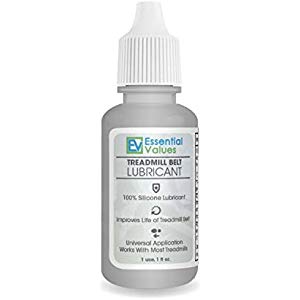 The price of Essential Values Treadmill Belt Lubricant is quite disappointing for some, but the overall quality is something you should not overlook. It is made of 100% silicone so expect it to last longer once applied. Your tread belt is protected, keeps it stronger, and extends its lifetime. 
This lubricant has been tested too and doesn't include any toxic or harsh chemicals. Meaning to say it is safe for the environment. Highly efficient for reducing belt noise and friction between the motor and the treadmill. 
Essential Values Treadmill Belt Lubricant comes in 3 packs, with each bottle good for one application and measuring at an ounce. It is also available in an easy-squeeze bottle with a cap and an opening at the top. A money-back guarantee is offered. 
Pros
100% silicone lubricant 
Non-toxic and odorless 
Quick and easy application 
Universal application 
Excellent viscosity 
Cons
A bit pricey
Difficult to apply
3. Prounol 100% Silicone Treadmill Lubricant for Belt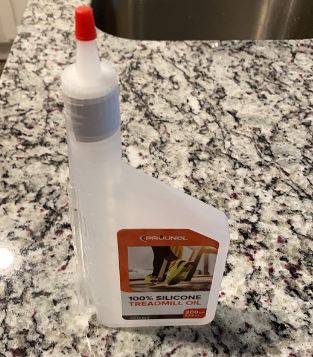 The Prounol Treadmill Lubricant is formulated with 100% silicone oil, known for its exceptional lubricating properties. This high-quality lubricant effectively reduces friction between the belt and the deck, resulting in a smooth and quiet operation.
The bottle comes with a precise applicator cap, allowing you to distribute the lubricant evenly across the entire width of the treadmill belt. The no-mess application ensures that you can quickly and conveniently lubricate your treadmill without any hassle.
The Prounol Lubricant offers long-lasting performance, providing extended periods of smooth and friction-free treadmill operation with just one application, saving you time and effort on maintenance.
Apart from treadmills, the Prounol 100% Silicone Oil Lubricant can be used for various other fitness equipment such as elliptical machines, exercise bikes, and more. It is odorless, non-toxic, and safe for both you and your equipment. You can exercise with peace of mind, knowing that this lubricant won't emit any unpleasant odors or cause harm.

Pros
Made with 100% silicone formula
Safe for use on treadmills and other fitness equipment
Easy to use applicator tube
Leaves a smooth, quiet running surface
Long-lasting protection against wear and tear
Affordable
Cons
Some users have reported that the lubricant can be a bit runny
The applicator tube can be difficult to screw on tightly

4. Spot On 100% Silicone Treadmill Belt Lubricant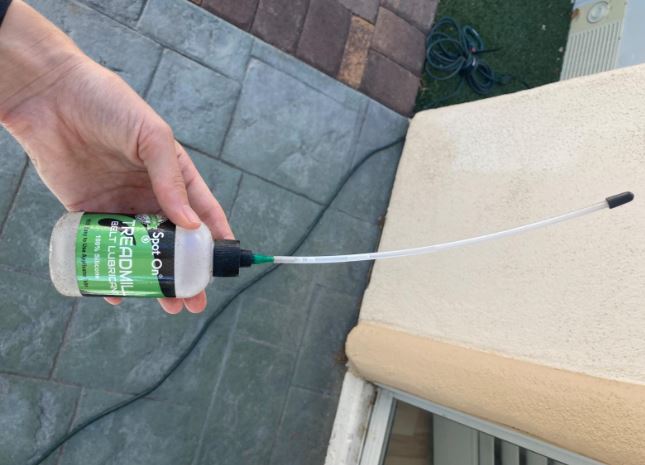 Spot On 100% Silicone Treadmill Belt Lubricant, which exceeded my expectations. This product has been a game-changer for running my treadmill smoothly and efficiently.
One of the standout features is the convenient packaging. The lubricant comes with a precision twist cap and an application tube, allowing easy and precise lubrication of the entire belt width. The twist cap ensures controlled and mess-free application while the application tube reaches every corner effortlessly.
The fact that this lubricant is made in the USA adds an extra layer of confidence in its quality and reliability. Great attention to detail has been put into its formulation, as it provides exceptional lubrication without attracting excessive dust or dirt.
Since using this silicone-based lubricant, I've noticed a significant improvement in the performance of my treadmill. The belt glides smoothly, reducing friction and noise during workouts. It has also helped prolong the lifespan of my treadmill's belt and deck by reducing wear and tear.
I appreciate the durability of this lubricant. It lasts for a considerable period, which means fewer applications and more time spent enjoying my workouts.
Overall, Spot On 100% Silicone Treadmill Belt Lubricant is an excellent option for anyone looking for a safe, easy-to-use, and effective way to lubricate their treadmill belt. It's made with a high-quality silicone formula that won't damage your equipment, and the applicator tube makes it easy to apply the lubricant evenly. The lubricant leaves a smooth, quiet running surface to help your treadmill last longer.
Pros
Easy Application: The Spot On Treadmill Belt Lubricant comes with both a precision twist cap and an application tube, making it convenient to apply and ensuring full-width lubrication without any mess.
Smooth Performance: This lubricant helps reduce friction and noise, allowing the treadmill belt to glide smoothly during workouts, resulting in a more enjoyable and efficient exercise experience.
Made in the USA: The fact that it is made in the USA adds assurance of high quality and adherence to manufacturing standards.
Long-lasting: The lubricant's durability means fewer applications are required over time, saving you time and effort.
Prolongs Belt and Deck Lifespan: By reducing wear and tear, this lubricant helps extend the lifespan of your treadmill's belt and deck, potentially saving you money on future replacements.
Cons
Silicone-based: While silicone-based lubricants are generally effective, some users may prefer alternative lubricant formulas based on personal preference.


Potential for Overapplication: Care should be taken not to over-lubricate the treadmill belt, as excessive lubrication can attract dust and debris, leading to additional maintenance.
5. LifeSpan Treadmill Belt Lubricant
LifeSpan Fitness
4.1
5
200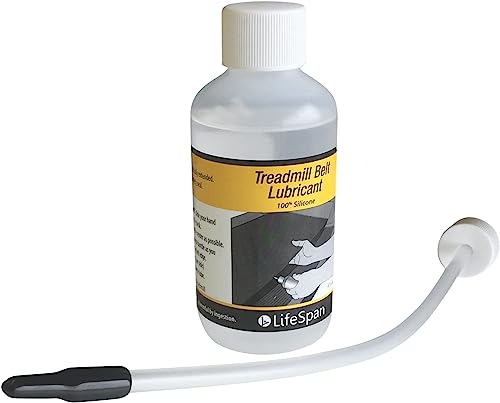 Keep your treadmill always in tiptop condition with high-quality LifeSpan Treadmill Belt Lubricant. Another product we have on the list that is made of 100% silicone, it contains no petroleum distillates, propellants, or harmful solvents. 
Non-toxic, non-flammable, colorless, and odorless, this lube is great for any brand or model that makes use of non-petroleum based lubricant. It is a pump action spray bottle, with each bottle consists of four ounces of fluid. 
The manufacturer advises to lubricate after every 40 hours of use or once every 3 months. Even some spritzes of this lube can lay a thin, long-lasting coat around your machine. Although the price is a bit high compared to other products, it still proves to be a great value to your money.  
Pros
Adequate Lubrication: The LifeSpan Fitness 100% Silicone Treadmill Belt Lubricant provides efficient lubrication for treadmill belts, reducing friction and ensuring smooth operation.
Easy to Apply: The clear 4 oz bottle has a convenient applicator cap, making applying the lubricant evenly across the treadmill belt easy.
High-Quality Silicone Formula: This lubricant is made with a high-quality silicone formula designed to provide long-lasting lubrication without attracting excessive dust or dirt.
Prolongs Treadmill Lifespan: Regularly lubricating your treadmill belt with this product can help extend the belt's lifespan and other components by reducing wear and tear.
Cost-Effective: With a 4 oz bottle, you get sufficient lubricant that can last for multiple applications, providing value for your money.
Cons
Small Bottle Size: The 4 oz bottle may not be sufficient for those with larger or commercial-grade treadmills, requiring more frequent purchases or larger quantities.
Limited Application: While this lubricant is specifically designed for treadmill belts, it may not be suitable for other fitness equipment or general lubrication needs.
Key Features to Keep In Mind When Selecting a Treadmill Lubricant

It's important to choose and use the right lubricant appropriate to your treadmill. Here are some of the features to look for:
Check if the lubricant is compatible with your specific treadmill model. Some manufacturers recommend using specific lubricants or have restrictions on the type of lubricant that can be used.
Treadmill lubricants are typically silicone-based or wax-based. Silicone lubricants are more common and provide smooth and consistent lubrication. Wax-based lubricants may require less frequent application but can be more challenging to apply.

Consider the ease of application. Look for lubricants that come with a convenient applicator, such as a twist cap or an application tube, to ensure even distribution and minimize mess.
Check the durability and longevity of the lubricant. A good lubricant should provide long-lasting effects, reducing the frequency of application.
Dust and Dirt Resistance:
Look for lubricants that are designed to resist dust and dirt build-up. This feature helps maintain a clean and debris-free treadmill belt and reduces the need for frequent cleaning.
Opt for a lubricant that is odorless and non-toxic to ensure a safe and pleasant workout environment.
Manufacturer Recommendations:
Always refer to the manufacturer's guidelines and recommendations regarding lubrication. Following their instructions will help ensure optimal performance and maintain warranty coverage.
Treadmill manufacturers recommend lubricating the machine every 40 hours or three months of usage. With this, you should buy a lubricant that you can use at least for a year to save the cost. 
A lubricant that contains 100% silicone is recommended by most manufacturers. It's because silicone lasts longer and is not harmful to the machine, thus premature breakdown can be avoided.
The applicator included in the bottle of the lubricant is another thing to consider. This will help in applying the right amount of lubricant and at the same time avoid a mess. By using an applicator there's no need to loosen the screws or bolts in the belt.
FAQ Treadmill Lubricants
Why Would You Need Treadmill Lubricant?

In a treadmill, the tread belt and the deck are among the most critical parts of the machine. It is important to maintain the treadmill to lengthen its life so that you can enjoy more using it.
Using lubricant is essential to maintain the good function of the treadmill. It's because lubrication reduces the friction and at the same time disperse heat.
To ensure that the drive system will function efficiently, the amount of friction between the deck surfaces and the belt should be reduced. With this, you can expect that wear and tear is delayed thus extending the usable life of the treadmill.
Another advantage of using treadmill lubricant is that it prevents the belt from becoming brittle. It's more cost-effective to use lubricant as compared to purchasing a new tread belt once it breaks.
When your treadmill is in shape even after years of use, you will not have to worry about repairing damages, replacing broken parts, and spending hundreds of bucks!
How Often Should I Apply The Lubricant?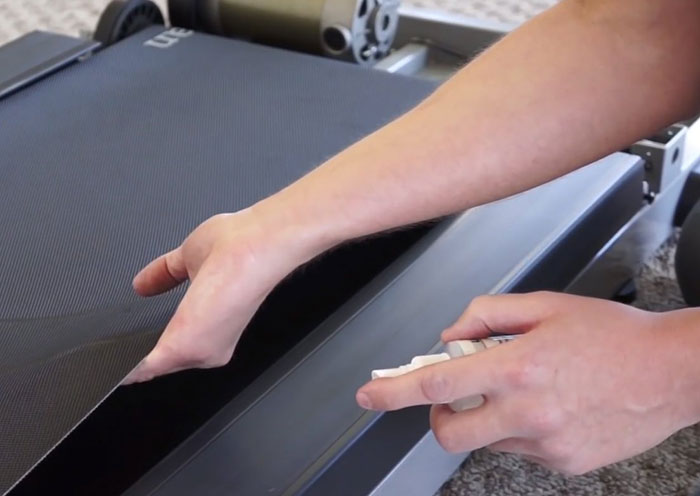 The frequency of applying lubricant into the treadmill depends on the amount or frequency of usage. It can be an advantage if your machine has an odometer or internal timers. It gives an alarm when you need to lubricate the machine after a specific number of miles or hours. 
The basic way when it's time to lubricate the machine is to check the deck surface. If you notice an oily coat or slightly waxy, then it needs to be lubricated. 
Types of Treadmill Belt Lubricants

According to material composition, there are two types of belt lubricants that you may see in the market. These are wax lubricant and silicone lubricant, which both come in various forms.
The wax lubricant comes in solid, powder, or granular form. The silicone lubricant, on the other hand, comes in liquid or spray can form.
To choose between the two, refer to your treadmill's manual about which type of lubrication is best used for it. If the data is not available, ask the customer service instead.
It is important that you know which type to use to avoid damage and misuse. Remember, you are doing this to maintain and extend the life of your machine, and not break it down.
What Type of Lubricant Is Best?

The key to choosing the lubricant that you can use depends on your treadmill. The most popular lubricant used was paraffin, but it was replaced by silicone lubricant in these recent years.
Before choosing and using a treadmill lubricant you should contact first the manufacturer of the machine. Otherwise, using inappropriate lube can cause damage to your machine. 
The deck surfaces and the belt will deteriorate soon if you will use unapproved lubricant for your machine. The cotton fibers of the so-called "cotton candy belt" that is underside may scrape off if not properly lubricated.
Once the belt starts to disintegrate, the level of friction increases quickly. That's why it's essential to use the right lubrication appropriate to your machine.
How Often Should You Lubricate Your Treadmill
Treadmills should be lubricated every three to six months or every 150 miles to reduce friction and ensure smooth operation.
Follow the manufacturer's recommendations for the specific model and type of lubricant to use.
Regular lubrication helps prolong the life of the treadmill's belt and deck and prevents excessive wear and damage.
How to Lubricate Your Treadmill Belt

There is no single rule about the frequency and amount of lubrication you need to put into your treadmill. It varies from one treadmill to another. How often you maintain, clean, and preserve your machine actually depend on various factors, including the type, size, and quality of the belt and deck of your treadmill.
Basically, if you are using your treadmill for leisure walks and jogs, you can apply lubrication once every year. If, on the other hand, you are a serious runner who trains regularly, lube the machine once every 6 months. Also, depending on the number of users of the machine, you may want to do the lubrication more or less often.
Lubricating a treadmill is a simple job. In fact, some machines do not require using any tool. But you may need a simple screwdriver. The most important thing to note when applying lubricant is to ensure that it is applied consistently.
When lubricating your treadmill, make sure it is not plugged into the power source. Read instructions on both the treadmill belt lubricant and your treadmill manual to know how to properly lubricate the belt of your machine. If you are not completely sure on how to go about the procedures, it is best to seek assistance from professionals.
Make sure to tighten the screws and see to it that they are secure. Allow the treadmill to run at 1mph speed for about 5 minutes. This way, the lubricant will spread over the deck surface and its center.
Should I Lubricate My New Treadmill?
If you have purchased a new treadmill, it's essential to consult the manufacturer's instructions or user manual regarding lubrication.
Some treadmills come pre-lubricated or may not require immediate lubrication upon purchase.
Manufacturers usually provide guidelines on when and how to lubricate the treadmill based on their specific design and components.
In many cases, new treadmills may require little lubrication as they are often shipped with a factory lubrication coating on the belt and deck.
However, it's always a good idea to read the manufacturer's manual recommendations to ensure proper maintenance and to maintain the warranty coverage. Contact the manufacturer's customer support for clarification is advisable if in doubt.
Warning! To Lubricate or Not? 

While you know that belt lubricants are generally used to reduce the wear of your treadmill's belt and other components, you should also know that not all treadmills need lubrication.
Some treadmills are designed with decks that are already pretreated and do not need to be lubricated. If you try to use lubrication on such deck, it might only damage the entire machine.
Moreover, never assume that all models of a particular brand of treadmill have the same lubrication requirements. While some models allow their belts to be lubricated, other models of the same brand name do not.
Hence, before deciding to use lubrication or not, make sure that your machine is compatible with it. Read your owner's manual to know whether your machine needs it or not.
Final Verdict 

So, there you have it, our top choices of treadmill lubricants available in the market today. It is hard to say whether one product is necessarily better than the other since all of them are made of 100% silicone.
Each is formulated to work on various models and brands of a machine. With these lubricants, expect for painless and fast maintenance as possible! 

---