Discovery 320 Treadmill Review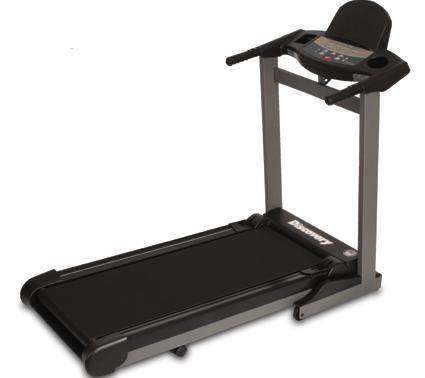 Discovery 320 Treadmill
Update: This treadmill has been discontinued

The Discovery 320 treadmill is the upgraded version of the cheaper 120 model.

The difference between the two is that the 320 comes with larger rollers, a much bigger running surface and is $200 more expensive. Other than that, they are identical.
Is It for You?
This treadmill would fit those looking for excellent motor warranties. Plus, its belt size is pretty big so tall people might find this model attractive. But before you start buying, be sure you read this whole review first. There are things here that might make you change your mind.
What It Offers

Just like its cheaper counterpart, this one also comes with poor motor. It is only offering a 1.75HP continuous duty motor which, in my opinion, is not powerful enough to satisfy serious runners.
Also, although it has a much bigger tread belt, I still don't think this should be a reason for you to buy this machine. Big tread belts need powerful motors and since this model has a small motor, it would have to work doubly hard to move the large belt. This in return, would lead to lots of headaches in the future.
On the upside, this unit has one of the best motor warranties in its price range, which is 10 years. Other warranties include a lifetime frame warranty, 1 year parts warranty, and a 90 day labor warranty.
Weakness
Other than the long motor warranty, everything else is a weakness. However, the company that manufactures this treadmill is just a new comer in the industry and I believe we should give it more time to learn the ropes first before we judge whether or not this is a brand worth buying.
Recommendation
If the progress of the company behind this treadmill continues, who knows, I might be recommending this and other Discovery models in the future. But for now, I can't recommend the Discovery 320 treadmill yet.
If you really want a mid-priced treadmill, I suggest you visit our Smooth 7.1HR review. It is currently our best buy teadmill below $1,500.
Summary:

Motor: 1.75 HP continuous motor

Speed: 0.6 to 10 mph

Rollers: 2.5"

User Weight Capacity: 275 lbs

Incline: 0 to 12%

Warranty: Lifetime on frames, 10 years for motor, 1 year for parts and 90 days for labor.

Belt Size: 56" x 20"

Foldable: Yes

Heart Rate: No

Features: 


• 4 Window LCD Console


• 3 Pre-set and 6 Custom Programs


• Cushioned Deck

---
Where to Buy?

If you plan on buying a Discovery 320 Treadmill, I suggest you locate a dealer through keysfitness. It is currently being sold for $1,199.

---
Return from Discovery 320 Treadmill to Keys Treadmills
---