Smooth 7.1HR Treadmill Review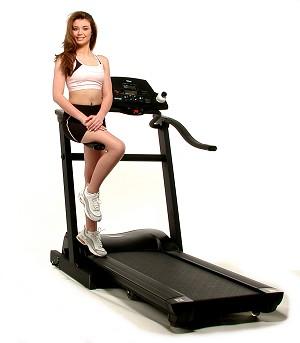 Smooth 7.1HR Treadmill

The Smooth 7.1HR treadmill is in my opinion, the best treadmill you can buy under $1,500.
I highly recommend this model to those looking for a mid-priced treadmill.
This is the machine considered by experts to have the most stable running platform under $1,500. What's more, it is jam packed with features to satisfy even the most hardcore of runners. And, you are assured that it is of high quality since it comes with long warranties.
Is This Treadmill for You?
I believe almost everyone would benefit from the Smooth 7.1HR treadmill. Whether you're a beginner or a veteran runner, this model has something for you. Plus, it is sold for only around $1,500, so most people can afford it.
Features and Benefits
I believe the main attribute of this treadmill is its power folding feature. It not only conveniently folds to conserve space, but it has power mechanics to make the process as simple as a push of a button. This feature is perfect for those with limited areas in their home as it only takes a fraction of the floor space when folded.
The Smooth 7.1HR treadmill comes with a powerful 2.5HP continuous duty motor. This motor gives you speeds of up to 10 MPH and elevations of up to 12%. This is perfect for runners looking for intense workouts.
The 20" x 54" running surface is large enough for both walking and running. While the non-slip, 2-ply tread belt leesens friction and noise so you get whisper quiet workouts every time.
Considered as one of the most efficient way to exercise, the hand grip pulse monitor combined with heart rate control feature allow you to workout in your target heart rate zone by automatically adjusting your speed and incline for optimum workout intensity.
The new dual LCD computer simultaneously shows your speed, distance, calories, and time. Also, the display has a separate speed and incline hill profiles so you'll have a visual display of each intensity.
The Smooth 7.1HR Treadmill comes with nine user profiles. Each profile can store your or another person's weight, height, sex and target heart rate. It also has six challenging pre-set programs to give you more variety and flexibilty in your exercises.
2.5" commercial grade rollers lessen the tightening of the treadbelt and decrease tension and friction. This minimizes the time spent on adjusting belt tracking while at the same time extending the life of the deck, belt and bearings.
The 2,000 lbs of pulling power for elevation would be effective, quiet and durable for years. This ensures that the treadmill won't have a hard time elevating no matter how heavy the user.
The running deck comes with premium shock absorption feature. These elastomer rubber isolators cushion the impact and transmit absorption throughout the length of the deck, eliminating side to side motion that is harmful to your joints, knees and ankles.
The Smooth 7.1HR treadmill also has 2 cooling fans, one for the motor and another for electronics. They keep both the motor and electronics cool even if you use it for a long time. Thus, minimizing any repairs which extends the life of the treadmill.
And finally, like other Smooth treadmills, this model also comes with generous warranties. It offers a lifetime warranty on frames, 10 years on motor, 5 years on belt/deck/rollers, 3 years on electronics and parts, and a year on service/labor. With warranties of these length, you're sure that the product is of good quality.
What Owners Didn't Like...
The only problem people had with this treadmill is the delivery delays. But that is to be expected for most Smooth treadmills due to the huge demand for their machines. Also, like most Smooth models, the price includes free shipping, but indoor delivery and set up cost extra.
Recommendation
I highly recommend the Smooth 7.1HR treadmill. If ever something happens to my current treadmill and I need to buy a new one, this would definitely be my first choice.
Summary:

Motor: 2.5 HP continuous motor
Speed: 0.5 to 10 mph
User Weight Capacity: 350 lbs
Incline: 0 to 12%
Warranty: Lifetime frame, 10 years motor, 5 years belt and deck/rollers, 3 years electronics and parts, 1 year service
Belt Size: 54" x 20"
Foldable: Yes
Heart Rate: Yes
Features:
• Hand Grip Heat Monitor
• Scratch Resistant Powder Coat Finish
• Low Impact, Durable Running Surface
• Torsion Springs
• Automatic Shutoff
• Rubber Push Button Electronics
• 12 Levels of Incline
• 3 pre-set and 8 user programs
• Power Folding Feature
• Heart-Rate control
• Dual LCD computer displays speed, distance, calories, time and pulse simultaneously.
• Friction Free, Electrostatic Deck

---
Where to Buy?

If you plan on buying a Smooth 7.1HR treadmill, I suggest you buy it at smoothfitness.com. They offer the best price around the net. You can get it for just $1,499.
Click here to visit the website and learn more (opens new window)
---
Return from Smooth 7.1HR Treadmill to Smooth Treadmills
---