Discovery 120 Treadmill Review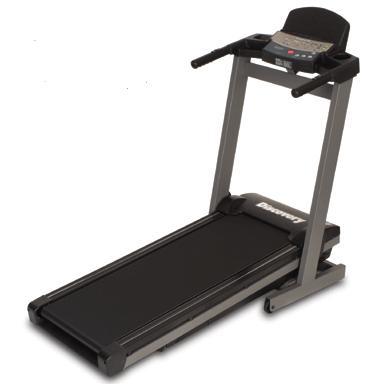 Discovery 120 Treadmill
Update: This treadmill has been discontinued

The Discovery 120 treadmill is one of the cheaper treadmills from Keys Fitness.
This basic treadmill is currently being sold for only around $1,000. But don't let the price fool you, although it comes with a cheap price tag it still offers excellent motor warranty.
Is This Treadmill Right for You?
This machine would fit individuals who are a little tight on the budget. This is just a basic machine so don't expect too much from it. If you want a feature rich treadmill that would really give you challenging workouts at an affordable price, your best choice would be the Smooth 5.15P. It is currently our best buy treadmill below $1,000.
What It Offers
This Discovery model offers a 1.75 HP continuous duty motor that has a max speed of 10mph and can be elevated up to 12%. However, I don't think this motor is big and powerful enough to really be useful to hardcore runners.
The 18inch x 51inch tread belt also needs improvement. They should be offering a bigger running space if they want to compete with top treadmills in the below $1,000 price range. Besides, I don't think most serious runners would feel comfortable running in such small space.
The one positive this treadmill has is its long motor warranty. It is offering 10 years for the motor, which is hard to match especially in the price range its in. It also has a lifetime warranty on frames, 1 year warranty on parts and a 90 day warranty on labor.
Weakness
Other than the cheap price and the long warranties, everything else needs improvement. However, the company that manufactures this treadmill is just a new comer in the industry and I think we should give it more time to learn the ropes first before we judge whether or not this a good brand.
Recommendation
For now, I can't recommend the Discovery 120 treadmill. I believe there other treadmills out there that would give you more value for your $1,000... (See our Smooth 5.15P review.)
Summary:

Motor: 1.75 HP continuous motor

Speed: 0.6 to 10 mph

Rollers: 1.9"

User Weight Capacity: 250 lbs

Incline: 0 to 12%

Warranty: Lifetime on frames, 10 years for motor, 1 year for parts and 90 days for labor.

Belt Size: 51" x 18"

Foldable: Yes

Heart Rate: No

Features: 


• 4 Window LCD Console


• 3 Pre-set and 6 Custom Programs


• Cushioned Deck

---
Where to Buy?

If you plan on buying a Discovery 120 Treadmill, I suggest you locate a dealer through keysfitness. It is currently being sold for $999.
---
Return from Discovery 120 Treadmill to Keys Treadmills
---