True PS800 Treadmill Review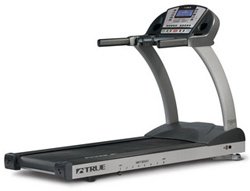 True PS800 Treadmill Reviews

Boasting about its heavy-duty motor, adjustable cushioning system, and high-quality design, the True PS800 treadmill can be considered among the top choices for an effective exercising machine.
Plus, look forward to its aluminum straddle covers, orthopedic belt, superior deck, and lots of advanced features that are designed to make your workout as comfortable, safe, and enjoyable as possible!
Is It for You:
If you want quality, performance, and durability in your treadmill – and if you have the money to spend for it – then, by all means, get the True PS800 treadmill. However, with a price tag of nearly $4,000, I don't think most people can afford it. See our best buy treadmills page to look for alternatives.
What You'll Get:
The True PS800 treadmill carries a huge and powerful motor with 4 horsepower continuous duty. Imagine that! This only means that no matter how rigorous your workout is or how fast of a runner you are, the machine can accommodate even your toughest and most conscientious running performances.
One noticeable feature of this machine is its tread belt that provides you with a large enough running surface for comfort and ease of exercise. Moreover, the orthopedic belt prevents impacts on your back, joints, and knees, providing you a safe and comfortable running experience.
In addition to this, another safety feature of the treadmill is the True Soft System technology that accurately and effectively absorbs shock during every stride. This works by providing a soft landing surface for your feet during impact and then transitioning to a firmer one during push off.
The high-quality deck of the machine is reversible and features a Soft Select system, where you can choose the firmness of the deck according to your preference or your workout needs.

Similar to other True treadmill models, the PS800 treadmill is built with a digital contact heart rate monitoring system that allows you to track and monitor your heart rate during your workout sessions. In addition to this, it is also equipped with the Polar wireless system and Heart Rate Cruise Control system that both allow you to identify your optimal heart rate and adjust the machine to keep there so you can reach your goals faster.
Manufactured with high-quality parts and components, the PS800 treadmill offers power, durability, and long-lasting use. Combined with its excellent service and long warranties, you can guarantee years and years of heavy use.
Weaknesses:
The price may be a little steep to some consumers, but if you observe strictly, you will realize that advanced features and high-quality performance come with such price.
Also just like other True treadmills, another drawback of the PS800 machine is that it only offers a 30-year warranty for the motor, unlike other high-end models that provides lifetime warranty. Although 30 years is already long enough, when looking at investing on a treadmill, a lifetime warranty should be one of the factors, especially for high end machines. One positive about the warranty is that it offers 10 years for parts which is longer than what other premium brands are offering at the moment.
Recommendations:
If you are trying to get a high-end exercising machine that has everything that you need, the True PS800 treadmill is something you should definitely look at. It is made with commercial grade materials and high-quality parts, designed with advanced systems and technology, and offer long-lasting performance for your fitness goals. The True PS800 treadmill is definitely recommended. (See also our best buy treadmills page for other treadmills we recommend)
Summary:

Price: $3,799
Motor: True 4 horsepower continuous duty DC motor
Speed: 0.5 to 12 mph
Incline: 0 to 15%
Running Surface: 60"L x 21"W (153 cm x 53 cm)
Folding: No
Heart Rate Monitoring: Yes
Maximum User Weight: 350 lbs (159 kg)
Warranty: Lifetime for frame; 30 years for motor; 10 years for parts; 1 year for labor

Features:
• True Soft System and True Soft Select system

• Orthopedic belt and reversible deck
• 7" single window custom LCD
• Contact heart rate monitoring
• Polar compatible wireless heart rate monitoring
• HRC cruise control
• 1 target HRC, 1 interval HRC
• 8 preset workout programs
• Safety clip
• Extended handrails
• Large straddle covers
• 7" Single Window Custom LCD Display
• Protective dipped foam flared handrails
---
Where to Buy?

If you plan on buying a True PS800 treadmill, I suggest you find a local dealer through Truefitness. You can get it for just $3,799.00.
---
Do You Think This Treadmill is Worth Buying?
After reading this article, do you think buyers should purchase this treadmill? Share your opinion with other visitors of this site by writing your own review. It's free, fun and easy to do. Everyone is invited to join in.

Reminder: This site would no longer publish reviews that doesn't provide any real value to other consumers.
Read Visitor's Contributions
Below, you can comment or read opinions of other consumers...

Not great luck - Performance 800 Not rated yet
Just purchased a performance 800. Not having good luck with it. Tried contacting the company but they are not responding . It is supposed to connect …
---
Return from True PS800 Treadmill to True Treadmills
---