True 500 HRCO Treadmill Review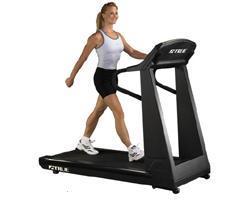 True 500 HRCO Treadmill

The True 500 HRCO treadmill is the ortho belt version of the True 500 HRC.
And unlike ortho belt treadmills from other brands, True's version doesn't cause wear and tear that is harmful to your machine.
Is This Your Best Buy Treadmill?

If you're looking for a quality treadmill with great cushioning, this is the model for you. Unlike other brand's ortho belt models that cause more harm than good, True's models are a perfect fit for ortho belts (maybe it's because of their excellent deck). Plus, it comes with heart rate features to provide you with more effective workouts.
This model boasts heart rate controlled (HRC) workouts. It has 2 custom time-based heart rate files so you can create and save multiple workouts for easier usage next time around. Other heart rate features include a Cruise Control program which allows you to jump from any preset or manual workouts into an HRC workout, and Express Command Keys for simple access to any custom workout programs.
The True 500 HRCO offers a 3.0HP continuous duty motor that serves up speeds of up to 10mph and inclines that reaches 15%. So it doesn't matter whether you're a beginner or advance runner, this treadmill can provide you the intensity you need.
The 20" x 54" running space is big and wide to give you enough room to move and be comfortable during your workout. Plus, with its ortho belt feature, this unit could very well provide you the best treadmill experience you'll ever have.
This machine also features 4 pre-programmed workouts (Weight Loss, Speed Interval, C/V Workout, Hill Interval) with 9 intensity levels each and 2 customizable programs to give you more variety and flexibility in your exercises.
A new feature you'll find in the new look 500 series is the message center and True touch technology. The 16 character alpha numeric message center provides motivation to help you to do more in each workout. While the True touch technology allows you to activate command keys with minimal pressure.
And finally, this unit comes with excellent warranty. Its drive motor and all of its parts are covered for 10 years… making this one of the best warranties in its price range. Other warranties include a lifetime for frames and 1 year for labor.
Weakness
This unit's biggest weakness is its price. It doesn't provide much of a value for its price tag. Also, there had been some complaints regarding True's heart rate features. First of all, the console shows limited information during an HRC workout. And secondly, while you're doing a heart rate workout, only the treadmill is allowed to adjust your intensity. If you try to adjust it manually, the machine will shut down and halt your exercise.
Recommendation
This is a great treadmill to own but it is a bit overpriced. Besides, True Fitness has a reputation of creating unreliable treadmills. So to conclude, I don't recommend the True 500 HRCO treadmill. Visit our best buy treadmills page to look for better alternatives to this model.
Summary:

Motor: 3.0 HP continuous motor
Speed: 0 to 10 mph
User Weight Capacity: 400 lbs
Incline: 0 to 15%
Warranty:
lifetime on frames,
10 years for motor and all other parts and
1 year for labor.
Belt Size:
Foldable:
Heart Rate:
Features: 

• 7 x 20 LED Dot Matrix Console

• 16 Character Alpha Numeric Message Center

• True Touch Technology

• 4 preset programs with 9 levels of intensity

• 2 customizable programs

• 2 Heart Rate controlled workout

• Cruise Control

• 2 Express Command Keys

• Polar Wireless Chest Strap included

---
Where to Buy?

If even after this review you still want a True 500 HRCO Treadmill, I suggest you locate a dealer near you through TrueFitness. It is currently being sold for $3,695.
---
Return from True 500 HRCO Treadmill to True Treadmills
---