TrekDesk Treadmill Desk Review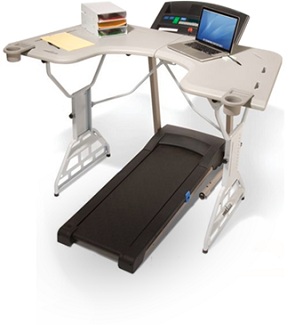 The TrekDesk treadmill desk allows you to work out while working. Ideal for students and employees, this treadmill add-on promotes physical fitness even if you are too busy with table work.
Do you feel like you don't have enough time to exercise due to the tons of work you're supposed to finish at the office or in school? If you wish that you can simply combine workout with working time, Trek Desk might just be able to grant your wish with its treadmill desk.
This treadmill desk is a workstation that you can attach on your treadmill, providing you with a large area to work in while doing your regular strides. It measures 72 x 34 inches and has adjustable height to allow you to level it according to the most convenient placement.
Is It for You?

If you are a workaholic and find no time to move your body around, a treadmill desk is the solution to your need of working out even during hectic work schedules. This would allow you to lightly exercise and receive the benefits of working out without taking your time as you engage in some desk work.
This treadmill add-on could be a life-saver as it helps in weight loss, health restoration, disease prevention, productivity enhancement, and mood improvement that you might not get when you're just sitting in front of your computer. If you are a master of multitasking and want to improve both your physical and mental well being, a treadmill desk could definitely help you.
What You'll Get
TrekDesk features a sufficient workspace, measuring 72 inches long by 34 inches wide. It is designed with solid, sturdy legs made with robust steel and are adjustable according to the height of the user. It provides ergonomic height for users who stand between 5'4" and 6'4".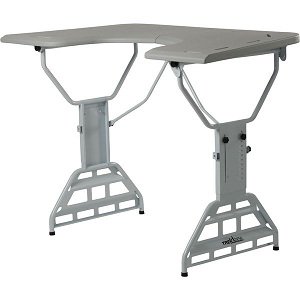 Designed to last a lifetime, the materials used in the construction of this treadmill add-on include premium, powder-coated steel and elastic steel reinforced LDPE. It features a foldable design that allows easy storage and quick transport.
Aside from the spacious area where you can place your laptop or computer monitor, the treadmill desk also features a manuscript holder that will allow you to read books or magazine while you are walking. It also has a file folder, 2 cups holder, and a top stand for cell phones or headset. It basically serves as your workstation when you're doing your regular treadmill routine.
Weakness:
TrekDesk is simply an add-on to a treadmill machine. It is not permanently fixed to your treadmill. While it is designed to fit nearly all treadmills, it might not perfectly fit those machines that are extremely larger in size. (eg. big commercial treadmills).
Recommendations:
To stay fit while buried under tons of paper and computer work, incorporate workout during work time. If you believe that you can multitask, get this treadmill desk and improve your productivity in no time.
Summary:

Frame:

Premium, powder-coated steel with steel rein-forced LDPE desktop
Dimensions:
Warranty:
Features: 
• Numbered and adjustable desk height settings
• Durable metal base support system
• Accessible treadmill controls and accessories
• Manuscript holder for books, magazines, papers, etc. 
• Phone stand and file tray
• Stability support struts
• Robust metal support arms
• Cup holders
• Folds for easy transport and storage
• Accommodates all laptop and keyboard sizes

---
Where to Buy?

If you plan on buying a Trekdesk Treadmill Desk, I suggest you buy it amazon. 
---
(Once again, if you plan on buying this add-on I suggest you buy from Amazon.)

---
Return from TrekDesk Treadmill Desk to Treadmill Articles
---