Sportsart 3110 Treadmill Review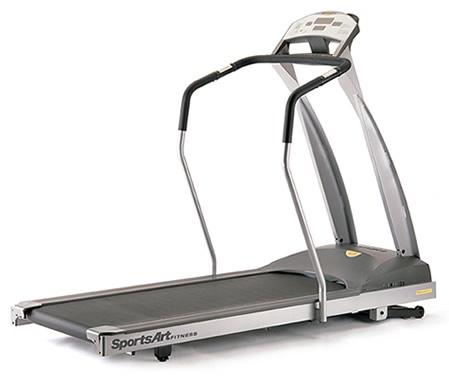 Sportsart 3110 Treadmill

The Sportsart 3110 treadmill is one of the best values you will find on a $3,000 treadmill.
It's an excellent alternative for those who want but can't afford a top-of-the-line Landice or Precor treadmill.
Is This Your Best Buy Treadmill?

As I've mentioned above, if you need a cheaper alternative to those costly premium priced treadmills, then this is the unit for you. It is cheaper than most high end models but still packs features and specs that you normally see on pricey treadmills.
However, although it is cheaper than other first-rate treadmills, it would still cost you $3,000 to own a Sportsart 3110. So if you think this unit is beyond what you can afford, I'm inviting you to visit our best buy treadmills page to help you find the best treadmill that fits your budget.
What It Offers
The Sportsart 3110 gives you a 3.0 HP continuous duty motor has a top speed of 12mph(an improvement from the 3108) and a max incline of 15%(with 1,100lbs thrust lift) which is perfect for hardcore runners who needs intense workouts. Also, this motor still comes with Flowtec™ cooling and cleaning system to prevent it from overheating while keeping it clean thus, extending its life.
The 20" x 58" running surface features a Proprietary SDS™ Shock Dissipation System that cushions harmful impacts for a smoother and injury-free run. And with its HyperGlide™ belt and welded steel frame, you can be sure that the unit will remain durable and stable even after years of usage.
This model also comes with 5 preset, 2 custom, a manual and a quick start program to give you more variety and flexibility in your run. And unlike the 3108 which has 2 heart rate controlled programs, the 3110 boasts 3 HRC programs for those who loves effective HR exercises.
A new feature on this unit that can't be found on cheaper Sportsarts(unless you pay extra) is the full handrails. This is perfect for those who need extra stability and support during a workout.
And finally, like other Sportsarts, this treadmill comes with good warranties. Its drive motor and frames are covered for a lifetime, its electronics for 3 years, its bumper to bumper mechanical for 10 years and its labor for 1 year.
Weakness
It's hard to find one on this unit. But if you think the $3,000 price tag is beyond your budget (although this price is definitely justifiable with everything you'll get), may I suggest you check out the Smooth 7.1HR. It is currently one of our best buy treadmills in the mid-priced range category.
Recommendation
The Sportsart 3110 treadmill is definitely recommended for the excellent value it offers. It has everything you'll need from a premium priced treadmill and more. This is certainly one of the best buy treadmills in the $3,000 price range.
Summary:

Cost: $3,099
Motor: 3.0 HP continuous motor
Speed: 0 to 12 mph
User Weight Capacity: 400 lbs
Incline: 0 to 15%
Warranty:
lifetime on frames and motor,
10 years for bumper to bumper mechanical,
3 years for electronics and
1 year for labor.
Belt Size: 58"L x 20"W
Rollers: 2.5"
Foldable: No
Heart Rate: Yes
Features: 

• 5 preset, 2 custom and 3 heart rate controlled programs

• Manual mode

• Quickstart mode

• Proprietary SDS™ Shock Dissipation System

• Full Handrails

• 2 lower steel and 4 upper frame supports

• Belt Tracking Guides

• CardioControl™

• Flowtec™ Cooling System

• Heavy Duty Welded Steel Frame

• Contact Heart Rate

• Heart Rate Control

---
Where to Buy?

If you plan on buying a Sportsart 3110 Treadmill, I suggest you buy directly from Amazon for $3,099. 
---
Return from Sportsart 3110 Treadmill to Sportsart Treadmills
---