Schwinn 860 Treadmill Review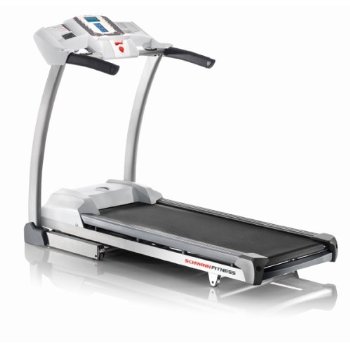 Schwinn 860 Treadmill Review
Designed to be more durable and more powerful than Schwinn's entry-level machine, the Schwinn 860 treadmill is equipped with more features that will help you achieve your ideal weight, figure, and performance level.
Ideal for home workouts, the 860 treadmill provides a great deal of comfort, convenience, safety, and ease of use. Some features to look forward to are the 3.0 HP continuous duty motor, up to 12mph speed, 20 workout programs, and a decent warranty program.
Is It for You?

Designed at a higher level than the Schwinn 840, the Schwinn 860 treadmill is stronger and more powerful. However, it is still not robust enough to accommodate the most rigorous runs and trainings. As long as the machine will not be used for extensive workouts by heavy users, then it should do fine.
What You'll Get:
Being in the same family, the Schwinn 860 treadmill is designed with features that are also present in the 840 model. However, there are a few additions that make up the additional $300 cost, as well.
First, from a 2.5 DC motor, the 860 treadmill now has a 3.0 HP continuous duty motor that represents power, intensity, and outstanding command. Another upgrade is the speed range, in which you are now allowed to run up to 12 mph, giving you a better pace that you'll need to fulfill a more intense workout. Even the number of the preset workout programs increased to 20, providing you a wider variety of fitness options.
Aside from these, the 860 machine comes with a decent running surface that measures 20 x 58 inches. Include a Softrak suspension deck, you get a comfortable striding space that will help reduce stress and impact on your joints, knees, and back. For additional comfort and convenience, the machine is built with a unique fan design that cools you down while you're doing your regular workout sessions.
To effectively measure and monitor your heart rate – and to identify whether you're doing your exercises properly or not – the machine features an integrated pulse grip and telemetric heart rate system that are easy to use and operate. For an alternative option, you may also use the included chest belt to track your heart rate.
For better storage, the machine allows folding when not in use. This should provide you with additional space in your room after each workout session. Other simple features that you may find useful include a dual backlit LCD displace, a magazine rack, and a water bottle holder.
Weaknesses:
Generally, the Schwinn 860 treadmill is more powerful than its 840 counterpart. However, not many improvements can be found. Although the motor has higher horsepower and the speed has improved, it still could not adhere to the most rigorous trainings of running enthusiasts.
Recommendations:
With the same price, you can do better with a more advanced treadmill from a more reputable brand. (See our best treadmill page) The features of the Schwinn 860 treadmill are very basic that you can find them in any other much cheaper machines. If you are not afraid to spend some cash, you may try this for yourself but do not expect much. Unless you are more of a walker, then you may not be satisfied by its performance.
Summary:

Price: $1,299
Motor: 3.0 horsepower continuous duty motor
Speed: 0.5-12 miles per hour
Inclinde: up to 12 percent maximum incline
Deck: Softrak suspension deck
Running Surface: 20 x 58 inches
Workout Programs: 20
Maximum USer Weight Capacity: 300 pounds
Warranty:
10 years for the motor and frame;
1 year for electronics;
1 year for parts;
3 months for wear parts;
3 months for labor

Features:

• Softrak suspension deck

• Unique fan design

• 20 workout programs, including 9 course profiles, 4 heart rate controlled programs, 5k and 10k courses, and 2 custom workouts

• Integrated grip and telemetric heart rate system (includes chest belt) 

• Water bottle holder

• Magazine rack

• Transport wheels

• Folding frame with SoftDrop technology

• Can be switched from miles to kilometers (KM) 
---
Where to Buy?

If you plan on buying a Schwinn 860 Treadmill, I suggest you can get it for just $1,299.00. You can also get this machine at Amazon for the same price.

---
Do You Think This Treadmill is Worth Buying?
After reading this article, do you think buyers should purchase this treadmill? Share your opinion with other visitors of this site by writing your own review. It's free, fun and easy to do. Everyone is invited to join in.

Reminder: This site would no longer publish reviews that doesn't provide any real value to other consumers.
---
(Once again, if you plan on buying this machine I suggest you buy from  Amazon.)


---
Return from Schwinn 860 Treadmill to Schwinn Treadmills
---