Schwinn 840 Treadmill Review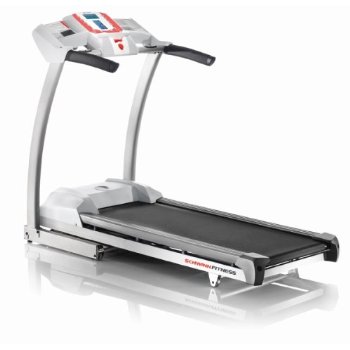 An entry level treadmill from Schwinn, the Schwinn 840 treadmill is perfect for walkers who want to tone up their muscles, control their weight, and improve their performance.
Featuring a 2.5 HP continuous duty motor, a dual shock absorption system, dual screen console, and integrated heart rate monitor, this treadmill is designed to help beginners achieve their fitness goals.
Is It for You?

The good news: Schwinn 840 treadmill costs less than $1000. The bad news: It wasn't designed to accommodate demanding runners and rigorous training exercises. Hence, if you are more of a leisure walker than an extensive runner and if you are not heavier than 300 pounds, then this machine should do well for you. Otherwise, for heavy use and intense workouts, you might as well go with a more advanced treadmill. (See our best treadmill page)
What You'll Get:
Although it has a lot of features that it boasts of, the Schwinn 840 treadmill only presents what's worth its price. If you look closely at the following items, you'll realize they can only accommodate beginners.
For instance, the motor of the machine is a 2.5 HP continuous duty. Although it is powerful enough to meet the needs of walkers, it won't be able to cope with high intensity running, steep hill workouts, and more than 10mph speed runs. This shouldn't be a problem if you are not a demanding runner.
The machine features a speed range of 0.5 to 10 mph, perfect for slow runs, gentle jogs, and regular walks. This easily allows you to adjust your speed according to your workout intensity level and the fitness goal you want to achieve.
For extra comfort and security, the machine is designed with a Softrak suspension deck and a walking area of 20 x 55 inches. Both of these features offer a comfortable training experience that reduces impact to your knees and joints while doing your exercises.
Want workout variety? The Schwinn 840 treadmill is programmed with 16 preset workouts that give you a wide variety of options to choose from. Whether you want to lose weight or simply improve your cardiovascular performance, you can find a workout program that best suits your needs.
Other features of this treadmill that might come in handy for you and your fitness needs include an integrated heart rate system and pulse grip, a unique workout fan that provides comfort and convenience, and the SoftDrop folding technology so you can easily store the machine after use.
Weaknesses:
Obviously, the Schwinn 840 treadmill is an entry-level machine that specifically accommodates beginners and walkers only. It won't be able to do well with rigorous trainings, demanding runs, and heavy usage. The motor is not powerful enough and the quality is pretty ordinary.
Recommendations:
The $999 price of the Schwinn 840 treadmill is not really worth its features that you can get from much cheaper alternatives. On the other hand, if you are sure to only use the machine for light and leisure walks, then might as well try it for yourself.
Summary:

Price: $999

Motor: 2.5 horsepower continuous duty motor

Speed Range: 0.5-10 mph

Incline Range: 0-10%

Deck: Softrak suspension deck

Running Surface:20 x 55 inches

Maximum User Weight Capacity: 300 lbs

Shipping Weight (in pounds): 285.0

Dimensions (L x W x H): 74 x 32 x 54 inches

Warranty:

10 years for the motor;
5 years for the frame;
1 year for electronics;
6 months for parts;
3 months for wear parts;
3 months for labor

Features:


• Softrak suspension deck reduces impact to joints


• Cushioned walking/running surface area (20 x 55 inches) 


• 16 workout programs, including 6 course profiles, calorie goal, Quick Start and custom workouts


• Integrated grip and telemetric heart rate system


• Folding convenience with SoftDrop technology


• Water bottle holder


• Magazine rack


• Transport wheels


• Integrated fan


• Switchable from miles to kilometers (KM)
---
Where to Buy?

If you plan on buying a Schwinn 840 Treadmill, I suggest you buy it directly from the company through Amazon. You can get it for just $999.00. 


---
Do You Think This Treadmill is Worth Buying?
After reading this article, do you think buyers should purchase this treadmill? Share your opinion with other visitors of this site by writing your own review. It's free, fun and easy to do. Everyone is invited to join in.

Reminder: This site would no longer publish reviews that doesn't provide any real value to other consumers.
---
(Once again, if you plan on buying this machine I suggest you buy from Amazon.com.)
---
Return from Schwinn 840 Treadmill to Schwinn Treadmills
---