Proform 9.0 ZT Treadmill Review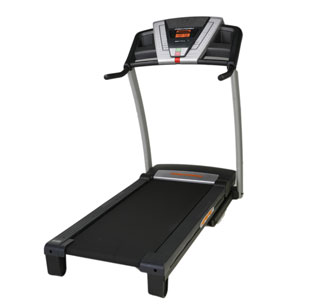 Proform 9.0 ZT Treadmill

The Proform 9.0 ZT treadmill is the upgraded version of the Proform 8.0 ZT that comes with better specs, features and warranties.
And just like other treadmills in Proform's ZT lineup, this one also comes with beautiful design and great finish.
Is It for You?

If you're in the market for an entry level treadmill that you would use for walking or light jogging, then the Proform 9.0 ZT might be the treadmill for you. It comes with decent power and numerous features. However, cheap parts were used in making this machine so I don't recommend you run on it. If you are a serious runner, then I suggest you visit our best buy treadmills page and look for a treadmill in the $1,500 or above price range.
What You'll Get
The Proform 9.0 ZT treadmill comes with a 2.25 hp continuous duty motor. This motor is perfect for walking but would lack the power necessary for running. It has a maximum speed of 10mph and a max incline of 10% but since it is made of cheap parts, try to avoid reaching full speed as it might shorten the life of this machine.
The tread belt measures 20" x 55" so you'll have enough room to move and feel comfortable while doing your walk. Plus, the ProTech™ cushioning reduces harmful impact on your joints by up to 15% compared to running on asphalt for a safer and injury-free workout.
There are 16 built-in workouts to choose from and if that's not enough you can also add iFIT® workout cards for even more variety. These optional workout cards allow you to exercise as if have a personal trainer beside you talking to you. It automatically controls the speed, incline and duration of your workout depending on your personal goals. On the console, you will find a backlit display which shows you important information regarding your workout so you can easily measure your progress. There is also an Intermix Acoustics™ 2.0 sound system that is iPod and MP3 compatible so you can listen to your favorite music while working out.
Other features include the Quick Speed and Quick Incline so you can immediately adjust the intensity of your workout with a push of a button, SpaceSaver® feature which folds the treadmill vertically so you can easily store it after use and the dual grip EKG heart rate monitor for people who checks their heart rates during workouts.
And finally, the Proform 9.0 ZT comes with a 25 years motor warranty, lifetime frames warranty as well as 1 year warranty for parts and labor. These warranties are better than what Proform offers with their other machines but they are still not good enough compared to other quality treadmills in this price range.
Weakness
The biggest weakness of this machine is the quality of the parts used. These cheap parts may look good on the outside (especially since the fit and finish of this product is really very good) but don't expect them to be problem-free for very long.
Recommendation
Due to its poor parts quality, I don't think this machine would last very long. Therefore, I cannot recommend the Proform 9.0 ZT treadmill. If you're really looking for an entry level treadmill, you would be better off buying one of our best buy treadmills in the $500-$1,000 price range.
Summary:

Cost: $599

Motor: 2.25HP continuous motor

Speed: up to 10 mph

Incline: up to 10%

Warranty: Lifetime frame, 25 years motor, 1 year parts and labor

Belt Size: 55" x 20"

Foldable: Yes

Heart Rate: Yes

Features: 


• Backlit Display 


• QuickSpeed™ and QuickIncline™ Control 


• Intermix Acoustics™ 2.0


• iFIT® Workout Cards (optional)


• ProTech™ Cushioning


• SpaceSaver® Folding


• Dual Grip EKG Heart Rate Monitor

Where to Buy?

If you plan on buying a Proform 9.0 ZT treadmill, I suggest you buy directly from the company through amazon. They offer the best price around the net. You can get it for just $599.

Click here to visit the Proform website and learn more
(opens new window)
(Once again, if you plan on buying this machine I suggest you buy from amazon)

Click here to visit the website
---

Return from Proform 9.0 ZT Treadmill to Proform Treadmills
---