Proform 5 Star Interactive Trainer 1200 Treadmill Review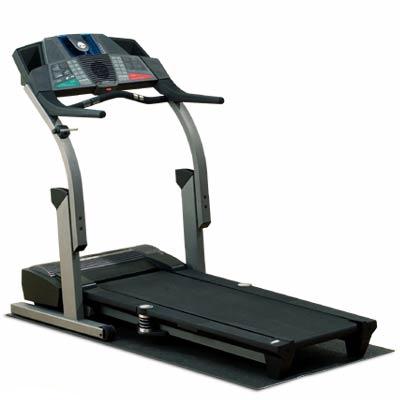 Proform 5 Star Interactive Trainer 1200 Treadmill

Update: This treadmill has been discontinued.

As an alternative you might want to check out our best buy treadmills page to look for similar treadmills.
With a price tag of just under $1,300, the Proform 5 Star Interactive Trainer 1200 treadmill is the most affordable 5
Star treadmill from Proform. And like others in this series, it also features the 5 essential fitness elements that 5 Star treadmills are known for.
Is This Treadmill for You?
I believe this treadmill would benefit those who want to lose weight. This treadmill comes with all necessary components for an effective and healthy weight loss program.
But just like other Proform treadmills, this machine's quality is also below average. Proform used cheap parts to manufacture this treadmill so don't expect it to last very long.
If you're looking to get great value for your money, I suggest you visit our best buy treadmills page. There, you'll find the finest treadmills categorized by price.
---
What Separates the Proform 5 Star Series from the Rest
This treadmill line was named 5 Star because it integrates the five essential fitness elements for a complete weight loss solution: Cardio, Strength, Personal Training, Meal Plans and Nutritional Support.
Each purchase of any 5 Star trainers will get you $700 worth of weight loss gifts covering not just the cardio part but also the other four fitness categories for free. You'll get strength training equipment like hand weights and stability ball, personal training programs on disc and DVD, and meal plans and nutritional supplements that will last for 8 weeks.
All of these components have been designed by personal trainers and dieticians to work together and maximize your weight loss results.
In conclusion, you'll not only get a treadmill when you buy a 5 Star trainer, but a complete weight loss program.
Features and Benefits
The Proform 5 Star Interactive Trainer 1200 treadmill features a 2.0 continuous horsepower commercial-grade motor that can reach speeds of up to 10 mph. For a treadmill below $1,300, this is a pretty decent motor. But if you'll do a bit more researching, you'll surely find treadmills with better motor than this one in the same price range.
The QuickSpeed™ and Power Incline™ features allow you to adjust the intensity of your workout with one touch of a button. Decrease the intensity when you need a break or increase it immediately for a more demanding run.
By gripping the EKG™ Grip Pulse Sensor, an easy-to-use handgrip sensor that monitors your heart, the Proform 5 Star Interactive Trainer 1200 treadmill immediately displays your heart rate... allowing you to workout in your target zone which improves cardio-training and weight loss results.
This machine also provides workout variety and flexibility to avoid boredom. You have the option to let any of the 8 built-in programs, iFIT® technology, or interactive disc guide you through your run.
The Proform 5 Star Interactive Trainer 1200 treadmill also comes with a built-in interactive disc player and speaker. So you can play the 8 weeks personal training disc right on the console.
The 19" x 55" commercial-grade belt offers ProShox Cushioning™ to make sure that you'll always get the most comfortable run while still preventing any joint, knee and ankle injuries from happening.
The built-in 2-speed CoolAire™ Workout fan creates air currents from 4-6 MPH, the ideal range for body cooling. This fan will help you stay cool and fresh especially during those long workouts.
The SpaceSaver® Fold Away Design allows you to fold-up the treadmill after use so it doesn't take up any extra room. This feature is perfect for those with limited spaces at home.
And finally, The Proform 5 Star Interactive Trainer 1200 treadmill has a 3-2-1 Tread Warranty. The motor is covered for 3 years, treadmill parts for 2 years and in-home labor charges for a year.
Weak Point
As expected, this treadmill's biggest weakness is its overall quality. Just like other Proform treadmills, cheap parts were used to manufacture this model.
Recommendation
The 5 Star line probably has the best personal trainer feature in the industry. But due to its below average quality, I believe other treadmills will give you more value for your bucks. So to conclude, I don't recommend the Proform 5 Star Interactive Trainer 1200 treadmill.
If you really want a treadmill in this price range, I highly recommend you check out the Smooth 7.1HR Treadmill. It is currently the best treadmill below $1,500.
Summary:

Motor: 2.0 CHP Commercial-Grade Motor

Speed: 0 to 10 mph

Incline: up to 10%

Belt Size: 19" x 55"

Heart Rate: Yes

Folding: Yes

Features: 


• QuickSpeed™ Control
• Power Incline™
• iFIT® compatible
• ProShox Cushioning™
• CoolAire™ Workout Fan
• 5 Star Interactive Console
• 8 programmed workouts
• EKG™ Grip Pulse Sensor
• Built-in Interactive Disc Player and Speakers
• SpaceSaver® Fold Away Design
• Weight Loss Gift Package
---
Where to Buy?

If you plan on buying a Proform 5 Star Interactive Trainer 1200 treadmill, I suggest you buy it from ProForm. You can get it for just $1,299.00.
---
Return from Proform 5 Star Interactive Trainer 1200 treadmill to Proform Treadmills
---