Precor M9.33i Treadmill Review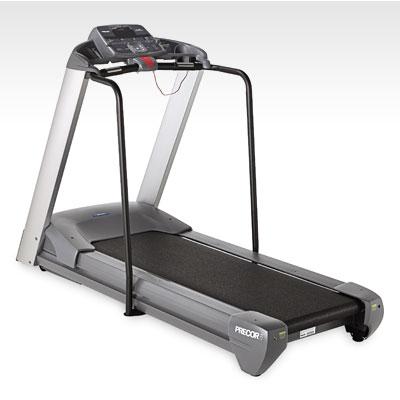 Precor M9.33i Treadmill

The Precor M9.33i treadmill is the improved version of last year's best seller, the Precor M9.33 treadmill. And the best part is… it is being sold for the same price as the old model even with all the upgrades. Which is also the reason why I consider this one of the best treadmills you can buy under $3,500 this 2006.
Is This the Best Treadmill for You?

If you are a serious runner, looking for a treadmill that will last for the longest time and is capable of spending around $3,500, then this machine is perfect for you. However, if this equipment is beyond your budget, then I suggest you visit our Best Buy Treadmills page and look for a treadmill that fits you best.
What the Precor M9.33i Treadmill Offers
The 3.0HP continuous duty motor is one of the improvements in this version. With it, you'll get a max speed of 11mph and a max incline of 15% to give you intense workouts no matter what fitness level you're in.
The Precor M9.33i takes pride on its workout variety. Its 14 workout programs keep routines fresh, varied and challenging for faster results and sustained motivation. Plus, the QuickStart feature jump-starts your exercise routine with a push of a button. This is perfect for those who need to workout immediately.
You can also save up to 2 user ID's with personal preference information, so you can easily save and retrieve workouts for future use. This user ID recovers pre-set personal profiles and allows you to monitor if you've consistently improved your workout performance.
Like most Precors, the Precor M9.33i treadmill has been time tested in health facilities worldwide, providing solid construction that translates into quality performance in your home for a long time.
The Touch-Sensitive Console, intuitive keystroke sequencing, multiple feedback options, large LEDs, and accompanying graphics allow you to easily monitor and alter your workouts.
By gripping the touch heart rate monitor, an easy-to-use handgrip sensor that checks your heart, the SmartRate® feature immediately displays your heart rate, allowing you to workout in your target zone which improves cardio-training and weight loss results.
The Safety-clip feature of the Precor M9.33i treadmill immediately turns off power, if needed, for added assurance. Password protection ensures that the machine is able to be locked and unlocked at your discretion.
The Precor M9.33i treadmill's dot matrix display shows you your calories, calories per minute, distance, heart rate, incline, METs, profile, SmartRate®, speed, and time to help you monitor your workouts.
The Ground Effects® Impact Control System cushions impact and stabilizes lateral movement. It eases wear and tear on your knees, legs, and back, increasing comfort and minimizing fatigue for a longer, healthier run.
The innovatively designed Integrated FootplantTM Technology adjusts belt speed to foot speed, fully complementing and supporting your natural running stride.
And finally, like other Precor treadmills this one also features 10 years of worry-free warranty. That means 10 years warranty for everything which is better than the industry standards.
Weaknesses?
It used to be that Precor treadmills are known to be overpriced. But these last few years, Precor have been improving the value of their treadmills, as evident in this model. So all in all, I honestly don't think this machine has any weakness.
Recommendation
With the value it provides, I highly recommend the Precor M9.33i treadmill if you can afford a machine in the $3,500 price range. However, if it is beyond your budget, then I suggest you look for an alternative using our Best Buy Treadmills page.
Summary:

Cost: $3,499

Motor: 3.0HP continuous motor

Speed: 0.5 to 11 mph

Frame: Powder Coated Steel

Incline: up to 15%

Belt Size: 20" x 57"

Dimesions: 79"L x 34"W x 55"H

Weight: 285 lbs

Warranty: 10 Years

Heart Rate: Yes

Regulatory Approvals: FCC, ETL, CE

Electrical Requirement: 120 VAC

Features: 


• CSAFE Compatible


• 2 User I.D.s and Password


• QuickStart™


• Reversible Deck


• 14 total programmed workouts


• Integrated Footplant Technology


• Ground Effects® Impact Control System


• Heart Rate Telemetry


• Hand Held Heart Rate


• Touch Heart Rate


• Low Step-up Height


• Touch Sensitive Display

---
Where to Buy?

If you plan on buying a Precor M9.33i treadmill, I suggest you find a local dealer through Amazon. You can get it for just $3,499.00. As an alternative, you might also want to check if Amazon still has this in stock.


---
(Once again, if you plan on buying this machine I suggest you buy from Amazon.)

Click here to visit Amazon.com
---
Return from Precor M9.33i Treadmill to Precor Treadmills
---