Precor M9.33 Treadmill Review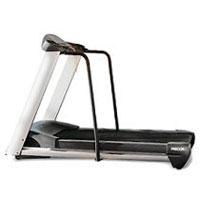 Precor M9.33 Treadmill

The Precor M9.33 treadmill is lately being considered as one of the top premium home treadmills in the market.
Precor reduced this model's price by $200 from last year, which makes buying it even more logical.
Exceptional stability combined with a smooth, quiet operation, trouble-free maintenance and space-efficient design makes this Precor ideal for home use.
When we compare this Precor treadmill to their cheaper M9.31 model, you'll notice that they have similar motor, running surface and top speed, but this machine prides itself with more user profiles(2) and pre-set programs(13).
Update: This treadmill has been discontinued.

As an alternative you might want to check out our best treadmill page.
Click here to learn how to transform your body(forever) in 49 days flat!
Is The Precor M9.33 Treadmill Right for You?

If you are a serious runner, looking for a treadmill that will last for the longest time and you're capable of spending around $3,500, then this machine is perfect for you. However, if this equipment is beyond your budget, then I suggest you visit our best buy treadmills page and look for a treadmill that fits you best.
What Precor M9.33 Treadmill Offers
The Precor M9.33 treadmill gives you a powerful 2.75 continuous duty motor. This motor offers you speed of up to 11mph to satisfy even the serious runners with high intensity workouts.
The Precor M9.33 treadmill takes pride on its workout variety. Its 13 workout programs keep routines fresh, varied and challenging for faster results and sustained motivation. Surely, you will find a tough workout regardless of your fitness level.
It also comes with a multi-program workout that mixes the speed, incline, and 18 program options to effectively work your lower body. This keeps you motivated with varied routines, from weight-loss to interval-training programs.
The QuickStart feature jump-starts your exercise routine with a push of a button. This feature is perfect for those who need a workout immediately.
The user ID retrieves pre-set personal profiles and allows you to monitor if you've consistently improved your workout performance. You can save up to 2 user ID's with personal preference information, then quickly and easily access it for future workouts.
Like most Precor treadmills, the Precor M9.33 treadmill has been time tested in health facilities worldwide, providing solid construction that translates into quality performance in your home for a long time.
The Touch-Sensitive Console, intuitive keystroke sequencing, multiple feedback options, large LEDs, and accompanying graphics allow you to easily monitor and alter your workouts.
By gripping the touch heart rate monitor, an easy-to-use handgrip sensor that checks your heart, the SmartRate® feature immediately displays your heart rate, allowing you to workout in your target zone which improves cardio-training and weight loss results.
The Safety-clip feature of the Precor M9.33 immediately turns off power, if needed, for added assurance. Password protection ensures that the machine is able to be locked and unlocked at your discretion.
The Precor M9.33's dot matrix display shows you your calories, calories per minute, distance, heart rate, incline, METs, profile, SmartRate®, speed, and time to help you monitor your workouts.
The Ground Effects® Impact Control System cushions impact and stabilizes lateral movement. It eases wear and tear on your knees, legs, and back, increasing comfort and minimizing fatigue for a longer, healthier run.
The innovatively designed Integrated FootplantTM Technology adjusts belt speed to foot speed, fully complementing and supporting your natural running stride.
Weaknesses?
It used to be that the Precor M9.33 treadmill is a bit expensive but ever since the price drop from last year, finding a weakness to write here became harder.
Recommendation
With the $200 you'll save from the price drop, this treadmill suddenly became one of the top machines in its price range. I definitely recommend this treadmill but only if you can afford it.
Summary:

Motor: 2.75HP continuous motor

Speed: 0.5 to 11 mph

Frame: Powder Coated Steel

Incline: up to 15%

Belt Size: 20" x 57"

Dimesions: 79"L x 34"W x 55"H

Weight: 285 lbs

Regulatory Approvals: FCC, ETL, CE

Electrical Requirement: 120 VAC

Features: 


• CSAFE Compatible
• User I.D and Passwords
• QuickStart™ 
• Reversible Deck 
• 13 total programmed workouts
• Integrated Footplant Technology 
• Ground Effects® Impact Control System
• 9 Function Display 
• Heart Rate Telemetry 
• Hand Held Heart Rate
• Touch Heart Rate
• Low Step-up Height
• Touch Sensitive Display 

---
Where to Buy?

If you plan on buying a Precor M9.33 treadmill, I suggest you buy it at Amazon.com. They offer the cheapest prices around the net. You can get it for just $3,499.00.

---
Return from Precor M9.33 Treadmill to Precor Treadmills
---