LifeSpan Pro3 Treadmill Review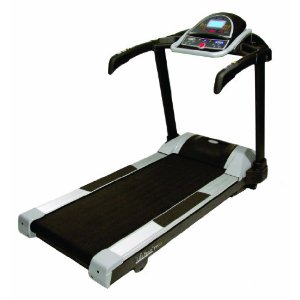 LifeSpan Pro3 Treadmill

The LifeSpan Pro3 treadmill is the cheaper alternative to the Lifespan Pro5, which is the biggest and most durable treadmill from Lifespan this year.
The biggest difference between the two is that the Pro5 comes with better quality, more power and a bigger running space but it is also priced around $1,000 more and considering that the Pro3 already retails above $2,000, a treadmill worth more than $3,000 is already beyond most people's budget.
Is This for You?
If you're in the market for a quality treadmill with a strong motor and huge running space, then this treadmill is definitely worth a look. It is one of the best treadmills you can buy in the market today below $2,500 (see our best buy treadmills page). So if you can afford it, this is definitely a great machine to own.
What You'll Get
The LifeSpan Pro3 treadmill offers a 3.0 HP continuous duty DC Dura-Max motor. This motor offer speeds of up to 12mph and has 15 levels of incline that uses 1,000 lbs of thrust. So it doesn't matter whether you're a beginner or a hardcore runner, this machine can give you the workout that you desire.
The 22" x 60" orthopedic running surface provides more than enough room for you to move and be comfortable during your workouts. There are 8 variable density elastomers throughout the 1" thick reversible phenolic deck that serve as suspension to prevent injury by reducing impact to your joints while running.
The LifeSpan Pro3 gives you variety in your workouts by offering numerous exercise programs. It has 5 preset speed programs, 5 preset incline programs, 5K/10K programs, and 2 customizable programs where you can set the speed and incline for each workout segment.
The display panel features a large blue backlit LCD, which shows the chosen exercise program and your progress as you workout and 3 LED display panels where you'll see information regarding your Heart Rate, Incline, Speed, Distance, Time, and Calories, at the same time.
Other features include the patent-pending Intelli-Key blue lighting system that step you through console operation so you can quickly and easily start your workouts, handlebar controls that let you adjust the speed and incline of your workout without ever removing your hands from the side rails, and a chest strap so you can easily monitor your heart rate during intense exercise.
Weakness
So far I don't see any weakness in this machine. It provides excellent value for your money.
Recommendation:
I highly recommend the LifeSpan Pro3 treadmill. It is one of the best treadmills this year below $2,500. However, if a $2,500 treadmill is beyond your budget then I suggest you visit our best buy treadmills page to look for other quality treadmills in different price ranges.
Summary:

Cost: $2,249.00

Motor: 3.0 HP Continuous Duty DC Dura-Max Motor

Running Deck: 60"L x 22"W

Speed: 0.5 to 12 mph

Incline: 15 levels

Foldable: No

Heart Rate: Yes, pulse grip or chest strap

Maximum User Weight: 350 lbs

Warranty: Residential- lifetime for motor and frame, 5 years parts and 1 year labor

Features: 


• Intelli-Key Blue Lighting System 


• Large Blue Backlit LCD 


• 8 Variable Density Elastomers 


• 3 LED Display Panels


• 5 preset speed programs, 5 preset incline programs, 5K/10K programs, and 2 customizable programs


• 1" Reversible Phenolic Deck 


• 1,000 lbs Max Weight of Incline Motor


• Handlebar Controls

---
Where to Buy?
If you plan to buy a LifeSpan Pro3 treadmill, I suggest you buy from Amazon.com. You can get it for just $2,249.00.

Click here to visit Amazon.com and learn more
(opens new window)
---
(Once again, if you plan on buying this machine I suggest you buy from Amazon.)

Click here to visit Amazon
---
Return from LifeSpan Pro3 Treadmill to LifeSpan Treadmills
---