Horizon T202 Treadmill Review
Horizon T202 Treadmill Reviews
The Horizon T202 treadmill is another beautifully packaged treadmill from Horizon Fitness this year.
However, just like most Horizon treadmills currently in the market, this one also comes with poor quality.
Is It for You?

The Horizon T202 would best fit walkers. It doesn't have a big motor and isn't very durable so runners should try to avoid this machine. If you really want a treadmill for running, I suggest you visit our best treadmill page and look for a unit in the $1,500 or above price range.
What You'll Get
The Horizon T202 comes with a decent 2.5 HP continuous duty motor which has a max incline of 12% and a max speed of 12mph. However, because this machine was made from cheap parts I don't recommend you max out this machine's capabilities as this will definitely shorten its life.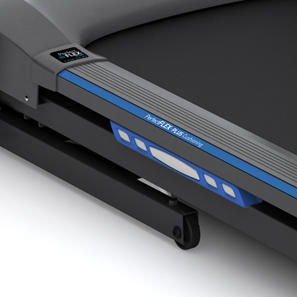 The 20" X 55" running surface provides enough room for you to move and be comfortable during your workout. This deck also comes with the PerfectFLEX™ Plus cushioning which provides shock absorption and support for your knees and ankle to minimize injuries.
The console comes with two 4-digit LED windows which shows you important information regarding your workout so you will always know how much you've progressed. Plus, you can connect your iPod to the console and listen to your favorite music from the treadmill's speakers. And, with the iPod + Nike feature, you can save your workout data straight to your iPod for simple workout tracking.
Other features include 12 workout programs to give you more variety in your exercise, the CoolFit™ fitness fan to keep you fresh during those long workouts and the foldable feature to save space in your room when the machine's not in use.
And finally, the Horizon T202 treadmill comes with decent warranties. It offers a lifetime warranty for frame and motor and a 1 year warranty for parts and labor. Although these warranties are not as good as some of our best buy treadmills in this price range. It is still better than most $800 treadmills.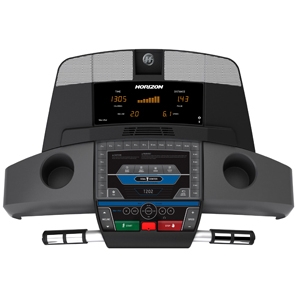 Weakness
Just like other entry level Horizons, this machine's biggest weakness is its poor quality. It was not built to take a pounding so you should avoid running on this machine if you do decide to get one.
Recommendation:
Because of its poor quality, I would not recommend the Horizon T202 treadmill. If you really want an affordable treadmill, I suggest you visit our best buy treadmills page and check out our recommendations below $1,000. They come with more features and a heck of a lot better quality than this machine.
Summary:

Cost: $799.99
Motor: 2.5 CHP Motor
Running Deck: 55"L x 20"W
Speed: 0 to 12 mph
Incline: up to 12%
Foldable: Yes
Heart Rate: Yes
Maximum User Weight: 325 lbs
Warranty: Lifetime frame and motor, 1 year parts and labor
Features:
• PerfectFLEX™ Plus Cushioning System
• 12 Workout Programs
• iPod + Nike
• COOLfit™ Fitness Fan
• Heart Rate Grips
• Two 4-digit LED Windows

---
Where to Buy?

If you plan on buying a Horizon T202 treadmill, I suggest you buy directly from Horizon. They offer the lowest price on the net. It is currently being sold for just $799.99.

Click here to visit the website and learn more
(opens new window)
---
Do You Think This Treadmill is Worth Buying?
After reading this article, do you think buyers should purchase this treadmill? Share your opinion with other visitors of this site by writing your own review. It's free, fun and easy to do. Everyone is invited to join in.

Reminder: This site would no longer publish reviews that doesn't provide any real value to other consumers.
Read Visitor's Contributions
Below, you can comment or read opinions of other consumers...

It is OK

I used it for over two years. Everyday. Mainly walking and occasional jugging. It has not given me trouble yet, other than needing lubricating …
old&busymom Not rated yet
This treadmill is one month old. It sounds like I'm walking on a bag of bolts. I would not ever buy this again.
Bought one, poor quality evident Not rated yet
Upon T202 first use the rear plastic belt/roller covers on each side scraped the belt continuously, and the rear roller was bad, making a repetitive, metallic, …
---
(Once again, if you plan on buying this machine I suggest you buy directly from Horizon.)

Click here to visit the website
---
Return from Horizon T202 treadmill to Horizon Treadmills
---