HealthTrainer 801 Treadmill Review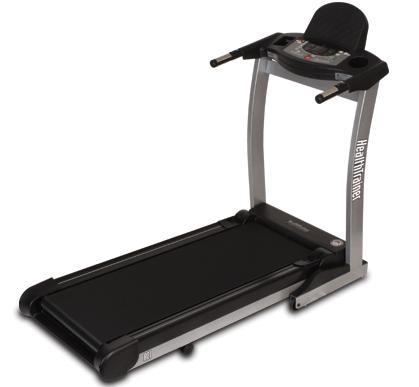 HealthTrainer 801 Treadmill
The HealthTrainer 801 treadmill is one of the best HealthTrainers in the market today.
It is similar to the Encore EC 6500 treadmill, (both models are owned and manufactured by Keys Fitness) but this one is a bit more expensive.
Is It for You?

If feature rich treadmills are what you want, then this might be the machine you're looking for. Whether you're a beginner or a veteran runner, this model has something for you. Plus, it is priced just a little above $1,500 so most people can afford it.
Features and Benefits
This HealthTrainer model comes with a 2.5HP continuous duty motor. It can reach a max speed of 10mph and can be inclined for up to 12%. So whether you're a beginner or an advance runner, this machine has something for you.
The 20inch x 56inch tread belt is comparable to most quality machines in its price range. This would be perfect for tall people since they are the ones requiring bigger running surface to accommodate their long strides.
It also features 4 preset, 8 custom, 2 user and 1 heart rate program to give you more variety in your workouts. Plus, the OneTouch™ speed and incline controls make adjusting your workout as easy as possible. And, the heart rate chest strap is perfect for those who love to run in their target heart rate zone.
And finally, it still offers the generous 10 year motor warranty which Keys Fintess brands are known for. Other warranties include lifetime for frames, 2 years for parts and a year for labor.
Weakness
Just like most Keys Fitness manufactured treadmills, this model's biggest weakness is its finish quality. Other than that, this is a good machine to own.
Recommendation
Although this is a good treadmill, it still needs to improve on some things (quality, reliability, etc.) to really be noticed in the very competitive mid-priced range category. Also, it is a bit more expensive than other Keys owned mid-priced treadmill. So to conclude, I don't recommend the HealthTrainer 801 treadmill.
Summary:

Motor: 2.5 HP continuous motor
Speed: 0.6 to 10 mph
Rollers: 2.5"
User Weight Capacity: 300 lbs
Incline: 0 to 12%
Warranty: Lifetime on frames, 10 years for motor, 2 years for parts and 1 year for labor.
Belt Size: 56" x 20"
Foldable: Yes
Heart Rate: Yes
Features:
• 5 Window LED Console
• 4 Pre-set, 8 Custom, 2 User and 1 Heart Rate Programs
• Cushioned Deck
• OneTouch™ Speed and Incline Control
• Heart Rate Chest Strap
• EKG Pulse Grip
---
Where to Buy?

If you plan on buying a HealthTrainer 801 Treadmill, I suggest you locate a dealer through keysfitness.com. It is currently being sold for $1,599.
---
Return from HealthTrainer 801 treadmill to HealthTrainer Treadmills
---