Athlon Simplicity Treadmill Review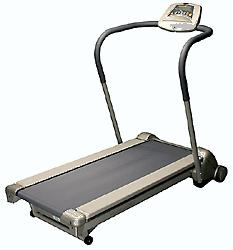 Athlon Simplicity Treadmill
Update: This treadmill has been discontinued

As expected, Athlon Simplicity's biggest strength is its excellent design. But other than that, I don't see anything special with this unit.
Is This The Best Treadmill for You?
If you want a pretty machine you can proudly display in your house, then this is the model for you. However, you shouldn't expect much from it in terms of performance. Its specs, features and quality aren't really that impressive. If you don't think this unit is for you, then I highly suggest you visit our best treadmills page and look for the treadmill that fits you best.
What You'll Get
This model offers a 1.75 HP continuous duty motor that has a speed range of 0.5-10mph and 10 levels of incline. This motor is pretty decent but when compared to some of the best treadmills in this price range, it is still a little small.
The 18" x 54" running surface is pretty impressive considering this is just a $1,000 unit. However, I still don't think this should be a reason for you to buy this machine. Big tread belts need powerful motors and since this model has a small motor, it would need to work doubly hard to move the large belt. This in return, would lead to lots problems in the future.
Weakness
This unit has lots of weaknesses but the biggest one is its quality. Also, be careful when buying Athlon products. Athlon fitness (the manufacturer of Athlon machines) is showing signs that they are losing money so it would probably be just a matter of time before they go out of business.
Recommendation
I don't recommend the Athlon Simplicity treadmill. If you really want an affordable treadmill, I highly recommend you read our Smooth 5.15P treadmill review. It is currently our best treadmill below $1,000.
Summary:
Cost: $999

Motor: 1.75 HP continuous motor

Speed: 0.5 to 10 mph

User Weight Capacity: 300 lbs

Incline: 10 Levels

Belt Size: 54" x 18"

Foldable: No

Heart Rate: No

Features:


• LCD Display with digital clock


• 3 Pre-set Programs


• Simplicity Electronics Package

---
Where to Buy?

If even after this review you still plan on buying an Athlon Simplicity treadmill, I suggest you buy it at AthlonFitness.com. You can get it for just $999
---
Return from Athlon Simplicity Treadmill to Athlon Treadmills
---