Yowza Smyrna Treadmill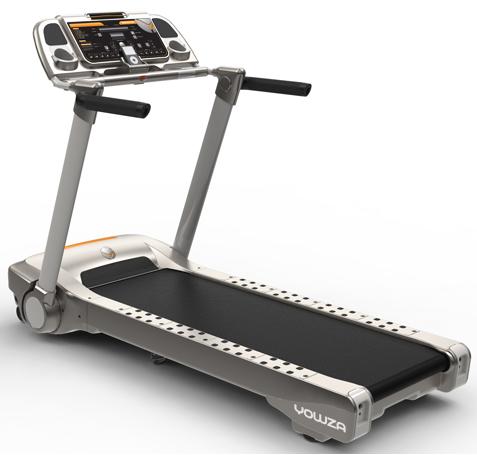 Yowza Smyrna Treadmill Review
Perfect for any member of the family, the Yowza Smyrna Treadmill is packed with features that will provide you with both fitness and entertainment.
Featuring a patented transformer frame, the treadmill showcases an excellent layout design. Other good features include heart-rate control, iPod dock and speakers, and a 3-speed fan that will make your workout really motivating.
Is It for You?

Whether you are a beginner who requires slow speed and wide running area or a regular runner who desires for a more complex routine, the Smyrna treadmill is designed to offer good quality workouts at home.
What You'll Get:
The Yowza Smyrna treadmill allows a maximum speed of 11mph and an incline of up to 15%, making it suitable for both beginners and skilled runners. A powerful motor drives the machine, while the deck is mounted independently from the frame to provide better shock absorption.
Moreover, it allows you to create your own routine or simply choose a preset workout program, depending on your goal such as cardio or weight loss. There are 13 programs that you can choose from for both beginners and experts alike.
The Large LED display on the machine shall help you get detailed information about your workout program. It displays data including your heart rate reading, speed, incline, time, distance, and calories burned. Your heart rate is measured by a program that makes use of heart rate sensors built on the handle grips of the treadmill.
What makes the Yowza Smyrna treadmill interesting, especially to the newbie, is its sound system that comes with an iPod docking station and hi-fi speakers. Work out with fun and confidence while listening to engaging music in your background.
Reduce the heat and the sweat with the 3-speed fan built in the treadmill, keeping your body cool even if you are running miles.
All these features, combined with a heavy-duty frame and design, make the Yowza Smyrna treadmill perfect for long-lasting workout programs and cardio exercise regimens for you or anyone in the family.
Weaknesses:
The warranty of the Yowza Smyrna treadmill is not absolute. You would have to pay extra (which is quite expensive) if you want a longer labor warranty.
Recommendations:
I do believe that the Yowza Smyrna is a decent treadmill but I also believe that the Yowza Keewadin treadmill is a better option if you really want a Yowza. It is $100 more expensive but it provides way better value than the Smyrna. (Also, you might want to first visit our best buy treadmills page before making any buying decisions)
Summary:

Cost: $1399
Motor: 3.0 HP Quiet Continuous Duty
Incline Control: 0 to 15% grade incline
Speed Control: 0.5-11 MPH
Deck: 1" Triple - laminated phenolic wax-impregnated
Deck Shock Absorption: Floating deck with multi-durometer elastomer rings
Handrails: Stable ergonomic handrails with rubber grips
Running Belt: 20" x 60", Multi-layer PVC with Nylon-Polyester Whisper Weave bottom
Frame: Scratch-resistant powder-coated Unibody Steel Frame
Weight Capacity: 350 lb. Weight Capacity
Warranty: Lifetime on frame and motor, 5 years on parts and electronics, 2 years in home labor
Heart Rate: Yes, pulse grip
Foldable: No
Dimensions: L 83" x W 35" x H 59"
Treadmill Weight: 270 lbs
Features: 

• Commercial Grade 3.0 HP Continuous Duty motor with heavy precision balanced flywheel

• Floating Deck rests on multi-durometer elastomer rings 

• Ergonomically designed console featuring quick start, single touch resistance, speed and incline control; cup holders

• Hi-fidelity speakers and iPod dock

• 3-speed fan

• Grip pulse and wireless heart rate receiver

• Full 20"X 60" multi-ply Running Belt

• Triple phenolic laminated deck is reversible and requires no regular maintenance

• Crowned rollers with sealed bearings provide superior belt tracking

---
Where to Buy?

If you plan on buying a Yowza Smyrna Treadmill, I suggest you buy from Yowzafitness. They usually have this on sale for just $1,399.

Click here to visit Yowza Fitness and learn more
(opens new window)
---
Do You Think This Treadmill is Worth Buying?
After reading this article, do you think buyers should purchase this treadmill? Share your opinion with other visitors of this site by writing your own review. It's free, fun and easy to do. Everyone is invited to join in.

Reminder: This site would no longer publish reviews that doesn't provide any real value to other consumers.
---
(Once again, if you plan on buying this machine I suggest you buy from Yowzafitness.)

Click here to visit the website
---
Return from Yowza Smyrna Treadmill to Yowza Treadmills
---