Weslo Cadence C44 Treadmill Review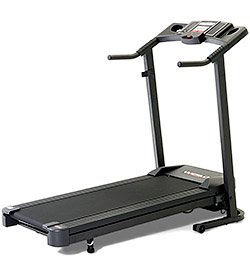 The Weslo Cadence C44 treadmill is probably the only treadmill in the market today that offers an adjustable incline feature for less than $400.
But don't jump for joy yet, as this inclining treadmill might not last very long. It comes with poor quality so don't expect it to be useful after a year or so.
Is It Right for You?

For those who do not intend to run on this machine, this might be a decent choice for a starter treadmill especially with its incline feature. However, if you plan on running, I don't think this machine will suffice. You have to spend more money in order to get a treadmill that would fit to your need. May I suggest you find one using our best buy treadmills page.
What the Weslo Cadence C44 offers?
The Weslo Cadence C44 comes with a 2.25 THP Impulse Drive motor. This motor is good enough for those who love to walk. It has a max speed of 10mph but you should not take full advantage of it mainly because of its cheap parts and poor quality.
The 16" x 47" tread belt provides enough room for walking or jogging mainly since this is an under $400 treadmill. This running surface also comes with Comfort Cell™ cushioning which lessens impact on your joints.
One of the key selling points of this machine is its adjustable incline feature. This treadmill will most likely be the cheapest you will find in the market today that offers it. This feature allows you to do your exercises uphill to burn more calories without having you to manually lift and lock it in an incline position.
Other features include a large LCD display which gives workout feedbacks and an EKG™ heart rate monitor for those who workout using their target heart rates. It also comes with a 1 year motor warranty but does not offer any parts or service warranty. This simply proves that they used cheap parts with this machine.
Weakness
The main weakness with this machine is that it comes with cheap parts and poor quality. But that is to be expected with all entry level treadmills. If you're looking for a quality unit, you might want to check out our best buy treadmills page.
Recommendation:
I would recommend the Weslo Cadence C44 treadmill as a starter treadmill but only to those who plans to walk on it. Although this machine might look attractive for those on a limited budget, I don't think it is fit runners considering that cheap parts were used. So if you are a serious runner, I suggest you visit our best buy treadmills page and choose a unit in the $1,500 or above price range.
Summary:

Cost: $333
Motor: 2.25 THP Impulse Drive Motor
Running Deck: 47"L x 16"W
Speed: 0 to 10 mph
Incline: 3, 6, 9% incline
Foldable: Yes
Heart Rate: Yes
Warranty: 1 year motor
Features: 
EKG™ Heart Rate Monitor 
Digital Speed control 
Large LCD display
Adjustable Incline 
Comfort Cell™ cushioning
---
Where to Buy?

If you plan on buying a Weslo Cadence C44 treadmill, I suggest you buy from Amazon.com. They offer the best price on the net. You can get it for just $333.


Click here to visit Amazon.com
---
Do You Think This Treadmill is Worth Buying?
After reading this article, do you think buyers should purchase this treadmill? Share your opinion with other visitors of this site by writing your own review. It's free, fun and easy to do. Everyone is invited to join in.

Reminder: This site would no longer publish reviews that doesn't provide any real value to other consumers.
Read Visitor's Contributions
Below, you can comment or read opinions of other consumers...

Good machine Not rated yet
My wife and I work out on this and run and jog and walk and it's been lasting for years
Never again I-con Not rated yet
I am 6 foot, 220 pounds. Bought one of these machines to WALK on. After 2 1/2 months of daily use the motor started over heating after 15 minutes use and …
---
(Once again, if you plan on buying this machine I suggest you buy from Amazon.com.)

Click here to visit Amazon.com
---
Return from Weslo Cadence C44 Treadmill to Weslo Treadmills
---