Weslo Cadence 255 DR Treadmill Review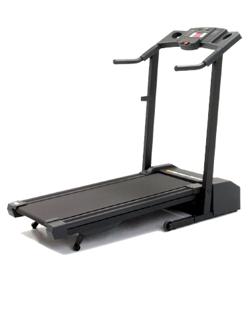 Weslo Cadence 255 DR Treadmill

The Weslo Cadence 255 DR treadmill is one of Weslo's higher priced entry level treadmills.
But just like all Weslo treadmills, this one also comes with very poor quality.
Is This Your Best Buy Treadmill?

If you want to save money on treadmills then this model, as well as other Weslo models, are worth investigating. These treadmills are some of the most affordable treadmills in the market today. However, as expected, they are not of good quality. So be sure to save some money for future repairs and replacements if you're going to buy one.
What You'll Get
You'll get a 2.0 THP impulse drive motor (not continuous duty) with this treadmill. This is capable of delivering speeds of 10mph and can be inclined for up to 10%. But due to its poor quality, I don't recommend maximizing this machine's capabilities. It might not be able to handle the pressure of intense workouts.
Most individuals would find the 16-inch x 45-inch tread belt to be too small for running. So if you're a runner, this unit is definitely not worth buying. You'll be better off buying a treadmill in the $1,500 or above price range. (See our best buy treadmills page)
Other features include a workout fan, water bottle holder, space saver, and comfort cell impact absorption system. All of these were included to add more value to this treadmill.
Weakness
The biggest weakness of this model is its lack of quality. Also, with a $700 price tag, they should have added more features or at least have made it iFIT® compatible.
Recommendation
I don't recommend the Weslo Cadence 255 DR treadmill. I believe that there are other entry level treadmills out there that would give you more value for your money. See our best buy treadmills section or visit our Smooth 5.15P review. It is currently our best buy treadmill under $1,000.
Summary:

Cost: $699
Motor: 2.0 HP
Speed: 0 to 10 mph
Incline: 10%
Warranty: 90 days
Tread Belt Size: 45" x 16"
Foldable: Yes
Heart Rate: No
Features:
• Space Saver® Technology
• Comfort Cell™ Impact Absorption System
• Water Bottle Holder
• Power Incline
---
Return from Weslo Cadence 255 DR treadmill to Weslo Treadmills
---