Vision T9700 HRT Treadmill Review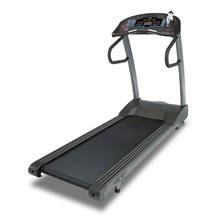 The Vision T9700 HRT treadmill is currently the most expensive Vision treadmill in the market.
And as you'd expect, it is the biggest and most feature-rich treadmill model from Vision.
Is This Your Best Buy Treadmill?

If you're looking for a durable, high-end, home treadmill with a variety of programs, then this is the model for you. This machine is actually built for the corporate market-hotels, rehab centers, corporate fitness but it would also be great for home use.
What You'll Get
This treadmill boasts a 3.0HP continuous duty Cambridge motor that has a speed range of 0.5-12mph and an incline range of 0-15%. And with the new internal fan, you can be sure that this motor would be useful for very long.
The 20" x 60" running surface is longer than your usual Vision. It provides more room for you to move and workout which is perfect for tall people who usually require longer strides. And, it still comes with 8 variable-durometer elastomers which cushion harmful impact on your knees, ankle and back for a safer, more injury-free run.
The Vision T9700 HRT treadmill also comes with a 1" reversible phenolic deck (both side coated) to extend the life of this deck. And, it is coupled with a 2-ply Siegling® Cool-Weave™ urethane high conductivity belt so expect this treadmill to be more durable and withstand longer, more intense workouts.
The console is an Advanced SMART-MATRIX™ HRT® with 2 LED windows that has a Scrolling Message Center, 12 One-Touch™ program keys, 5 user program keys, 1 user log in key and 1 user total key, 9 speed and elevation quick keys, and contact heart rate. It also offers 9 preset programs and 3 heart rate training programs so you'll have all the variety and flexibility you'll need to reach your goals.
And finally, this machine comes with a decent home warranty. It has a lifetime warranty for the frame and motor, 5 years for electronics and parts, and 2 years for labor. The only problem I have with this warranty is that most treadmills in this above $3,000 price range offers a 10 year parts warranty.
Weakness
The biggest weakness of this treadmill is its price. Vision just recently increased this model's already heavy price tag by $300 so I don't think a lot can afford it. Also, the short parts warranty that I've mentioned above should also be taken into consideration before deciding to buy.
Recommendation
I would not recommend the Vision T9700 HRT treadmill. If you really want a premium priced home treadmill, I suggest you stick with brands known for making high end models like Landice or Precor. Or, you may visit our best buy treadmills if you need more quality treadmills in this price range.
Summary:

Motor: 3.0 HP continuous motor
Speed: 0.5 to 12 mph
User Weight Capacity: 400 lbs
Incline: 0 to 15%
Warranty: Lifetime frame and motor, 5 years parts and electronics, 2 years labor
Belt Size: 60" x 20" 2-ply
Rollers: 2.5"
Foldable: No
Heart Rate: Yes

Features:
8 Variable-Durometer Elastomers
9 Speed and Elevation Quick Keys
Contact Heart Rate
Advance SMART-MATRIX™ HRT® Console
2 LED Windows
Scrolling Message Center
12 One-Touch™ Program Keys
5 User Program Keys, 1 User Log in Key and 1 User Total Key
Extra Heavy Gauge Steel Welded Frame
Reversible Deck
9 Preset Workout Programs
3 Heart Rate Training Programs
---
Where to Buy?

If you plan on buying a Vision T9700 HRT treadmill, I suggest you buy it at vision. They offer the best price around the net. You can get it for just $2,199.
---
Return from Vision T9700 HRT Treadmill to Vision Treadmills
---