Tunturi T85F Treadmill Review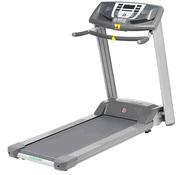 Tunturi T85F Treadmill

Update: This treadmill has been discontinued.

To look for an alternative, you might want to check out our best treadmill page.
The Tunturi T85F treadmill is the folding version of the Tunturi T85 treadmill.
Both have identical specs and features except this one can be fodled and is around $200 more expensive.
Is This Your Best Buy Treadmill?

This machine fits hardcore runners looking for a folding treadmill. However, if you have lots of area in your home, I suggest you stick with the Tunturi T85 and save yourself $200. Or better yet, just look for another treadmill using our best buy treadmills page.
Features and Benefits
The Tunturi T85F comes with a bigger motor compared to other Tunturi models. It has a 3.0 HP continuous duty motor with a higher speed limit of 14mph to give you more workout intensity.
Just like other models in the T-series, this one also comes with the patented Position Speed Control (PSC) feature. It allows you to control your training speed without touching the meter.
The PSC can be used in manual training, condition tests, the 3 heart rate programs and in all 8 intensity/time scaleable pre-set profiles this treadmill also boasts.
The Tunturi T85F treadmill has a 20" x 56" tread belt. I must admit, this tread belt is a little small compared to others in this price range. Hence, be sure to check out comparable best buy treadmills first before deciding to buy.
The console shows your information center display which combines the graphic three-color LED profile display and the scrolling training feedback. You'll also see your time, distance, speed, elevation, energy consumption, and heart rate so you'll always know all important workout information.
Other features include 20 memory places for self-made training profiles and 4 user register settings to give you more personalized workouts. Also, with a PC connection, you can use the T-ware and T-protocol features, which act like your personal coach and preventive health care center.


Click here to claim your free trial copy of the Treadmill Trainer iPod Running Workouts
Weaknesses
I don't think people would really appreciate a folding treadmill that has a price tag of nearly $4,000. I think it's too expensive for most people and those that can afford it, won't need the folding feature since they are probably living in a big house.
Recommendation
If you can afford a treadmill in the $4,000 price range, I'm sure you have enough area in your home for a big treadmill. So to conclude, I don't recommend the Tunturi T85F treadmill. You'll be better off buying other premium treadmills from our best buy treadmills page.
Summary:

Motor: 3.0HP continuous duty
Speed: 0.6 to 14 mph
Incline: up to 10%, 0.5% steps
Warranty: For home use- 15 years for motor and frame, 2 years for electrical and other components.
Warranty: For light commercial or gym use- 12 months for motor, frame, and electrical components.
Belt Size: 56" x 20" 2-ply belt
Maximum User Weight: 330 lbs
Foldable: Yes
Heart Rate: Yes, with wireless heart rate measurement
Features:
• Manual mode, 3 heart rate control programs
• Console - graphic three-color LED profile display and scrolling training feedback, time, distance, speed, elevation, energy consumption, heart rate
• 8 Intensity/time scaleable pre-set profiles, 20 memory places for self-made profiles
• PSC hand-free speed control
• 4 user register settings
• T-ware and T-protocol

---
Where to Buy?

If you still plan on buying a Tunturi T85F treadmill, I suggest you buy it at Amazon.com. They offer the cheapest price around the net. You can get it for just $3,899.99.
Click here to visit the website and learn more
---
Return from Tunturi T85F treadmill to Tunturi Treadmills
---