True Z5.0 Treadmill Review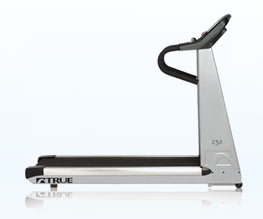 True Z5.0 Treadmill

The True Z5.0 treadmill may not be the biggest and most powerful treadmill in its price range but what it lacks in size and strength, it more than makes up with its features and quality.
All in all, I believe this True machine is one of the best treadmills you can buy this year below $4,000.
Is This Treadmill for You?
If you are looking for a compact treadmill that provides excellent value for your money, and you don't mind spending upwards of $3,500 for it, then this True treadmill is definitely the one you're looking for. It is one of our best buy treadmills this 2010.
What You'll Get
As I've mentioned above, this machine does not offer the biggest motor and running surface. In fact you only get a 3.0 HP continuous duty motor and a 20" x 54" running space which is below what most treadmills above $3,500 is offering. But you must also remember that this machine was built to be a compact treadmill, as such you should not compare it to big treadmills.
The biggest selling point of this unit is its quiet operation (one of the most quiet treadmills this year) as well as its soft orthopedic belt that comes with True Soft System® deck, which provides cushioning to reduce joint impact and minimize injuries.
The console has a 2-window custom LCD display which shows your Speed, Incline, Elapsed time, Distance, Pace, Heart Rate, Time Remaining, METs, Calories, and Target Heart Rate so you'll always be on top of your workout. The console also features an express command key, quick speed key, and walk/run key so you won't have a hard time adjusting the intensity of your workout.
The True Z5.0 comes with numerous workout programs. It has 6 standard programs and 2 user defined programs that supply enough variety to keep your workouts fresh. There is also the HRC (heart rate controlled) and HRC cruise control features. HRC monitors your heart rate and automatically adjust the speed and incline of your workout to keep it within your preselected range. By maintaining your optimum heart rate you can avoid over- or under-training for maximum results in each workout. The HRC cruise control sets your heart rate right where you want it and keeps it there for the duration of your workout.
Other features include 2 water bottle holders/ accessory tray where you can put your drinks or your mp3 players while doing your workout, a reading rack so you can better read your favorite magazine/books while exercising, and transport wheels so you can easily move the machine inside your house.
What it Lacks?
So far the only weakness I can see is that True could have given this machine more power especially considering that they are selling this above $3,500. (Visit also our best buy treadmills page so you can compare this machine to other quality treadmills)
Recommendation:
If you have the budget and you don't really need a big powerful treadmill in your home and you're more looking for the feel and experience that only a high quality treadmill can provide, then I highly recommend the True Z5.0 treadmill to you. It's hard to beat the experience that this machine offers. Plus, True Fitness backs it up with one of the best warranties in the industry so you can have a peace of mind that it will last long.
Summary:

Cost: $3,699.00
Motor: 3.0 HP Continuous Duty DC Motor
Running Deck: 54"L x 20"W
Speed: 0.5 to 12 mph
Incline: 15%
Foldable: No
Heart Rate: Yes, Polar® compatible
Maximum User Weight: 400 lbs
Warranty: Lifetime for frame and motor, 10 years for parts, 1 year for labor

• 6 Standard, 2 User Defined, 2 Heart Rate Programs 

• 2 Water Bottle Holder/Accessory Tray 

• Transport Wheels 

• Reading Rack

• 2-Window LCD Display 

• HRC and HRC Cruise Control

• True Soft System® Deck

---
Where to Buy?

If you plan on buying a True Z5.0 treadmill, I suggest you find a local dealer through truefitness.com. It is normally sold for $3,699.00.
---
Do You Think This Treadmill is Worth Buying?
After reading this article, do you think buyers should purchase this treadmill? Share your opinion with other visitors of this site by writing your own review. It's free, fun and easy to do. Everyone is invited to join in.

Reminder: This site would no longer publish reviews that doesn't provide any real value to other consumers.
---
Return from True Z5.0 Treadmill to True Treadmills

---