True ES900 Treadmill Review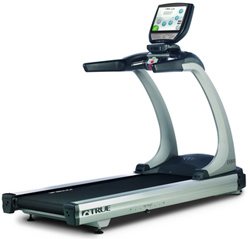 Built to offer superior strength and quality performance, the True ES900 treadmill features a stylish look and innovative package.
The treadmill is manufactured with commercial grade materials from hydroformed pedestals to steel frame and aluminum straddle covers.
It aims to bring excellent durability and stability to accommodate extreme workouts from experience runners for many years. But what sets it apart from other premium treadmills, is it arguably offers the best cushioning in the industry.
Is True ES900 Treadmill for You?

If you are a rigorous runner who want nothing but the best of everything. Then you can't go wrong with the True ES900 treadmill. Made from high-quality materials and designed with advanced features, this machine can provide you with the best workout you're looking for.
However, with a price tag of nearly $6,000, I don't think most people can afford it. (See our best buy treadmills page for other treadmills we recommend)
What You'll Get 
A custom QDrive motor drives the deck and the belt of the True ES900 treadmill. This 4 horsepower DC motor may not be the most powerful (compared to other premium treadmills) but it provides a very quiet and smooth run that is hard to match even by commercial treadmills.
One of the best features that True treadmills boast of is its patented Soft System that provides the most accurate and orthopedically correct running surface.
With the ES900 treadmill, neoprene shock absorbers are present in the front part of the deck and the back part has a firmer surface to provide comfort in your every stride.
The Soft Select system is another feature of True treadmills that is present in the ES900 model. It allows you to adjust and/or control the softness and firmness of the deck depending on your needs and preferences.
Since everyone is different, having this flexibility is a big bonus since you can customize the deck to where you're most comfortable, and as a result, you can run longer and avoid injuries.
Similar to the other True models, the ES900 also allows you to track your heart rate during your workout sessions through the combination of its digital contact heart rate monitoring system and the Polar wireless system. These features allow you to not only track, but also achieve your target heart rate.
Speaking of achieving target heart rates, the ES900 is also built with the HRC Cruise Control system that allows you to identify your target heart rate and automatically adjusts the machine, particularly your speed and incline, to be able to achieve this rate throughout your workout period. This is essential because, depending on your fitness goal, the heart rate should vary.


Other features of the ES900 treadmill that you can look forward to include the 11" LCD display that shows your workout statistics, an integrated personal fan that cools you down during exercise, and customizable running programs to last you weeks of workout among many others.
Weaknesses:
The ES900 treadmill is way too pricey for most ordinary consumer. If you find any weakness to or dislikes this machine please feel free to share it to other readers by writing a review below.
Recommendations:
If you have an unlimited budget, get this one right now. The True ES900 treadmill is fully equipped with advanced features that will give you a safe, comfortable, and superior workout experience.
It is designed to go the distance; even with heavy use and with the most rigorous workouts, you can trust that it will stay with you for a long time. (See also our best buy treadmills page for other treadmills we recommend)
Summary:

Price: $5899

Motor: True 4hp DC quiet-drive motor
Speed: 0.5-12 mph (0.8-19 kph)
Incline: -3 (decline) to 15%
Running Surface: 60" x 22"
Heart Rate Monitoring: Yes
Folding: No
Maximum User Weight: 400 lbs (181 kg)
Warranty: Lifetime for frame and motor; 10 years for parts; 2 years for labor
Features: 
---
Where to Buy?

If you plan on buying a True ES900 treadmill, I suggest you buy from Amazon.com. They offer the best price around the net. You can get it for just $5,899.00.
---
Do You Think This Treadmill is Worth Buying?
After reading this article, do you think buyers should purchase this treadmill? Share your opinion with other visitors of this site by writing your own review. It's free, fun and easy to do. Everyone is invited to join in.

Reminder: This site would no longer publish reviews that doesn't provide any real value to other consumers.
Read Visitor's Contributions
Below, you can comment or read opinions of other consumers...

True ES900 treadmill - Very disappointed Not rated yet
I have a True ES900 treadmill with a 15 inch display. The cheap plastic back of display cracked in half. I called to order a new one and was told …
---
(Once again, if you plan on buying this machine I suggest you buy from Amazon.com.)

Click here to visit Amazon and learn more


---
Return from True ES900 Treadmill to True Treadmills
---