True 540 OP Treadmill Review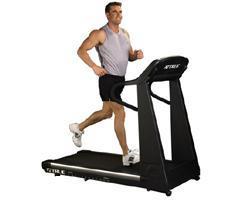 True 540 OP Treadmill

Other than the orthopedic belt and the additional $300 on the price tag, the True 540 OP treadmill is identical to the True 540 P.
And unlike ortho belt treadmills from other brands, True's version doesn't cause wear and tear that is harmful to your machine.
Is This Your Best Buy Treadmill?

If you're looking for a huge treadmill with great cushioning, this is the model for you. It is wider than your average True model and bigger than other premium treadmills. And unlike other brand's ortho belt models that cause more harm than good, True treadmills and ortho belts perfectly fit each other.
What You'll Get
This model boasts a 3.0HP continuous duty motor that serves up speeds of up to 10mph and inclines that reaches 15%. So it doesn't matter whether you're a beginner or advance runner, this machine can provide you the intensity you need.
The 22" x 54" running space is wider than units from the 500 series. It gives you even more room to move and be comfortable during your workout. Plus, with its ortho belt feature, this unit could very well provide you the best treadmill experience you'll ever have.
This machine also features 4 pre-programmed workouts (Weight Loss, Speed Interval, C/V Workout, Hill Interval) with 9 intensity levels each and 3 customizable programs to give you more variety and flexibility in your exercises.
A new facet that can be found in the 540 series is the S.O.F.T. select feature. With it, you can customize the softness of your treadmill to fit you more through 12 manually adjustable settings.
And finally, this machine comes with excellent warranty. Its drive motor and all of its parts are covered for 10 years… making this one of the best warranties in its price range. Other warranties include a lifetime for frames and 1 year for labor.
Weakness
The biggest weakness of this model is its price. Since True Fitness put so much emphasis on this machine's belt and deck, they tried to cut back on its components and features. As a result, you'll get an overpriced average quality treadmill that looks and feels like a premium priced unit, but only for the first few years.
Recommendation
Although the cushioning of this machine is absolutely spectacular, I still can't recommend the True 540 OP treadmill. You can get the same excellent cushioning for a much cheaper price (around $500 cheaper) by buying the True 500 OP.
Summary:

Cost: $3,895
Motor: 3.0 HP continuous motor
Speed: 0 to 10 mph
User Weight Capacity: 400 lbs
Incline: 0 to 15%
Warranty: lifetime on frames, 10 years for motor and all other parts and 1 year for labor.
Belt Size: 54"L x 22"W ortho belt
Foldable: No
Heart Rate: No

Features: 

• 7 x 20 LED Dot Matrix Console

• 16 Character Alpha Numeric Message Center

• True Touch Technology

• 4 preset programs with 9 levels of intensity

• 3 customizable programs

• Manual S.O.F.T. Select

---
Return from True 540 OP Treadmill to True Treadmills
---