Trimline T370 HR Treadmill Review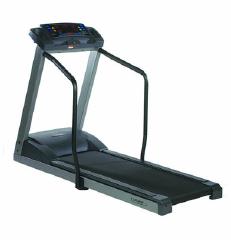 Trimline T370 HR Treadmill

Update: This treadmill has been discontinued.

To look for an alternative, you might want to check out our best treadmill page.
The Trimline T370 HR treadmill is the high end heart rate model from Trimline.
It is the company's most expensive HR unit but it is also their most powerful home treadmill.
Is This Treadmill for You?
This treadmill is perfect for those who want a powerful treadmill with heart rate features. However, it is priced above $2,500, so most can't afford it. But if money is not an issue to you then this model might be the one you're looking for.
Features and Benefits
This unit has the most powerful motor in all of Trimline's home treadmills. It boasts a 3.0HP continuous duty US made drive motor that can reach up to 11 mph and 12% incline.
The 7 preset and 3 custom programs give you more workouts to choose from. Or, if you want, you can use the heart rate chest strap and do any of the 2 heart rate programs that are also built into this treadmill.
The Walk, Jog, Run speed quick keys as well as the Hill, Mountain Pass, Peak elevation quick keys can be customized to meet your needs. This feature is perfect for those who use interval training in their workouts. It allows you to change your speed and/or incline with a simple push of a button.
The 10 x 21 tri-color dot matrix visually displays course profiles to see upcoming hills and other challenges while the LED displays provide feedback on time, speed, distance, incline, calories, pace, cal/min, and heart rate so you'll know all the information you'll need to adjust your workouts.
Then after your workout, the results mode displays your average user speed, average heart rate, total calories, total distance, total elevation gain, and total treadmill odometer so you can measure your progress.
The 20" x 57" reversible phenolic deck surface features an orthopedic belt. This belt is softer than ordinary belts, but the problem with it is that is causes more wear and tear to your machine. But the good news is that the Trimline T370 HR treadmill provides even longer warranties compared to other Trimline units.
This treadmill comes with a 30 year frame and drive motor warranty, 3 year parts warranty, and a 2 year labor warranty. Both the parts and labor warranties were extended by 1 year for this unit.

Weakness
Just like the T360, the biggest weakness of this unit is its heavy price tag. The ortho belt is also a weakness since it may cause some problems in the future. But that is unlikely since this machine is of high quality and besides, the warranty will take care of any repair expenses when needed.
Recommendation
I do not recommend the Trimline T370 HR treadmill. It may be the most powerful in the Trimline line but when compared to others in its price range, you'll be better off buying from a company which specializes in high end treadmills.
Summary:

Motor: 3.0HP continuous duty
Speed: up to 11 mph
Incline: up to 12%
Warranty: residential warranty of 30 years - frame & drive motor, 3 years - parts, 2 year - labor.
Running Surface: 57" x 20"
Maximum User Weight: 365 lbs
Foldable: No
Heart Rate: Yes
Frame: 3" welded steel
Rollers: 2.5" balanced machined rollers
Features: 
SuperSoft Deck Cushioning with eight variable Durometer Elastomer cushions 
Heart Rate Chest Strap included
2-ply Orthobelt
7 Preset, 3 Custom, 2 Heart Rate Programs with Fitness Test 
Speed Quick Keys
Reversible Phenolic Deck Surface
Elevation Quick Keys
10 x 21 Tri-color Dot Matrix
Results Mode

Where to Buy?

If you plan on buying a Trimline T370 HR treadmill, I suggest you buy it at amazon. You can get it for $2,698.00.
This treadmill is discontinued but you can find replacement belts from amazon
---
Return from Trimline T370 HR Treadmill to Trimline Treadmills
---