Star Trac TR4500 Treadmill Review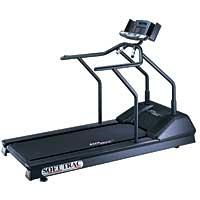 Star Trac TR4500 Treadmill

Update: This treadmill has been discontinued.

To look for an alternative, you might want to check out our best treadmill page.
Star Trac TR4500 boasts a 3.0 HP contiuous DC motor drive with a wide running space of 62"L x 20"w and a 350lbs user weight capacity. Simply showing the muscle this treadmill has.
Not For Home?

This treadmill definitely isn't for home use. This review would greatly benefit those looking for commercial treadmills.
The Star Trac TR4500 treadmill was created for commercial use. That's the reason why it has a very expensive price tag. If you're looking for a home treadmill, then this machine is not for you. I suggest you visit our best buy treadmills page and find yourself a quality home treadmill there.
Features and Benefits...
Star Trac TR4500 treadmill features a 3.0HP continuous DC motor which is powerful enough to satisfy even the hardcore runners.
It has 10 pre-set programs that comes with a fitness test (ACSM 1 Mile WalkFit Test). Also included is a Personal Trainer Studio™ with 50 user IDs. This feature is perfect for those whose clients love to customize/create workouts and save it to be reuse in the future.
The quick start feature allows your new clients to instantly use the treadmill even without a program. And like all Star Trac treadmills, your clients can also use the "soft start at zero". This feature begins each workout at 0 mph and steadily increases to 0.5 mph.
The polar telemetry and contact heart rate system with dynamic heart rate control allows for constant monitoring of the user's heart through the sport utility display readouts. This display also shows your clients their time, distance, speed, calories (total and per hour), laps, pace, incline, track/program file and a ¼ mile motivational track display.
For the convenience of your users, the Star Trac TR4500 treadmill comes with holders for their stereo, towel, radio and water bottle.

Safety Features…
The Soft Trac triple cell cushioning makes sure that users get maximum shock absorption. This cushions impact on the ankles, knees, hips and backs which is perfect for those coming off an injury and those trying to prevent one from happening.
Another safety feature Star Trac has included is the two easy-to-reach stop keys. One is located on the console and the other is an emergency stop button on the handrail just in case a user gets dizzy and needs to stop the workout quickly.
Also, the Dynamic Heart Rate Control monitors your client's heart and adjusts the intensity level based on their heart rate for interval training.
The Cons…
One weakness you should know about this treadmill is that it only has a an average DC drive system.
Recommendation
To conclude, I wouldn't recommend this commercial treadmill. I believe that there are other commercial treadmills out there that can better exceed your clients expectations.
---
To Summarize...
Motor: 3.0HP continuous DC
Running Surface: 62" x 20"
Speed: 0.5 to 12.5 mph in 0.1 mph increments
User Weight Capacity: 350 lbs
Incline: 0 to 15% in 0.5% increments
Warranty: Motor and MCB- 3 years on parts and labor
Features: 

• Quick Start Feature

• Soft Trac

• Sport Utility Display

• Polar and Contact Heart Rate System

• Dynamic Heart Rate Control

• 2 easy-to-reach stop keys

• Personal Trainer Studio

• ACSM 1 Mile WalkFit Test

• Impact Absorption System

---
Where to Buy?

If you plan on buying this treadmill. The best place I recommend you buy your Star Trac TR4500 treadmill is at Amazon. You can get it for $6,680.00.


Click here to visit Amazon.com
---
Return from Star Trac TR4500 Treadmill to Star Trac Treadmills
---