Star Trac Sport Treadmill Review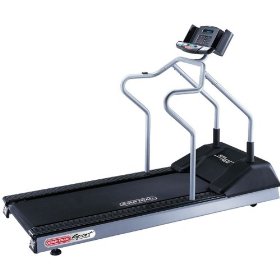 Star Trac Sport Treadmill

Update: This treadmill has been discontinued.

To look for an alternative, you might want to check out our best treadmill page.
The Star Trac Sport treadmill is the entry-level commercial treadmill from Star Trac.
And just like most commercial models, this one also boasts of excellent quality with numerous features for serious runners.
Is This for You?
As a commercial unit, this machine was built to work for long hours and to last for years and years. So if you're looking for a treadmill that can take the pounding of multiple hardcore users, then this machine should be included on your short list.
What You'll Get
The Star Trac Sport offers 2.5HP continuous duty motor can consistently deliver power even during a long period of time without overheating. Though this may not be the most powerful motor that you can get especially at this price, you can be sure that Star Trac would only put the highest quality motors in their commercial machines.
This treadmill has speeds of 0.5-10mph and an incline range of 0-15%. So it doesn't matter whether you're a beginner or an advance runner, this machine can give you the workout you desire.
The spacious 20" x 62" tread belt provides enough room for even the tallest of people (who normally has bigger strides) to run comfortably. This running surface also features the Soft Trac® triple cell cushioning system which provides maximum shock absorption to minimizing running-related injuries.
The display panel shows you your time, distance, speed, total calories, calories per hour, laps, pace, incline, heart rate and track/program profile. All these readings allow you to gauge your progress during your workout so you can reach your goals.
There are 9 pre-set programs included in the Star Trac Sport to give you the variety you need to enjoy your exercise. If that's not enough there is also a personal trainer studio which allows you and others to create and save up to 250 custom programs.
If you like heart rate workouts, then this machine also features that. The Polar heart rate system constantly monitors your heart while the Dynamic heart rate controls the speed and incline of your workouts to keep you in your target heart rate zone.
Other features include a sports utility display where you can place bottles, towels and personal stereos, a quick start feature for people in a hurry, and a dedicated window to monitor your speed, incline, caloric expenditure, distance and time elapsed.

What it Lacks?
Like most Star Trac, the only drawback with this machine is that it only comes with a 3 year parts and labor warranty. But we should also remember that Star Trac treadmills are being used commercially which is most likely the main reason for the short warranty. So if you're going to use this at home, I doubt that you'll need any repair for some time.
Recommendation:
The Star Trac Sport treadmill comes highly recommended. If you can afford spending $4,000 for an exercise machine, then there is no reason for you not to buy this treadmill. However, if $4,000 is beyond what you can afford, then I suggest you visit our best buy treadmills page to look for other quality treadmills within your budget.
Summary:

Cost: $3,999.99
Motor: 2.5 HP Continuous Duty
Running Deck: 62"L x 20"W
Speed: 0.5 to 10 mph
Incline: 15%
Foldable: No
Heart Rate: Yes
Maximum User Weight: 350 lbs
Warranty:
3 Years Labor and 3 Years Parts
Features: 

• 9 Pre-set Workout Programs

• Personal Trainer Studio

• Soft Trac® Triple Cell Cushioning System
• Polar Heart Rate System

• Dyanmic Heart Rate Controls

• Quick Start Feature

• Sports Utility Display

---
Where to Buy?

If you plan to buy a Star Trac Sport, I suggest you buy from Amazon. You can get it for just $3,999.99.


Click here to visit Amazon's Star Trac Sport Treadmill page
---
Return from Star Trac Sport Treadmill to Star Trac Treadmills
---
(Once again, if you plan on buying this machine I suggest you buy from Amazon.)