Sportsart 3106 Treadmill Review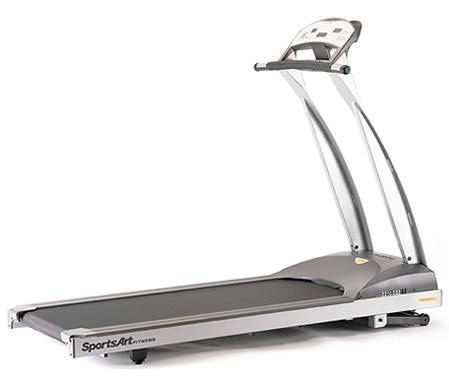 Sportsart 3106 Treadmill

The Sportsart 3106 treadmill is arguably the best treadmill from Sportsart, in terms of providing value for you money.
However, with a price tag above $2,500, I don't think a lot of people can afford it.
Is This the Best Treadmill for You?
If you want value for your money, then this machine is definitely one of the best treadmills you can buy. But as I've mentioned above, I don't think a lot of people can afford it. So if this machine is beyond your budget, I highly recommend you visit our best treadmills page to look for a unit within your budget.
Features and Benefits
This model boasts a 3.0 HP continuous duty motor that serves up speeds of up to 10mph and inclines that reaches 15%(with 1,100lbs thrust lift) to give you an intense workouts. Plus, it comes with Flowtec™ cooling system to prevent the motor from overheating thus, extending its life.
The 20" x 58" running surface features a Proprietary SDS™ Shock Dissipation System that cushions harmful impacts for a smoother run. This lessens the risk of joint, ankle and knee injuries.
The Sportsart 3106 has 5 preset, a manual and a quick start programs to give you more variety and flexibility in your run. There are also 2 heart rate controlled programs for those who want to workout in their target heart rate for a more effective exercise.
And finally, this unit comes with decent warranties. Its drive motor and frames are covered for a lifetime, its electronics for 3 years, its bumper to bumper mechanical for 10 years and its labor for 1 year.
Weakness
It would really be hard to find a weakness on this machine.
Recommendation
I recommend the Sportsart 3106 treadmill. It is one of the best values you will find on a below $3,000 treadmill.
Summary:

Cost: $2,799
Motor: 3.0 HP continuous motor
Speed: 0 to 10 mph
User Weight Capacity: 400 lbs
Incline: 0 to 15%
Warranty:
lifetime on frames and motor,
10 years for bumper to bumper mechanical,
3 years for electronics and
1 year for labor.
Belt Size: 58"L x 20"W
Rollers: 2.5"
Foldable: No
Heart Rate: Yes
Features: 

• 5 preset and 2 heart rate controlled programs

• Manual mode

• Quickstart mode

• Proprietary SDS™ Shock Dissipation System

• Horizontal Handrails

• 2 lower steel and 4 upper frame supports

• Belt Tracking Guides

• CardioControl™

• Flowtec™ Cooling System

• Heavy Duty Welded Steel Frame

• Contact Heart Rate

• Heart Rate Control

---
Where to Buy?

If you plan on buying a Sportsart 3106 Treadmill, I suggest you buy directly from Amazon for $2,799.
---
Return from Sportsart 3106 Treadmill to Sportsart Treadmills
---