Spirit XT185 Treadmill Review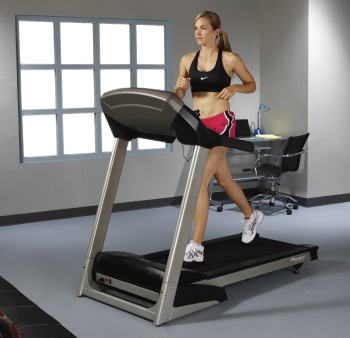 Spirit XT185 Treadmill Review
The Spirit XT185 treadmill is the entry level for Spirit's innovative line of treadmills. At $1299, you'll get some respectable features and above-the-average performance that you will need in achieving your fitness goals.
Coming from a brand that boasts of quality and durability, the XT185 machine is also designed with decent power that is ideal for beginners and leisure runners.
Is It for You?

If you can do well with minimal workout programs and only the basic features of an exercising machine, then the Spirit XT185 should just be fine for you. Designed with utmost simplicity, the machine is easy to use and understand, even for beginners. It is perfect for moderate users who are into leisurely walks and light jogs.
What You'll Get
To measure your heart rate during workouts, the machine features contact sensors located at the handlebars and a 7.5" blue backlit LCD screen. Aside from your heart rate, you may also track other important fitness statistics including your speed, incline, distance, time elapsed, and calories burned.
Reduce the heat and the sweat while working out! The machine's built-in fan shall cool you down even during the most intense workouts.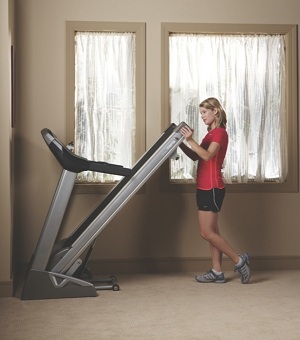 The XT185 is foldable and designed with wheels, allowing you to transport and store it conveniently when not in use. This feature is perfect for users with limited space at home, but still desire to keep their fitness routines regular.
Other features of this treadmill include a beverage holder, built-in book rack, and storage bin or pocket for mobile phones, remote control, or mp3 players.
Weaknesses:
The Spirit XT185 treadmill is an entry-level machine that offers good enough performance. Designed for moderate use, the treadmill might not be able to completely accommodate serious runners and heavy use. Plus, the lack of advanced features may pose problems in achieving your desired fitness goals.
Also, the short running belt size (20" x 60") might also inconvenient some people, especially tall users who have bigger strides.
Recommendations:
The Spirit XT185 is ideal for leisure runs and moderate workout sessions only. If you are a serious runner who works out day and night, the treadmill might not be able to accommodate all your fitness needs. I suggest you find a machine that is larger, more powerful, and equipped with more advanced feature. (See our best treadmill page)
Summary:

Price: $1,299
Motor: 2.5 HP Continuous Duty Motor
Speed: .5 to 10 MPH
Incline: 0 to 10%
Heart Rate Monitor: Yes
Folding: Yes
Tread Belt: 20" x 50", 1.5 ply (1.6T)
Max User Weight:275 lbs.
Dimensions: 71" x 35" x 52"
Product Weight: 198 lbs.
Warranty:
Lifetime for frame, motor, and deck;
5 years for parts;
1 year for labor

Features:
• Heavy-duty steel frame construction

• Quick speed and quick incline controls

• 7.5" Blue Backlit LCD with Integrated Reading Rack

• Cooling fans and storage pockets

• Contact heart rate sensors

• 'Soft-Drop' assist fold-up system

• Integrated (4) wheel transport carriage for easy mobility

• 1 manual and 5 preset workout programs 
---
Where to Buy?

If you plan on buying a Spirit XT185 Treadmill, I suggest you buy it from Amazon.com. They are the largest internet retailer in the world. You can get this usually for $1,299.00.


Click here to visit Amazon.com
---
Do You Think This Treadmill is Worth Buying?
After reading this article, do you think buyers should purchase this treadmill? Share your opinion with other visitors of this site by writing your own review. It's free, fun and easy to do. Everyone is invited to join in.

Reminder: This site would no longer publish reviews that doesn't provide any real value to other consumers.
---
(Once again, if you plan on buying this machine I suggest you buy from Amazon)


Click here to visit the Amazon website
---
Return from Spirit XT185 Treadmill to Spirit Treadmills

---