Sole S77 Treadmill Review
Sole S77 Treadmill

The Sole S77 treadmill boasts one of the biggest motor in all treadmills under $2,000.
But unlike other huge motor machines, this one actually comes with long warranties. Simply showing that it is made to last.
Is This Machine for You?
If power is what you need, then this treadmill definitely has that. Plus, it is way more affordable than other treadmills with comparable strength. So if you're a hardcore runner who needs a huge motor for intense workouts, this model is certainly an excellent choice.
Features and Benefits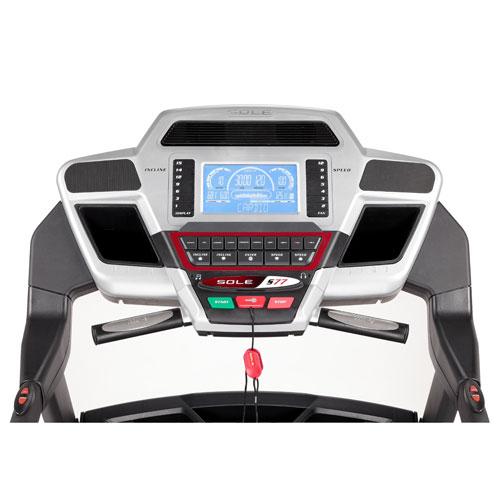 Like I've said above, the Sole S77 treadmill has a huge motor. It boasts a 3.5 HP continuous duty motor which is capable of delivering speeds of up to 12mph and is also inclinable for up to 15%. So it doesn't matter if you're a beginner or an advance runner, this unit would give you an intense workout.
The recently upgraded 22" x 60" double woven 2 ply tread belt this model features is now just as big as the Sole TT8 treadmill. It allows everyone (even tall and/or heavy individuals) to workout comfortably on this equipment. Plus, it comes with Cushion Flex shock absorption deck to prevent any joint, knee, and ankle injuries that may occur during your run.
Other safety features include a 0.5 speed start, textured belt and 10-amp circuit breaker. All of these are incorporated to minimize accidents so you'll always have a worry-free workout.
The Sole S77 treadmill also comes with a hand pulse grip and a wireless chest strap. Not only that, when in heart-rate training mode, the treadmill automatically makes adjustments to the incline in order for you to stay in your target heart-rate zone.
The console has a message window for instructions and feedbacks. It displays your Speed, Incline, Time, Distance Traveled, Calories, Pulse and Pace at all times. There is also a 1/4 mile track feature and a Peak and Valley graph for different programs.
Weakness?
I don't really see any weakness for this model. My only problem is that Sole is relatively new to the industry. And as with all new companies, they don't have long track records yet.
Recommendation
I recommend the Sole S77 treadmill for its quality, features, warranty and most of all, its power.
Besides, you'll probably have a hard time looking for another treadmill with 3.5HP continuous duty motor for under $2,000.
Summary:

Cost: $1,899.99
Motor: 3.5HP continuous motor
Speed: 0.5 to 12 mph
User Weight Capacity: 400 lbs
Incline: up to 15%
Limited Warranty: Motor- Lifetime, Deck / Frame- Lifetime, Electronics / Belt / Rollers and all other wear components- 5 years, Labor- 2 years
Belt Size: 22" x 60" double woven 2-ply tread belt
Rollers: 2 3/4 inches
Weight: 280 lbs
Heart Rate: Yes
Foldable: No

Features: 
6 standard, 2 user defined, 2 heart rate programs 
Cooling fans 
Wireless chest strap 
Arm rest speed and incline control
Message window with scrolling information 
Cushion Flex shock absorbtion deck
Hand pulse grip 
Built-in Speakers (iPod and MP3 compatible)

Where to Buy?

If you plan on buying a Sole S77 treadmill, I suggest you buy it directly from Amazon or Sole. You can get it for a special price right now, just $1,699.99 includes shipping.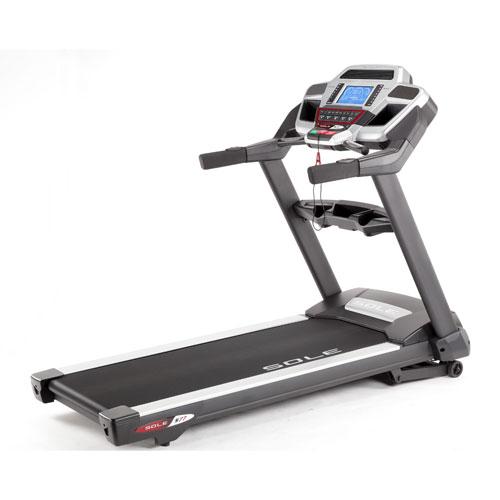 USD $1,699.99
---
Return from Sole S77 treadmill to Sole Treadmills

---