Sole F80 Treadmill Review
Sole F80 Treadmill

The Sole F80 treadmill is considered by most experts as one of the best treadmills you can buy below $1,500 and I have to agree.
It has some of the best warranty, features, quality and specs offered on a mid-priced treadmill.
Is This Treadmill for You?
If you want a quality folding treadmill but can't afford spending too much, then this Sole folding treadmill might be what you're looking for. It is cheaper than most high quality folding treadmills and comes with excellent quality, features and warranty.
What You'll Get
Like most Sole treadmills, this one is also known for its folding capabilities. It comes with an easy assist folding feature so you could easily fold and unfold the machine. The safety lock deck and the horseshoe stabilizing base make sure that your treadmill is securely in place with a strong foundation especially when not in use.
The Sole F80 treadmill was the first in the folding series to offer a Cushion Flex whisper deck, which was shown in a study to reduce impact by up to 40% compared to running on asphalt.
The 3.0 HP continuous duty motor reaches speeds of up to 12mph and inclines of up to 15%. Simply showing the power this model possesses. It also comes with speed and incline control on the arm rests so you can easily adjust your intensity even when you're in the middle of a run.
The recently improved 20" x 60" (use to be 20" x 55" only) running surface comes with double woven 2 ply belt and a hefty 2 ¾ inch rollers. This makes sure that the rollers are large enough so the motor won't have a hard time moving the belt, and thus extending the life of the machine.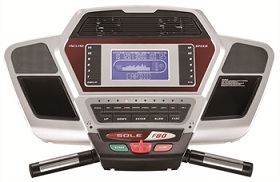 This Sole model boasts some pretty impressive electronics. The vibrant display console shows you at all times your Speed, Incline, Time, Distance Traveled, Calories, Pulse and Pace information. There is also a 1/4 mile track feature and a Peak and Valley graph for different programs.
This treadmill is fully equipped with all the programs you'd expect. It has 6 auto programs, 2 user defined programs, and 2 separate heart rate controlled programs(includes heart rate chest strap) to give more choices and flexibility in your workouts.
Weakness?
So far I don't see any. But keep in mind, Sole is considered as a new comer in the home treadmill industry compared to other established brands so they don't have a very long track record yet.
Recommendation
I highly recommend the Sole F80 treadmill for its quality, features, warranty and value. You'll have a hard time finding a comparable treadmill for such a low price.
Summary:

Cost: $1,499.99
Motor: 3.0HP continuous motor
Speed: 0.5 to 12 mph
User Weight Capacity: 350 lbs
Incline: up to 15%
Limited Warranty: Motor- Lifetime, Deck / Frame- Lifetime, Electronics / Belt / Rollers and all other wear components- 5 years, In home service- 2 years
Belt Size: 20" x 60" double woven 2-ply tread belt
Machine Weight: 250 lbs
Heart Rate: Yes
Foldable: Yes
Features: 
6 standard, 2 user defined, 2 heart rate programs 
Cooling fans 
Wireless chest strap 
Arm rest speed and incline control
Easy assist folding feature with safety lock deck and horseshoe stabilizing belt 
Cushion Flex whisper deck
Hand pulse grip 

---
Where to Buy?

If you plan on buying a Sole F80 treadmill, I suggest you buy it directly from Sole. You can get it for just $1,499.99 includes shipping. 
---
---
---

Return from Sole F80 treadmill to Sole Treadmills
---