Sole F63 Treadmill Review
Without a doubt, the Sole F63 treadmill is one of the best treadmills you can buy below $1,000.
It is a well-built machine that offers a powerful motor and very long warranties. And when it comes to quality, this is probably the best under $1,000 treadmill out there.
Is This the Best Treadmill for You?

If you're in need of a high quality folding treadmill but don't have a huge budget, then this is the machine for you. It is cheaper than most decent folding treadmills and comes with better quality, features and warranty.
What You'll Get
This machine comes with a powerful 2.5hp continuous duty motor that reaches speeds of up to 10mph and can be inclined for up to 15%. This motor is pretty impressive considering its selling price. And what's even more impressive is the fact that this motor comes with a lifetime warranty which is pretty rare for treadmills in this price range.
The 20" x 55" running surface comes with 2 ply phenolic belt and a hefty 2 ½ inch rollers. This assures you that the rollers are large enough so the motor won't have a hard time moving the belt, and thus minimizing wear and tear and extending the life of the treadmill.
The wireless chest strap and hand pulse grip enable you to workout in your target heart rate zone for a more effective exercise. Plus, with the speed and incline control on the arm rest, you can easily adjust the intensity of your workout even if you're in the middle of a run.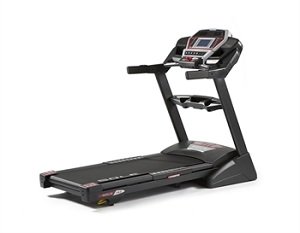 The vibrant blue console shows you at all the time your Speed, Incline, Time, Distance Traveled, Calories, Pulse and Pace information. There is also a 1/4 mile track feature and a Peak and Valley graph for different programs.
And finally, this model also features workout programs (6 auto programs and 2 user defined programs) to give you more variety and flexibility in your exercise.
Weakness?
The only weakness I see with this machine is that its deck is only covered for 3 years which is shorter compared to a few years ago when it comes with a lifetime warranty.
Recommendation
I highly recommend the Sole F63 treadmill. It is one of the best treadmills in the market right now below $1,000. If you're looking for alternatives to this machine, please do visit our best buy treadmills page. There, you will find all the treadmills we recommend arranged by price.
Summary:

Cost: $999.99
Motor: 2.5HP continuous motor
Speed: 0.5 to 10 mph
User Weight Capacity: 325 lbs
Incline: up to 15%
Limited Warranty: Motor- lifetime, Frame- Lifetime, Deck/ Electronics/ Belt/ Rollers -3 years, Labor- 1 year
Belt Size: 20" x 55" 2-ply Phenolic Deck
Machine Weight: 245 lbs
Heart Rate: Yes
Foldable: Yes
Features: 
6 standard, 2 user defined
Cooling fans 
Wireless chest strap
Arm rest speed and incline control
Hand pulse grip 
Message Window

---
Where to Buy?

If you plan on buying a Sole F63 treadmill, I suggest you buy it directly from Sole through SoleTreadmills.com. You can get it for just $999.99 includes shipping.

Click here to visit the Sole website and learn more
(opens new window)
---
(Once again, if you plan on buying this machine I suggest you buy from SoleTreadmills.)

Click here to visit Sole's treadmill page
---
User Comments
Great treadmill for the money.  Very solid.  Also very heavy.  Assembly was pretty easy except everything is very very heavy.  Once it is up, you will enjoy it.

Return from Sole F63 Treadmill to Sole Treadmills
---