Smooth 9.65TV Treadmill Review
Smooth 9.65TV Treadmill

The Smooth 9.65TV treadmill brings a truly entertaining running experience! Built with an LCD TV and an audio system that will help you get through your daily cardio exercise.
Designed to perform with commercial grade parts and numerous features, the 9.65TV treadmill is also backed by a great warranty program that ensures you won't be spending for repair costs any time soon.
Is It for You?

If having a built-in TV and sound system in your treadmill excites you and gives you another reason to take your fitness routines seriously, then you might want to consider getting the Smooth 9.65TV treadmill. And not only does it provide entertainment, it also boasts of quality performance, safety, and comfort for your regular running exercises.
What You'll Get:
You will get so much from the Smooth 9.65TV treadmill – comfort, convenience, entertainment, and fun! Check out the winning features of this treadmill.
To start off, the machine is built with a 4.0 CHP continuous duty motor that equates to power and strength. Combined with an extra-long 21" x 64" running deck, the machine can withstand the most rigorous runs and demanding workouts.
And for each of your extensive work out, the built-in Im-Pression™ shock absorption cushioning system of the machine shall provide you with utmost convenience and safety. This innovative technology provides support on the sole of your foot during every stride, and thus reduces the stress on your joints, knees, and back.
Wanting to modify the settings of your machine? With the QuickChange™ handrail speed and incline controls, you can easily adjust the pace and elevation of your treadmill while you are busy running – or watching TV!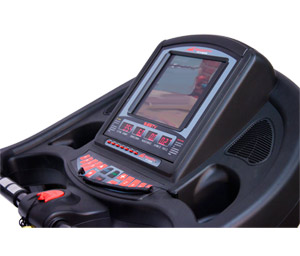 Yes, the 9.65TV comes with a built-in LCD TV that measures 10.5 inches. This would allow you to watch your favourite TV show while exercising. Here's more! It also comes with the SmoothSound™ audio system that is compatible to your mp3 player, allowing you to groove to your favourite tune when you're not in the mood to watch. Now, that's total entertainment while working out!
Moreover, the treadmill is designed with an LED computer display that shares to you your workout stats such as time, distance, speed, incline, heart rate, and calories burned.
There are so much more features to get excited about the 9.65TV treadmill. These include the 55 pre-installed workout programs, transport wheels for storage, and water bottle holder among others.
Weaknesses:
The machine may be too pricey for your budget because of the many features it offers. Also, because it is a large and heavy machine, it does not allow folding. Hence, if you have a limited space in your house, getting the Smooth 9.65TV treadmill may be a bad idea. (See our best treadmills page for other quality treadmill)
Recommendations:
If you have the cash to spend, the Smooth 9.65TV treadmill should be a good choice. With a complete entertainment system built in the machine, it shall motivate you to regularly keep up with your fitness routines. (If you are not interested in the LCD TV, I suggest you see our review of the Smooth 9.65LC. It is similar to this machine but it is cheaper since it doesn't come with an LCD TV.)
Summary:

Price: $2,299
Motor: 4.0 CHP continuous duty motor
Speed: 0.5-12 MPH
Incline: 1-15%
Workout Programs: 55
Running Surface: 21" x 64"
Folding: No
Heart Rate Monitor: Yes
Foot Print: 82" L x 31.5" W
Max User Weight: 400 lbs.
Product Weight: 325 lbs.
Warranty: Lifetime for frame, motor, and parts; 2 years for labor
Features:
• Im-Pression™ Shock Absorption Cushioning System
• 10.5" Built-in TV
• SmoothSound™ Audio System
• QuickChange™ Handrail Speed and Incline Controls
• Heart Rate Control with Wireless Heart Rate Strap
• 55 Workout Programs
• Transport Wheels
• Water Bottle Holder
---
Where to Buy?

If you plan on buying a Smooth 9.65TV treadmill, I suggest you buy directly from the company through Smoothfitness.com. You can get it for just $2,299.


Click here to visit the Smooth website and learn more
---
Do You Think This Treadmill is Worth Buying?
After reading this article, do you think buyers should purchase this treadmill? Share your opinion with other visitors of this site by writing your own review. It's free, fun and easy to do. Everyone is invited to join in.

Reminder: This site would no longer publish reviews that doesn't provide any real value to other consumers.
---
(Once again, if you plan on buying this machine I suggest you buy from 

Click here to visit the Smooth website)
---
Return from Smooth 9.65TV Treadmill to Smooth Treadmills

---