Smooth 9.45TV Treadmill Review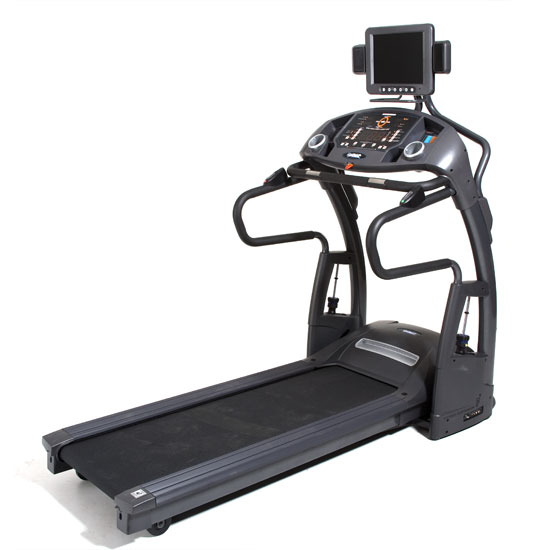 Smooth 9.45TV Treadmill

The Smooth 9.45TV treadmill is exactly the same as the Smooth 9.45ST but with a built-in LCD TV monitor.
However, this added feature would cost you an additional $700 which is pretty expensive considering this is just a 15 inch monitor. But overall, this is still one of the better treadmills below $3,000.
Is It for You?

However, this added feature would cost you an additional $700 which is pretty expensive considering this is just a 15 inch monitor. But overall, this is still one of the better treadmills below $3,000.
Is It for You? If you need an excellent treadmill with built-in television, then this machine is right for you. But if you don't really need the TV then I suggest you check out the Smooth 9.45ST. It costs $700 less and for that amount you can already buy yourself a bigger LCD TV and a wall mount from Amazon.com.
What You'll Be Getting
Update: This treadmill has been discontinued.

As an alternative, you might want to visit our best buy treadmills page to look for similar treadmills that we recommend.
As mentioned above, this machine is equipped with a 15 inch LCD TV with coaxial and RCA connectors. It has its own separate frame so you can be sure that it won't vibrate while you're running even at maximum speed and would stay in place even if the machine is inclined. This TV also comes with speakers but it can also be used with the headphones of your choice.
The 3.0HP continuous duty motor has a maximum speed of 11.2mph which is more than enough for most runners. It also features 15 incline levels for those who need more intensity in their workouts.
And just like other Smooth treadmills, this one also comes with the Hydra Suspension System which is exclusive to Smooth models. This feature allows you to custom adjust with 12 levels the shock absorption of your machine to easily fit your style of running.
The 60" x 20" deck offers an extra long running surface. This is perfect for tall people who have longer strides. While the belt was triple laminated with phenolic resin to provide low friction so the belt won't get damage easily and would last a lifetime.
The display features a large 6" LED which reads out basic information about your workout and a hand pulse grip that checks your heart rate. All these data are given to you so can easily monitor your progress.
This machine also comes with 6 pre-set programs to help keep your workouts fresh. And up to 9 people can save their profiles in it so you won't need to key in your personal settings before every workout. There is also a heart rate control program that comes with a Polar wireless transmitter and receiver which measures your heart rate and adjust the intensity of your workout depending on how you set your target heart rate.
Another excellent addition to the Smooth lineup is the patented motion control system. This used to be a feature only found on Evo treadmills but are now also available to Smooth Fitness machines. What this unique feature does is it allows you to adjust the speed of your run by simply waving your hand over light sensors on the handrail. This is perfect for hardcore runners who usually run on a fast pace as it won't require you to uncomfortably lean and reach forward while in motion, just to change your speed.
And finally, the Smooth 9.45TV treadmill features of a lifetime warranty on all parts and electronics (except for TV), a 2 year in-home service warranty and a 1 year warranty for the LCD TV. The only problem I have with this warranty is that the TV warranty is a bit short.
Weakness
The biggest weakness I can find with this machine is that the built-in TV is a bit overpriced and comes with just a 1 year warranty. Also, although delivery is free, you would need to pay extra for in-home delivery and set-up.
Recommendation
If you really need the built-in TV, then I would recommend the Smooth 9.45TV treadmill. It is still one of the best you can buy below $3,000 (see our best buy treadmills page). But I still think that you would be better off by buying the cheaper Smooth 9.45ST then just use the $700 difference to buy yourself a real TV.
Summary:

Cost: $2,999
Motor: 3.0HP continuous motor
Speed: 0.5 to 11.2 mph
Unit Weight: 315 lbs
Maximum User Weight: 400 lbs
Incline: 15 levels
Warranty: Lifetime for all parts and electronics, 2 years in-home service, 1 year for TV
Belt Size: 60" x 20"
Rollers: 2.5"
Foldable: No
Heart Rate: Yes
Features:
• 6 pre-set programs
• 9 user profiles
• Motion Control System
• Wireless Heart Rate control
• 6" LED display
• Hand Pulse Grip
• Hydra Suspension System
• Built-in 15" LCD TV

---
Where to Buy?

If you plan on buying a Smooth 9.45TV treadmill, I suggest you buy directly from the company through smoothfitness.com. They offer the best price around the net and comes with free curbside delivery. You can get it for just $2,999.

Click here to visit the Smooth website and learn more
(opens new window)
---
Do You Think This Treadmill is Worth Buying?
After reading this article, do you think buyers should purchase this treadmill? Share your opinion with other visitors of this site by writing your own review. It's free, fun and easy to do. Everyone is invited to join in.

Reminder: This site would no longer publish reviews that doesn't provide any real value to other consumers.
---
(Once again, if you plan on buying this machine I suggest you buy from 
Click here to visit the Smooth website)
---
Return from Smooth 9.45TV Treadmill to Smooth Treadmills
---