Smooth 9.25X Treadmill Review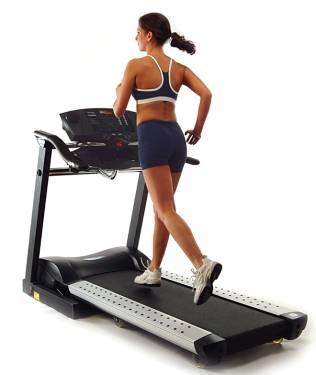 Smooth 9.25X Treadmill

For just a little below $3,000, the Smooth 9.25X treadmill becomes Smooth's most expensive treadmill. This treadmill is similar to the Smooth 9.25HR treadmill model but with Lifetime
Warranty, Smooth Speaker System, 4-ply long-life belt and double roller bearings.
Is This Treadmill for You?
This treadmill is perfect for hardcore runners. If you're an athlete or just someone who runs religiously, this treadmill would be perfect for your daily training. You'll be sure to get the most out of your workouts with its numerous features.
But since this unit is priced at a little below $3,000, I don't recommend it if you're not serious about running. You'd be better off buying a treadmill in the $1,500 price range. Visit our best buy treadmills page and look for a treadmill that fits you best.
Features and Benefits
The Smooth 9.25X treadmill comes with a powerful 3.0HP continuous duty motor. It gives you years of maintenance free service with high horsepower. It prevents overheating while delivering strong performances. With a motor this strong, even the most hardcore of runners would surely get an intense workout.
The extra long 20"x 62" treadbelt, with 6" straddle pads is ideal for interval training and tall individuals. This 4-Ply Textured Whisper Weave™ low-noise belt is for added cushioning and extended wear. It has twice the strength of other treadmills. It reduces friction between the deck and belt to increase the life of the motor and electronics.
The Smooth 9.25X treadmill comes with a wireless heart-rate control with belt and transmitter. Considered as one of the most efficient way to exercise, since your heart rate automatically controls speed and incline for optimum workout intensity. In addition, it keeps your exercise within a safe zone.
The heart rate zone indicator displays, at a glance, the zone where your current heart rate is. Whether it is in the warm-up, fat burning, aerobic or athletic condition zone.
The deluxe dot matrix easy read console displays the speed, distance, time, pace, calories burned, heart rate, and 1/4-mile running track. 2 separate windows simultaneously show your speed, distance, time and calories so you won't have to scroll. Plus, it challenges you with 12 pre-set programs, 3 user programs and a variety of other challenging programs.
Smooth also oversized the buttons to make it easier for you to adjust your workouts while running.
The Smooth 9.25X treadmill has a Smooth Speaker System. This is something that can only be found in this model. These speakers are attractively molded to the console for exceptional audio output.
2.5" commercial grade rollers allow for less tightening of the treadbelt and decrease tension and friction. This lessens the time spent on adjusting belt tracking while at the same time extending the life of the deck, belt and bearings. Also, the Double Roller Bearings can extend the life of the bearings by up to 300%.
The running deck is 20" x 62" and is made up of a triple-laminated 1" thick phenolic deck. This model is as thick as commercial treadmills and the phenolic helps keep the deck lubricated and extend its life.
The Im-Pression™ advanced cushioning system is soft, yet stable when your foot strikes the deck. The Elastomer rubber isolators cushion the impact and transmit absorption throughout the length of the deck. This eliminates side to side motion that is harmful to your joints, knees and ankles.
The 2000 lbs of pulling power for elevation would be effective, quiet and durable for years. This makes sure that the treadmill won't have a hard time elevating no matter how heavy you are.
The heavy duty frame is constructed using a uni-weld steel frame. This is also the one used by many top treadmill manufacturers, like Precor, Trotter, Life Fitness, etc. This would offer you lifelong durability and makes sure that there won't be any loose or exposed bolts that might rattle after a few years. This is the main reason why Smooth is so confident giving away a lifetime warranty on their frames.
The treadmill weighs 304 lbs and its user weight capacity is 400 lbs. This gives you greater stability with a more solid feel. A thing to note here is that these numbers are comparable to most commercial treadmills.
Weaknesses
Other than the expensive price tag, the weakness experts saw in Smooth 9.25X treadmill is that it is huge. The machine takes up too much space, especially since the treadmill isn't foldable. Also, like most Smooth treadmills the price includes free shipping, but indoor delivery and set up costs extra.
Recommendation
I wouldn't recommend the Smooth 9.25X treadmill. I think that there are other treadmills in this price range that can give you more value for your money. I suggest you stick with brands, which specializes in this creating premium priced treadmills. Visit our best buy treadmillspage and look for the best treadmills in the 3,000 price category.
Summary:

Motor: 3.0 HP continuous motor
Speed: 0 to 10 mph
User Weight Capacity: 400 lbs
Incline: 0 to 15%
Warranty: Lifetime frame, electronics, belts, and wear parts. 10 years motor. 1 year labor
Belt Size: 62" x 20"
Foldable: No
Heart Rate: Yes
Features:
• Hand Grip Heat Monitor
• Scratch Resistant Powder Coat Finish
• Low Impact, Durable Running Surface
• Torsion Springs
• Automatic Shutoff
• Rubber Push Button Electronics
• Im-Pression™ advanced cushioning system
• 12 pre-set and 3 user programs
• Deluxe dot matrix easy read console
• Wireless heart-rate control with belt and transmitter
• Heart rate zone indicator
• 2 Separate windows shows speed, distance, time and calories simultaneously
• Friction Free, Electrostatic Deck
• Smooth Speaker System
• 4-ply long-life belt
• Double Roller Bearings
---
Where to Buy?
If you plan on buying a Smooth 9.25X treadmill, I suggest you buy it from here. They offer the best price around the net. You can get it for just $2,999.
---
Return from Smooth 9.25X Treadmill to Smooth Treadmills
---