Smooth 7.6HR Pro Treadmill Review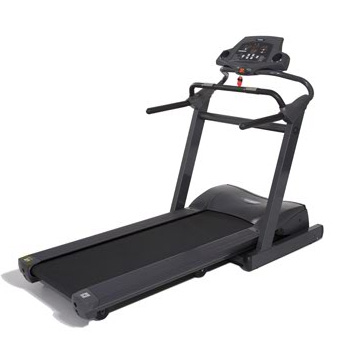 Smooth 7.6HR Pro Treadmill

The Smooth 7.6HR Pro treadmill is definitely an excellent folding treadmill.
With its powerful motor, huge running space and numerous features, it provides one of the best values below $2,000.
Is It for You?

If you're in the market for a high quality foldable treadmill, then the Smooth 7.6HR Pro should certainly be on top of your list. It is one of the best treadmills in the market today below $2,000 and arguably the best folding treadmill that came out this year.
What You'll Be Getting
The Smooth 7.6HR Pro comes with a 3.0HP continuous duty motor with a maximum speed of 11.2mph which is more than enough for most users. It also features 15 levels of incline for added intensity which is great for hardcore runners.
The 60" x 20" running surface is longer than what most $2,000 treadmills provide. This is perfect for tall people who usually have bigger strides and require a longer treadbelt. This running surface also comes equipped with Im-Pression shock absorption technology which reduces impact on your joints and back to lessen injuries.
The display features a deluxe 3" LED console which reads out basic information like your distance, calories, speed, speed profile, time and pulse simultaneously. All these data are given to you so can easily monitor how mush you have progressed.
This machine also comes with 8 pre-set programs and 3 customizable programs so you'll have more workout choices to choose from. Plus, up to 9 people can save their profiles in it so you won't need to key in your personal settings before every workout. There is also a wireless heart rate control that comes with a belt and transmitter which can adjust the intensity of your workout depending on how you set your target heart rate.
As mentioned above this machine is a folding treadmill. It comes with the exclusive power fold feature which automatically elevates the unit's deck into an upright position with just one switch so you can free up floor space.
And finally, the Smooth 7.6HR Pro treadmill boasts of a lifetime warranty on both the frame and motor, 5 years warranty for its parts and electronics and a 2 year in-home service warranty. These long warranties only prove that this machine comes with excellent quality.
Weakness
Other than the delivery delays that Smooth has been known for in the past and the additional charge for in-home delivery and set-up (curbside delivery is free), I don't see anything wrong with this treadmill.
Recommendation
If you're in the market for a folding treadmill, then I highly recommend the Smooth 7.6HR Pro treadmill for you. It is arguably the best folding treadmill this year and it is also one of the best treadmills below $2,000. (See our best buy treadmills page for other quality treadmills)
Summary:

Cost: $1,799
Motor: 3.0HP continuous motor
Speed: 0.5 to 11.2 mph
Unit Weight: 310 lbs
Maximum User Weight: 400 lbs
Incline: 15 levels
Warranty: Lifetime frame and motor, 5 years parts and electronics, 2 years in-home service
Belt Size: 60" x 20"
Foldable: Yes
Heart Rate: Yes (with wireless chest strap)
Features:
• 8 pre-set and 3 custom programs
• 9 user profiles
• Power Fold
• Wireless Heart Rate control
• 3" LED display
• Hand Pulse Grip
• Im-Pression Shock Absorption Technology
• Water Bottle Holder
---
Where to Buy?

If you plan on buying a Smooth 7.6HR Pro treadmill, I suggest you buy directly from the company through smoothfitness.com. They offer the best price around the net. You can get it for just $1,799.

Click here to visit the Smooth website and learn more
(opens new window)
---
Do You Think This Treadmill is Worth Buying?
After reading this article, do you think buyers should purchase this treadmill? Share your opinion with other visitors of this site by writing your own review. It's free, fun and easy to do. Everyone is invited to join in.

Reminder: This site would no longer publish reviews that doesn't provide any real value to other consumers.
---
(Once again, if you plan on buying this machine I suggest you buy from here.)

Click here to visit the Smooth website
---
Return from Smooth 7.6HR Pro Treadmill to Smooth Treadmills
---