Smooth 5.45 Treadmill Review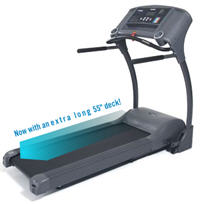 Smooth 5.45 Treadmill

The Smooth 5.45 treadmill is one of the cheapest model in Smooth's lineup for 2009. And just like other Smooth models, you'll also get great value for your money with this machine.
This model was created to replace Smooth's former bestselling budget treadmill, the Smooth 5.25.
Is It for You?

If you're in the market for quality treadmills but a bit short on the budget, then the Smooth 5.45 might be what you're looking for. It would be perfect for joggers and walkers. But if you're a hardcore runner, I don't think this machine would suffice, I suggest you visit our best buy treadmills page and look for a treadmill in the $1,500 or above price range.
What You'll Be Getting
When you compare this machine to its predecessor, the biggest difference you'll notice is its long running space. Its running surface measures 20" x 55" which is 2" longer than what the Smooth 5.25 offers. With it you'll get more room to move and run comfortably. And, just like before, it still features the Whisper Weave™ treadbelt that makes it operate as quietly as possible.
The Smooth 5.45 treadmill comes with a powerful 2.5HP continuous duty motor which is pretty impressive considering this is an entry-level treadmill. The motor can reach a maximum of 10mph and has 15 levels of incline. Plus, it has a dual motor fan which prevents it from overheating thus extending the motor's life.
The patented Swing Arm™ suspension system is also included in this model. It reduces harmful impact on your joints, knees and back to keep you injury-free for as long as possible.
The much improved intuitive LCD console is another improvement from the old version. This console lets you monitor your speed, incline, distance, calories, time and pulse simultaneously so you'll always know all important information regarding your workout. Plus, this machine boasts of 9 storable user profile (for multiple users) and 6 challenging preset programs (including one heart rate controlled program) that are designed to give you exciting workouts geared towards burning calories.
Another feature that can be found on this machine is the dual stage soft drop folding. With this gas shock-assist lift, you can gently tilt the deck into position and wheel it away for storage or you can use the foot-operated lever to lower itself slowly and smoothly from a folded position. With this feature, folding and unfolding a treadmill is safer and easier.
And finally, the Smooth 5.45 treadmill boasts a lifetime motor and frames warranty, 3 years parts warranty and a 1 year labor warranty. These warranties are some of the best considering this is an entry level machine.
Weakness
The price of this machine already includes shipping but if you want it to be delivered inside your house you will need to pay extra and then you would have to pay another extra if you want them to assemble it.
Recommendation
Smooth replaced one of their best sellers which is the Smooth 5.25 treadmill to create a better one and then sold it for the same price. So definitely, I do recommend the Smooth 5.45 treadmill. However, an entry treadmill will always be an entry level treadmill. I still recommend you buy a $1,500 or more treadmill if you are a serious runner. (See our best buy treadmills page)
Summary:

Cost: $999
Motor: 2.5HP continuous motor
Speed: 0.5 to 10 mph
Incline: 15 levels
Warranty: Lifetime frame and motor, 3 years parts, 1 year service
Belt Size: 55" x 20"
Rollers: 2.0"
Foldable: Yes
Heart Rate: Yes
Features:
• 6 Pre-programmed Workouts
• LCD console
• Swing Arm™ Shock Absorption Technology
• Dula Stage Soft Drop Folding
• 9 User Profiles
• Whisper Weave™ Tread Belt
• Heart Rate Controlled Workouts
• Water Bottle Holder
• Handrail Grip Pulse Monitor
---
Where to Buy?



If you plan on buying a Smooth 5.45 treadmill, I suggest you buy directly from the company through smoothfitness.com. They offer the best price around the net. You can get it for just $999.

Click here to visit the Smooth website and learn more
(opens new window)
---
Do You Think This Treadmill is Worth Buying?
After reading this article, do you think buyers should purchase this treadmill? Share your opinion with other visitors of this site by writing your own review. It's free, fun and easy to do. Everyone is invited to join in.

Reminder: This site would no longer publish reviews that doesn't provide any real value to other consumers.
---
Return from Smooth 5.45 Treadmill to Smooth Treadmills
---