Reebok Crosswalk RT 5.0 Treadmill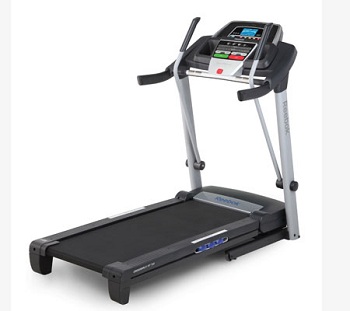 Reebok Crosswalk RT 5.0 Treadmill Review

The Reebok Crosswalk RT 5.0 treadmill is a pretty decent treadmill with more than just a few features. Its build quality is also surprisingly better than your average treadmill in this price range.
Although an 800-dollar treadmill may not be as luxurious as those that cost thousands of bucks, the Crosswalk RT 5.0 can still get the job done. Read on to learn more.
Is This for You?
For beginners with less stressful trainings, the Reebok Crosswalk RT 5.0 treadmill should do just fine – unless you are willing to spend more to experience more features. (If you are, see our best recommended treadmill page)
What You'll Get:
For $800, the Reebok Crosswalk RT 5.0 treadmill already comes with adequate features that can help you achieve your fitness goals.
Want more calories to burn with your usual workout routine? With the Crosswalk RT 5.0 this is possible! The machine features the CrossWalk® Workout Arms technology that the manufacturer says will help you burn up to 28% more calories and fat in the body.
Designed with a modern cushioning technology called the DMX Zone, the machine provides support and comfort for every stride you make. This means less stress and more enjoyment during workouts.
Another technology to experience is the iFit Live (compatible but sold separately) where smarter and more innovative trainings are programmed to provide faster results. With workouts Powered by Google Maps, you can go anywhere you want without actually leaving your house. Combined with automatic speed and incline control, you are in for a superb "wireless" workout experience.
To ensure the effectiveness of your workout, make sure to monitor your heart rate. And this can be done through the dual grip AccuRate heart rate monitor present in the treadmill. Get an accurate reading of your heart rate by gripping the handle bar with sensors which then sends your data right to the console's LCD display.
And did you know that the Crosswalk RT 5.0 treadmill is compatible to your iPod? And together with the Intermix Acoustice 2.0 sound system, you can experience entertainment even during your most serious runs and trainings.
Other features of the machine include the SpaceSaver design for easy storage, 6-inch backlit display, 15 workout apps, RaceTrack display, and a great warranty program.
Weakness:
No matter how many features this treadmill offers, it still belongs to the less-than-a-thousand-bucks category for fitness machines. This means that you will get only what you pay for. Expect that its quality may not be as outstanding as those of mid-level treadmills. So runners should definitely avoid this machine. (see our best treadmill page for treadmills we recommend)
Recommendation:
If variety on a budget is what you're looking for, the Reebok Crosswalk RT 5.0 treadmill is a decent choice. It is designed with technology-inspired features that combine comfort, performance, and entertainment in one unit. But runners beware, although its quality is better than most $800 treadmills, it is still an entry level treadmill, and entry level treadmills can't take the pounding of runners for very long.
Summary:


Price: $799

Motor: 2.25 CHP TRX™ Motor

Speed: 0–10 MPH QuickStep™ Speed Control

Incline: 0–10% QuickStep™ Incline Control

Tread Belt: 20" x 55"

Dimensions: 70" L X 34" W X 59.5" H

Max User Weight Capacity: 300 lbs.

Warranty: Lifetime for frame; 25 years for motor; and 1 year for parts and labor

Features

Features:


• DMX Zone™ Cushioning
• SpaceSaver® Design
• Dual-Grip AccuRate™ Heart Rate Monitor
• iFit Live™ Technology Compatible
• 6" Backlit Display
• 15 Workout Apps
• RaceTrack™ Display
• CrossWalk® Upper-Body Workout Arms
• Intermix Acoustics™ 2.0 Sound System
• Compatible Music Port for iPod®
---
Where to Buy?

If you plan on buying a Reebok Crosswalk RT 5.0 Treadmill, I suggest you buy from amazon. They usually sells this for just $799.


Click here to visit amazon and learn more
---
Return from Reebok Crosswalk RT 5.0 Treadmill to Reebok Treadmills

---
(Once again, if you plan on buying this machine I suggest you buy from amazon.)