Reebok 5500C Treadmill Reviews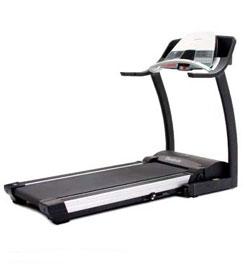 Reebok 5500C Treadmill Reviews
The Reebok 5500C treadmill is, according to Reebok, their strongest treadmill to date.
It is $200 more expensive compared to the Reebok 3500C treadmill but it boasts more features and a bigger motor.
Is This Treadmill for You?
Reebok is a brand known all over the world. So if you're the brand conscious type of person who only wants to buy treadmills from known brands, then this is the treadmill for you.
However, if you're someone who looks past the name and needs a treadmill which provides great value, then I suggest you choose a treadmill in the $1,500 or above price range of our best recommended treadmill section.
Update: This treadmill has been discontinued.

As an alternative, you might want to visit our best treadmill page to look for similar treadmills that we recommend.
What It Offers
With this treadmill, you'll get a powerful 2.5HP continuous duty, commercial-grade motor and a 20-in x 60-in tread belt. These will provide you all the power and room you'll need for an intense workout.
This treadmill is capable of delivering up to 12mph and can be elevated for up to 12%. So you can have an intense workout no matter what fitness level you're in. Plus, the power incline and One Touch™ speed control make changing the intensity of your workouts as simple and as fast as possible.
The DMX™ adjustable impact absorption system was included for your safety. It cushions the impact of your run to prevent ankle, knee and joint injuries so you can workout longer.
The Reebok 5500C treadmill also features 10 preprogrammed workout options. So you can have more variety in your exercises. Plus, it has the iFIT® interactive technology, which means you'll have even more program choices to select from.
The CoolAire™ Workout Fans keep you cool even during your most intense workouts. They are built into the console to give you the extra energy for longer workouts.
The SpaceSaver® Fold Away Design allows you to fold-up the treadmill after use so it doesn't take up extra room. This feature is perfect for those with limited spaces at home.
Weakness
In paper, this treadmill looks great, but since it was just released, it still remains to be seen if the quality of this machine really improved compared to previous Reebok treadmills.
Recommendation:
Although it has potential, I wouldn't recommend the Reebok 5500C treadmill just yet. I need to know more about it first and read more owners reviews before I recommend it. In the mean time, please visit our best buy treadmills section and look treadmills I recommend in each price range.
Summary:


Motor: 2.5 Continuous HP Motor

Speed: 0 to 12 mph

Incline: up to 12%

Belt Size: 60" x 12"

Maximum User Weight: 400 lbs

Foldable: Yes

Heart Rate: Yes

Features: 





• iFIT® Interactive Technology
• Space Saver® Fold Away Design
• CoolAire™ Workout Fans
• 10 Built-in Workouts
• DMX™ Adjustable Impact Absorption
• Power Incline™
• One Touch™ Speed Control
• AccuRate™ Heart Rate Monitor

Where to Buy?

If you plan on buying a Reebok 5500C treadmill I suggest you buy it at amazon. They offer the cheapest price around the net. You can get it for just $1,199.00.
---
Return from Reebok 5500C Treadmill to Reebok Treadmills
---