ProForm Power 1495 Treadmill Review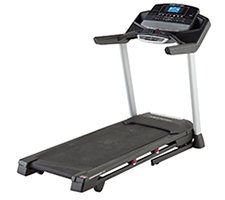 When you workout, there are instances that you want to have a machine that has powerful performance. ProForm Power 1495 is among the Power Series of ProForm treadmills that can provide you the power you need.
Allegedly, this treadmill is designed for toughness coupled with advanced features fitted for a treadmill with high performance.
As you read along this review of mine, you will learn more about this treadmill and determine if this is the one suitable for you or not.
Is It For You?
Proform Power 1495 treadmill is proud of their 3.5 CHP Mach Z motor which offers a powerful and durable performance. The Commercial Pro Motor on this treadmill is able to provide you a quieter and smoother workout. However, you still need to choose for yourself if it actually does.
Since the display on this machine is 10 inches full-color web-enhanced display, you are capable to see your view well.  The internet connectivity is by Android that contains Google Maps; you are highly accessible and can select different routes for your workout.
If you really desire to enhance your calorie burning, any the 34 workout apps on this model may provide you the training you should have for you to reach your goal.
This treadmill has an incline and decline feature which may provide you the challenge you want for your workout.  You may check a unit of this specific treadmill before making any ultimate purchase to lessen mistakes.
What You'll Get
With this ProForm Power 1495 treadmill, you will have a treadmill that is powered with a Mach Z Commercial Pro Motor 3.5 CHP that more or less guarantees that you can attain the powerful and quiet workout you like.
You will also get an incline and decline feature where you can incline your treadmill up to 15 percent and decline it up to a negative 3 percent. As you distinguish, the incline aids in reducing the impact on your joints and permits you to burn more calories at a faster pace.
The EKG Grip Pulse that comes with Wireless Chest Strap makes your workout even more comfortable and safe.
Audio is also remarkable as it is iPod compatible and the Intermix Acoustics 3.0 Sound System make the quality of your audio via the two 3in speakers very high in quality.
You as a user can choose from any of the 34 workout apps that this treadmill provides. These workout apps which include apps for incline, calorie burning and speed are designed by professional trainers.
Weaknesses
One noticeable negative about this treadmill is the width of its tread. Others are mostly 22 inches while this unit only has 20 inches. So, if you want more space for your walking or running, this is not a good width.
Strengths
On the optimistic side, this treadmill's motor is ideal as it offers quiet and smooth performance with a very sturdy deck.
Many users love the numerous 34 workout apps which they use for their exercise. There is an app for each particular need of the user.
The incline and decline feature of this ProForm treadmill is also very helpful. Your joints or legs may not experience pain as you would ordinarily will with other models.
If you are particular about the quality of sound, then this model is a good choice for you since the quality of audio coming from the two 3 inches speakers are delightful.
Recommendations
At this time at Amazon, there are only three units left for this model. However, there are more units on the way so you need not be concerned about availability.
Since ProForm is a know brand for treadmills, you are more or less assured to get quality treadmills. But, personally I understand that nothing is perfect in this world and that is correct even with treadmills.
Treadmills are fabricated by men and therefore expected not to be perfect. Factory defect as it is commonly used, so you should truly try first your treadmill before buying or ones delivered to you, check out every single part in order to be sure that are no defects.
Best if you can try it on first in order for you to report immediately to the manufacturer for any flaw.
Summary
Brand and Model:  ProForm Power 1495
Price:  $1,650.95
Motor:  3.5 HP
Running Area:  20in by 60in
Incline:  -3 to 15%
Maximum Speed:  12 MPH
Folding:  Yes this is folding
Built-in Programs:  34 programs
Touchscreen:  10in full color
Fan:  CoolAire workout fan
Cushion:  ProShox cushioning
Weight Capacity:  350 pounds
Dimensions:  Length 72.2in by width 33.87in by 57.1in height
Warranty:  Lifetime warranty on frame and motor
Where to Buy?
As I often say, the best place to purchase treadmills is from the producer itself. However, these companies assign authorized dealers where you can solely buy their products.
So, in order to find the most ideal supplier, check out reliable online sellers such as Amazon. You can also contact the manufacturer and ask them for the list of their authorized sellers and enjoy the warranties they provide.
---