ProForm Power 1295i Treadmill Review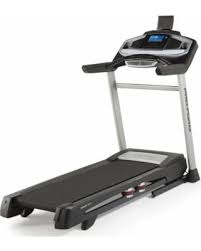 How about bringing power into your routine? A durable and quiet treadmill that can sustain any type of routine is the desire of most people.
ProForm Power 1294i treadmill with its many remarkable features might be the ideal treadmill for you. A way to find out is to go over different reviews like the one I have here below in order for you to determine if this is the right choice for you.
Is It For You?
Are you not particular about prices and more concerned with quality and performance? If you are into quality and performance, then ProForm Power 1295i might interest you.
This treadmill model can automatically adjust its incline and decline to delightfully match the trails you have chosen through your built-in apps. Surely, it would be a very good experience trying out different trails while making you physically fit.
If you are the person who would rather have pre-built workout programs prepared by experts, this treadmill will also match you since it contains 34 workout programs which you can choose from.
Being heavy-built or belonging to the extra size is not a concern since the size of the deck can provide you super wide elbow room during your exercises.
Prolonged exercise period is your cup of tea, and then this treadmill is for you since it is powered with a 3.5 CHP Mach Z motor that can withstand long periods of usage.
What You'll Get
ProForm Power 1295i treadmill can give you a very quiet and powerful workout. It can automatically adjust your incline and decline to match the trail or terrain you have chosen with your Global Google Maps Routes.
The built-in workout programs created by certified personal trainers can help you customize your own workout. You can choose from a beginners program to professional. However, you must consider that you need to register for a subscription in order to take advantage of this feature.
You may also get an exceptionally roomy deck for your exercise and a maintenance-free belt. Isn't that awesome?
The 3.5 CHP Mach Z motor on this treadmill is UL Safety Certified. This motor stays cool even with the toughest workouts. It is also convenient for heavy use and offers a lifetime warranty.
Weaknesses
Of course, it is understandable that nothing is perfect. So, even if the the manufacturer tries to make this treadmill perfect, there is a minor flaw considered by few customers.
The only negative observation so far about this product is the font size of the display. A few people, especially the older ones with impaired vision, find the display difficult to read because of the small font size of the display on the screen.
Few owners or users are finding it hard to read the statistics displayed on the screen.  If the manufacturer can make the display larger, then this could be great.
Strengths
In addition to this treadmill's many interesting features, the two remarkable feedbacks on it are its being very sturdy and quiet.
Being sturdy means the body is strong enough to handle heavy users, prolonged usage, and even heavy running on it. More challenging exercises or routines may be performed on this treadmill.
Quietness can provide comfortable, relaxed and stress-free walking or any exercise program. A treadmill with extremely quiet motor and deck is the best exercise machine for everyone.
Recommendations
This is a very quiet and sturdy treadmill as declared by most users and owners. If you wish a treadmill that is durable, then this could be the model that will equal your needs.
It is more beneficial if you look deeper into the different reviews on this treadmill before you decide if you are getting one or not.  A review that not only deals about the good side of it, but at the same time discusses about its flaws is more beneficial.
Look for an honest to goodness kind of review and if you have the chance, try to physically walk on it first before you make your purchase.
Summary
Dimension:  When assembled, this treadmill measures 81inchesin length by 37inches in width by 66.7 inches in height
Maximum Capacity:  This treadmill can take up to 350 pounds
Audio Compatibility:  iPod Compatible Audio with two 3-inch speakers
Rollers:  2.5-inch balanced, precision-machined and non-flex rollers
Workout Fan:  CoolAire Workout fan
Design:  SpaceSaver design with EasyLift Assist only from ProForm
Cushioning:  ProShox Cushioning
Tablet Holder:   Equipped with integrated tablet holder
Tread Belt:  20inches by 60inches tread belt
Incline:  15% digital quick incline
Speed Control:  1 to 12 MPH digital QuickSpeed control
Apps:  34 workout apps
Motor:  3.5 Commercial Plus Motor Mach Z
Monitor:  EKG heart rate monitor
iFit:  iFit Coach Ready for automatic adjustments
Screen Display:  7 inch Smart HD touch screen display
Warranty:  Lifetime warranty on frame and motor, 5 years warranty on parts and 2 years warranty on labor
Where to Buy?
You can easily order and purchase ProForm Power 1295i treadmill at any online shops such as Amazon.
However, if you desire to take the fullest advantage of your warranty, you may buy this treadmill from the manufacturer directly.
---