A Review on ProForm Boston Marathon Treadmill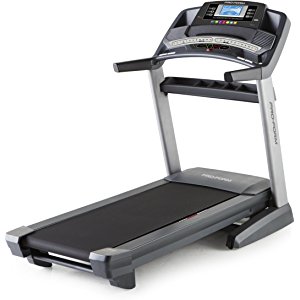 Have you participated in any of the Boston Marathon? If you did, isn't the experience very fulfilling? If you haven't, why not start training now and be part of it the soonest? ProForm Boston Marathon treadmill is your passport to be in that worldwide famous marathon event.
The Boston Athletic Association proclaimed ProForm Boston Marathon treadmill as its official training treadmill. This treadmill is created with the innovative gadgets that will guide you to success and enhanced results.
Even if you are intending to join the Boston Marathon, it is still worth to condition yourself and be healthy and fit.
Is It For You?
Marathoners of athletes are not the only ones who should be doing workouts. Actually, everybody should be concerned about their health and do something to keep fit.  Jogging or running, or even brisk walking as we all know is a good form of exercise to keep us healthy and fit.
Therefore, ProForm Boston Marathon treadmill is for you if you want to keep in shape and do daily walking or running. Daily dose of exercise can may your body toned and healthy. This treadmill being certified by the Boston Athletic Association means that its design is appropriate for any type of person and not only for those who want to be conditioned for the historic marathon event.
This is a very silent treadmill and will not bother people at your home, even your little child or baby, when you activate the motor and do your routine.
Access to a HD video on workouts of the actual race course of the Boston Marathon is an advantage and can provide you inspiration to run or walk more. What's more? You can even connect to your house's wireless network and be connected with social media such as Facebook, Viber, or Whatsapp and access your emails, or watch the news online. Being an active person is not a obstacle for walking or jogging with the help of this treadmill.
What You'll Get
With ProForm Boston Marathon treadmill, you will get a treadmill that is certified by the Boston Athletic Association which is intelligently designed to equip you with the stamina and condition for any type of marathon.  Of course, even if you are not participating in any running or walking events, this treadmill is still the suitable and most convenient way of being fit and healthy.
The iFit technology on this treadmill allows you to experience running anywhere in the world every time you access the browser which is Android-powered. Yes, you can even workout using the actual Boston race path. Every dip and hill is simulated with the assistance of the inclines of up to 20 percent and the declines of 6 percent.
The 7-inch touch screen which is in full color can make your movie or television show watching a relaxing experience while exercising.
The tread size of 20in by 62in provides you ample space to do any workout combinations you desire. The tread is 2-ply which ensures that a maximum weight of 350 pounds of the user will not encounter any problem exercising on it.
To ease you of the worry on repair and maintenance, this treadmill carries with it a lifetime warranty on frame and motor, a 5-year warranty on parts and electronics and a 2-year warranty on labor.
Weaknesses
Undoubtedly, the features of this treadmill are far notable; however some find this product pricey. So, if price is a concern, you might consider getting another model.
A few customers find it difficult to find spare parts when they need one.  And sometimes, it takes some time for a technician to arrive when they call for repair service.
This treadmill is quite heavy and will take about 3 people just to move it up or down the stairs.
Strengths
This treadmill is considered by most users as a well-spent purchase since it is very functional, smooth, quiet, and of great quality.
The extra length of the tread provides ample space for tall people which are a plus factor.
It has very good quality sound system and display and full color tablet are exceptional. You can be entertained while doing your routine daily.
The inclines and declines on this model provide very practical experience of jogging outdoors and on the track users chose.
Recommendations
If you wish for a treadmill packed with high-tech features and not disturbed with price, you may reflect on this one. However, it is still best that you look at the reviews on other brands of similar features to determine the best one for you. My reviews on other brands and models with same features might be of help to you.
This treadmill is quite heavy, so if you are alone in the house and not that strong or big, you might have difficulty. Consider purchasing another model.
Check out all details on this treadmill before you make your purchase and it is best for you to try exercising on it before you buy.
Summary
Brand and Model:   ProForm Boston Marathon
Price:  US$3,699.99 with free shipping
Product Dimensions: 79in by 39in by 66in
Shipping Weight:  525 pounds
Tread Belt:   2-ply, non-stretch commercial belt
Tread Belt Size:  20in by 62in
Inclines:  Up to 20 percent quick incline control
Declines:  Up to 6 percent decline control
Music Port:  Compatible with iPod
Weight Capacity:  350 pounds
Touch Screen:  7in Full-color touch screen
Apps:  Boston Marathon HD Video, iFit enabled, Onboard Marathon Training
Warranty:  Lifetime warranty on frame and motor, 5-year warranty on parts and electronics and a 2-year warranty on labor
Where to Buy?
Online fitness and health stores offer treadmills such as this model. You can try them out. Amazon is one site you may check out.
If you want to maximize the warranties, you might want to purchase directly from the manufacturer or its authorized dealers.
---