ProForm Boston Marathon 3.0 Treadmill Review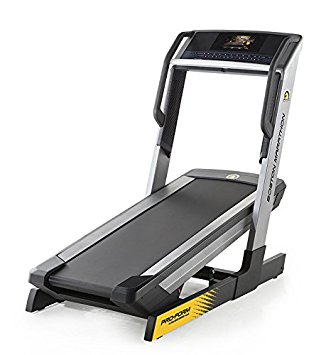 ProForm Boston Marathon 3.0 treadmill is one of the designs made particularly for athletes. However, as of this time, this item is out-of-stock and the manufacturer is not certain when they will bring it to the market again.
To let you know how this treadmill can make your workout similar with professional marathoners, I will provide you with a birds' eye view of its pros and cons to help you decide whether you will take it or not when it becomes available again or if you intend to buy pre-owned units.
 This treadmill is ready with a video on different intensities of skills for marathon training courses which are supportive especially if you are seriously occupied in this sport.
Is It For You?
Are you an individual who is interested in getting into any marathon event? Or are you someone who just hoped to be healthy and fit? Whatever type of a person you are, you may consider ProForm Boston Marathon 3.0 treadmill for your workout.
However, if you will consider pricing; you might opt for other models that are less expensive but with almost similar features as this model.
This model is very durable and can accommodate up to 400 pounds user. So, if you are taller and heavier than regular user, this treadmill might be for you.
Also, if you prefer convenience while doing your workouts, this is a good model for you since it has QuickSpeed Controls, a 10-inch full color touch screen display and dual 8-inch CoolAire built-in fans.
What You'll Get
With this treadmill, you will get a very durable and sturdy exercise machine that is powered with a 4.25 CHP Commercial pro motor.
The 20 inches by 62 inches 2-ply non-stretch tread belt provide ample space for your desired workout with comfort and ease.
The 2.5 inches rollers on this treadmill enhance your exercise and provide lesser noise while exercising and better grip for safety.
And to make your workout more challenging, the maximum 20 percent incline and the negative 6 percent decline is a very useful feature.
To make your exercises a lot more comfy, this model is created with two 8-inch CoolAire cooling fans with two speeds you can enjoy.
Being heavy is no problem with this treadmill as its maximum weight capacity is 400 pounds. If you are that weighty, you can wonderfully take advantage of this unit to accomplish a more agreeable weight.
This treadmill is also equipped with Boston Marathon training programs and music port compatible with iPod and is iFit ready.
One important thing, this treadmill offers warranty on frame, motor, parts, electronics and labor. At lease, you may say that your money won't be wasted because you can always use the warranty for any concerns on your treadmill if ever you purchase ProForm Boston Marathon 3.0 treadmill.
Weaknesses
If you have limited space at your home, this might be not advisable since this treadmill is not foldable. This means, it is not among the space-saving designs and it may take a lot of your room space.
Also, this treadmill is not that affordable. You will spend more on this model.
Most customers declared that they experienced a very slow response from customer service when they needed assistance or have concerns over their units.
Strengths
Actually, ProForm Boston Marathon 3.0 treadmill has many positive features and advantages that you may consider if ever this treadmill will return in the market.
It has a very powerful motor of 4.25 CHP and the top speed can go up to a high of 15MPH.
When you purchase this unit, the assembly is incorporated with its purchase price so you will have the comfort of not doing it yourself.
It has an extra-long track at 62 inches by 20 inches which is ideal if you are a tall person or if you want to do a long stride walk or run.
As I have said earlier, the incorporated marathon programs for different level of skills training which are designed in cooperation with the Boston Athletic Association may help you with your workout without the actual physical assistance of a professional trainer.
Workouts can be relaxed with the inclusion of huge cooling fans and a 10 inch touch screen full color monitor and 3-inch speakers that are iPod-compatible.
Recommendations
ProForm Boston Marathon 3.0 treadmill is particularly ideal for those who are considering joining marathons such as the Boston Marathon. However, even if you are not into joining any marathon event, you can still consider this model.
But, if are just into keeping yourself healthy and fit, you may try other models which are more affordable than this model.
I have a number of reviews on different brands and models of treadmill on this site that may help you find the treadmill which may be the most beneficial to you.
Summary
Model and Brand:  ProForm Boston Marathon 3.0 Treadmill
Price:  The price before it became out of stock was $2,999.00
Availability:  Presently, this is discontinued; but there are still a few used units available for sale which you can purchase.
Folding:  This model is not foldable
Motor:  4.25 CHP
Speed:  0 to 15 MPH
Incline/Decline:  Negative 6 percent decline to 20 percent incline
Belt:  2-ply non-stretch commercial tread belt
Deck:  20 inches by 62 inches
Maximum Weight:  400 pounds
Programs:  Boston Marathon video workouts
Cooling Fans:  Dual 8-inch CoolAire fans built-in
Speakers:  3 inches speakers which are iPod compatible
Display:  10 inches full-color touch screen display
Accessory Tray:  Accessory tray available in this unit
Quick Controls: QuickSpeed buttons
Dimensions: 64 inches by 37 inches by 74 inches
Warranty:  Lifetime warranty on frame and motor, 6 years warranty on electronics and parts, 3 years warranty on labor
Where to Buy?
If this model becomes available again, you may purchase it at any of the online stores such as Amazon or directly from the manufacturer.
But, if you want to own one immediately, you can check out Amazon for a few used units available for sale by some sellers.
---