ProForm 905 CST Treadmill Review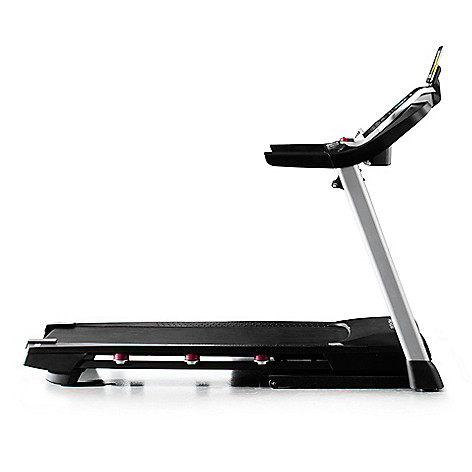 Want to own a great treadmill, but at reasonable price? Then, continue reading this review of mine and find out if ProForm 905 CST treadmill may be the one that you actually want.
This treadmill offers a wide array of interesting features that may allure you to work out more.
Not only the power it gives through its 3.0 CHP motor, but the controls and workout apps may provide you the exercise experience you always wanted.
Is ProForm 905-CST For You?
ProForm 905 CST treadmill is for you if you weight more than 300 pounds, but will not exceed 350 pounds.
If space is your concern, this treadmill will not take up much of your room since this model is foldable. Therefore, you need not worry about space and moving it around your house.
This is may also be for you if you desire a treadmill that can provide you stability during your workout. It is important that your exercise machine can cope with the intensity of your exercise for safety measures and ensure that you get the satisfaction with your workout.
However, with my personal observation, not many people have owned it based on the evaluation or reviews made on it. When I searched, there are only a few reviews and are not very specific.
What You'll Get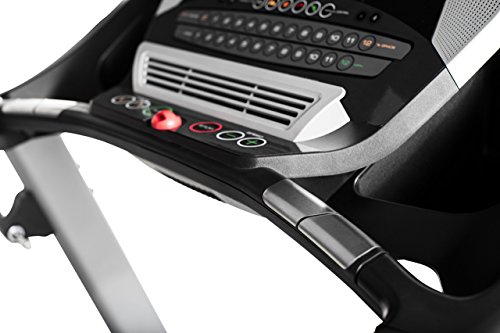 With ProForm 905 CST treadmill, you will get a series of remarkable features that surely will not only make your workout fun, but may also be very helpful for letting you achieve the ideal weight and body measurement you wanted.
This treadmill may offer you a comfortable exercise with its 1.9 inch rollers which are very stable and with machine precision, and ProShox cushioning , a 60 inch by 20 inch belt,  and cooling fan by CoolAire.
It can also hold a maximum weight of 350 pounds for user on its 75 inch by 34 inch and 59.5 inch measurements.
This exercise treadmill can go up to a upper limit incline of 12 percent and a highest speed of 12 MPH. The control is digital which makes it easy for you to do the controlling.
You will also get 30 preset workout programs and iPod compatible speakers for an exciting routine every time you do your exercise.
With all these remarkable features, I think, an important factor is that this treadmill carries with it warranties. There is a lifetime warranty on the frame and motor, a 3-year warranty on parts and 1- year warranty on labor.
And certainly, this treadmill also as well has a Space Saver Design.  When folding and unfolding it, you will not experience difficulty.
Weaknesses of ProForm 905-CST
As you try to turn-on your unit for first use, you will notice the console is locked and non-responsive to any key. A URL will appear directing you to iFit  for a USD $15 monthly activation fee billed to your credit card. Learn more about iFit here.
As a work-around, you have two options:
Go through  the activation process to completion and turn on your treadmill, then call iFit to cancel you subscription  (immediately) without charge. OR
 Hold down the "

IFIT SYNC"

  or the Bluetooth Icon button at the top of your treadmill console for twenty (20) seconds until you hear it beep twice. Voila!!!
Honestly, as of now, I don't see any weakness yet except for the price of $984.79 at Amazon. This price is perceived to be quite expensive by some customers.
Since this treadmill model  is a new release, not so much  reviews are readily available.
Serious draw backs to this treadmill are:
Forced to me activate iFit before making unit usable (Completely poor marketing strategy, leaves users feeling scammed!!!)
iFit only works with  Android phones or chromebook.
Fan could be better positioned, instead of blowing straight into my face.
Running surface could be wider
Heart rate monitor works intermittently
Display does not show my pace, just speed. 
Speaker aren't loud enough.
No support for Bluetooth Audio. 
Worse of a kind Custom Service Support, great product but company could invest more in CSS for its products
Strengths
Very Quiet 
Nice display
Great Shock absorption for its class
Extremely soft running surface
This treadmill's motor is created to last extremely longer than usual with its self-cooling feature and power.
Since this model is a new release, we can't exactly tell yet if the motor will also last longer than the others.
The conveniently placed built-in tablet holder is a way of making your workout enjoyable as you can watch videos and not notice the time that lapses.  Also, the other feature of having a workout fan by CoolAire enables you to enjoy exercising and accomplish your set goal.
Summary ProForm 905-CST Treadmill Review
Assembly time: Two (2) to six (6) hours, instruction manual pretty good.
Dimensions:  75in in length, 34in in width, 59.9in in height
Unit Weight:  204 pounds
Maximum Weight Capacity:  350 pounds
Maximum Speed:   12 MPH
Maximum Decline:  0
Maximum Incline:  12 Percent
Motor Power:  3.0 horsepower
Cushioning:  ProShox Cushioning
Rollers:  1.9 inches Precision Machined and Balance Non-Flex
Preset Workout Programs:  30 programs
Belt Length and Width:  60in by 20in
Display:  5in Backlit iFit Display
Heart Rate Monitoring:  EKG Grip Pulse Monitoring
Other Accessories:  CoolAire Cooling Fan and Tablet Holder
IFit :  iFit Bluetooth Smart enabled
Audio:  iPod Compatible with 2 pcs. 2in speakers
iFit:  Bluetooth Smart Chest Strap
Design:  Space Saver Design
Warranties: Lifetime warranty on motor and frame, 3 years warranty on parts and 1 year warranty on labor
Where to Buy?
You buy this treadmill at any sporting goods store or online shops. Amazon is the best place to buy it. If you want to get the ultimate offer for warranties, you may like to purchase from the manufacturer itself.
Recommendations
Get a surge protector to prevent damage to all the delicate electronics.
If you plan on using your treadmill solely for Walking, 905 could be an over kill , consider the less priced 505 instead.
It appears that, there are only a few reviews on this treadmill from other sources. My review is based on the evaluation of the features in relation with other brands and models with similar features.
If you are a treadmill owner, you may know for sure if a treadmill is good or not by just looking at the features and manufacturer.
But of course, it would be different and more helpful in making a decision if you are able to try the treadmill yourself.
Since this item is by far available at most sporting goods shops, you may try to check out yourself and probably walk or run on it to test.
---