ProForm 705 CST Treadmill Review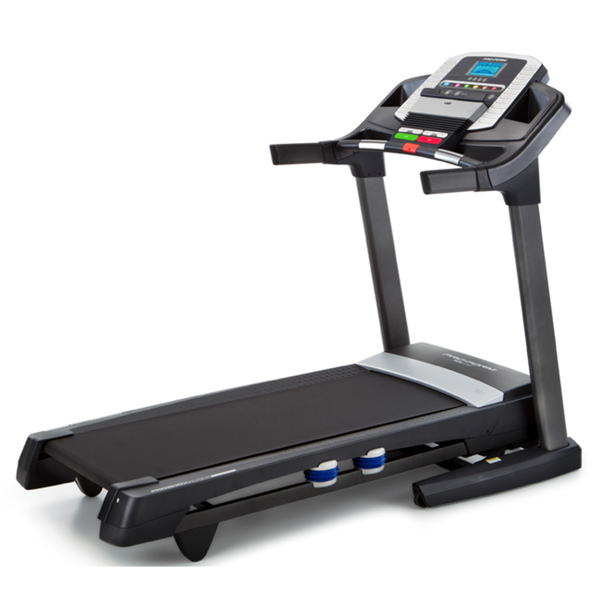 Whenever summer approaches, the majority people are becoming serious with their exercises to become fit or lose the extra weight and bulges.
One technique to achieve a stunning and healthy body ready not just for summer, but as constantly is through the employ of treadmills.
ProForm 705 CST treadmills, an enhanced version of the 605s is one of the treadmills that you may consider to keep you always fit and ready for any action.
There was a time that this model has been discontinued, but presently, it is available at Amazon at $799.99.
Is It For You?
This treadmill has a power incline motor which is able to lift the deck up to 12% incline and a motor that has 2.5 CHP. Therefore, if you want a powerful treadmill which can match your desired type of vigorous workout, this will sure suit you.
Do you have a WiFi at home? If you do, the iFit Live on this treadmill will be advantageous for you as you can easily access the internet and download as many programs you desire. You can download not just workout programs, but Google Maps as well for an interactive workout.
If you are a person who likes entertainment while working out, then this treadmill may also be ideal since it has two built-in speakers and an mp3 port for listening to your most liked music while exercising.
Are you particular about comfort and safety? ProForm 705 CST is built with an air-based Elite ProShox cushioning that may provide you the comfort and safety you desire.
Most users and reviewers like me are by and large happy with the features and design of this treadmill. However, you do not want to experience trouble with customer service; you might want to look at other brands.
What You'll Get
Get into your desired body shape in no time by using this treadmill.
ProForm 705 CST treadmill has a very roomy deck of 20 inches by 55 inches wherein you can perform all the workout combinations you desire.
The folding feature of this treadmill helps you save some space at home when you are not using it. If you decide to walk on it, you can easily unfold it and move it anywhere at your home.
A speed of at maximum of 12 MPH and an incline of until 12 percent may offer you a very challenging and stimulating workout experience.
Match your workout experience with an LCD screen that can show your heart rate, provide sound system and download numbers of helpful applications; truly your workout may be a lot of fun and comfort.
Weaknesses
One drawback is the quality of customer service the manufacturer has. If something went wrong with our treadmill and you need to get in touch with customer service, you may become frustrated and worst angry due to very slow respond to inquiries.
A somewhat concern is the folding feature of this treadmill. For elders, the quick dropping and a little heavy lifting might not be suitable.
Strengths
ProForm is a tested brand for treadmills. There are owners who have used it for more than twenty years.
ProForm 705 CST is skillfully designed and engineered which makes it very good-looking and comfortable to use.
The folding design is very practical with a comfy hydraulic lift mechanism for you to lift the machine deck and store it easily.
Recommendations
ProForm 705 CST treadmill's design and features are perceived to be similar in some ways with other ProForm models and brands. However, it has attributes that are exclusive for it which may be beneficial for you.
In order to determineif this is the treadmill for you, look into the specs and if you can, try running or walking on it.
Also, it would be useful if you read or check out other reviews on this treadmill to determine if there are defects that might be a concerned later.
Summary
Specifications of this treadmill include:
Treadbelt:  20 inches by 55 inches
Motor:  Mach Z 2.5 CHP commercial Motor
Incline:  1-12% Quick Incline
Speed:  1-12 MPH Quick Speed
Cushioning:  Elite 2 ProShox Cushioning
Apps:  16 Workout Apps
Heart Rate Monitor:  Dual-grip EKG
iFit Compatible:  iFit Live Compatible
Sound System:  2.0 EQ Intermix Acoustics Sound System
Maximum Weight: 325 pounds maximum weight capacity
Music Port:  iPod Compatible music port
Space Saving feature:  SpaceSaver with EasyLift Assist design
Price: $799.99
Warranty:  Lifetime warranty on motor, 2 years warranty on parts and 1 year warranty on labor
Where to Buy?
Currently, the best place to buy this treadmill is at Amazon. If you prefer, you may also purchase it from the manufacturer directly.
---