Proform ZT3 Treadmill Review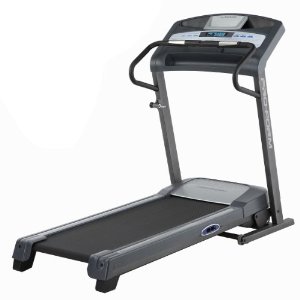 The Proform ZT3 treadmill is one of the better budget treadmills from Proform this year. With all the features you'll be getting with this machine, it is hard to believe that they're only selling this for $400.
However, just like most cheap treadmills, this one also comes with poor quality.
Is It for You?

If you're in the market for a budget treadmill that you would use for walking, then this might be the one you're looking for. On the other hand, if you're a serious runner then you should avoid this or any other budget treadmills. They are made from cheap parts so don't expect them to last long if you would be running on it. If you really want a treadmill built for runners please visit our best buy treadmills page and choose one in the $1,500 or above price range.
Features and Benefits
The Proform ZT3 offers a 1.5 continuous hp motor which is good for walkers but won't be powerful enough for runners. It also comes with Quick Speed and Quick Incline features which allow you to instantly and easily change the speed (0-10pmh) or incline (0-10%) of your workouts for added intensity.
The LCD window shows you your speed, time, distance, incline, pulse and calories burned so you can monitor your progress throughout your workout. Plus, this window comes with priority display so you can always see the data that is most important to you. And with the Race Track(tm) feature, you can monitor your progress in a track-style display so you will always know where you are in your workout.
The 18" x 55" treadbelt provides just enough room for you to be comfortable during your walk. While the TreadSoft(tm) cushioning reduces impact for your joints and muscles for added protection against injuries.
There are 6 pre-set programs that you can choose from. They provide you with the variety you'll need to keep your workouts fresh and to keep you motivated. Plus, you can keep an eye on your heart rate during these workouts since this machine comes with EKG heart rate monitors in the handle bars.
And finally, just like other entry level treadmills, the Proform ZT3 treadmill also comes with disappointing warranties. It offers 5 years for the motor and only 90 days for parts and labor.
Weakness
The biggest weakness of this treadmill is its poor quality. But that is to be expected since you're only paying $400 to get this machine. Cheap parts were used to be able to pull the price down this low.
Recommendation:
I would recommend the Proform ZT3 treadmill but only to those that really can't afford a more expensive machine. Just be sure to not run on it cause this will definitely shorten its life even more. For serious runners, you should avoid this machine. I suggest you use our best buy treadmills page to find a treadmill that fits your need.
Summary:
Cost: $399.99

Motor: 1.5 Continuous HP Motor

Running Deck: 55"L x 18"W

Speed: 0 to 10 mph Quick Speed

Incline: up to 10% Quick Incline

Foldable: No

Heart Rate: Yes

Maximum User Weight: 250 lbs

Warranty: 5 years motor, 90 days parts and labor


Features: 


• Dual Grip EKG heart rate monitor 


• 6 Pre-set workouts 


• Race Track(tm)


• LCD Window with Priority Display 


• TreadSoft(tm) Cushioning

---
Where to Buy?

If you plan on buying a Proform ZT3 treadmill, I suggest you buy from Amazon.com. They offer the lowest price on the net. It is currently on sale for just $399.00.

Click here to visit Amazon and learn more
(opens new window)
---
Return from Proform ZT3 Treadmill to Proform Treadmills
---